Big Frog Custom T-Shirts
Total Startup Investment
$198,701 - $268,301
Net Worth Required
$300,000
US/Canada Franchise Units
89
Franchise Owner Reviews
Reviewed by 63 franchise owners (78% of owners)
Big Frog is more than a Business, it's a Lifestyle
Big Frog Custom T-Shirts & More started franchising in 2008 with the first store opening in the Tampa Bay Area that fall. Big Frog now has over 80 locations in 24 states. We're looking to grow this incredible brand to 300 stores by 2022. If you're looking for a really FUN & simple business, and you want to follow your passions, be an active part of your community and truly give back to worthwhile causes and groups, take a closer look at Big Frog!
Your store will make custom T-shirts and memories for your neighbors as well as for local schools, businesses, churches and charities using photos, text, logos and clip art. With our cutting-edge digital printing process, anything you can display on a computer screen, you can print onto a shirt using environmentally-safe garment dye! The breathable image won't crack, peel or fade and will last as long as the garment does. Providing an AMAZING customer experience will take you far beyond satisfying customers to building permanent FANS!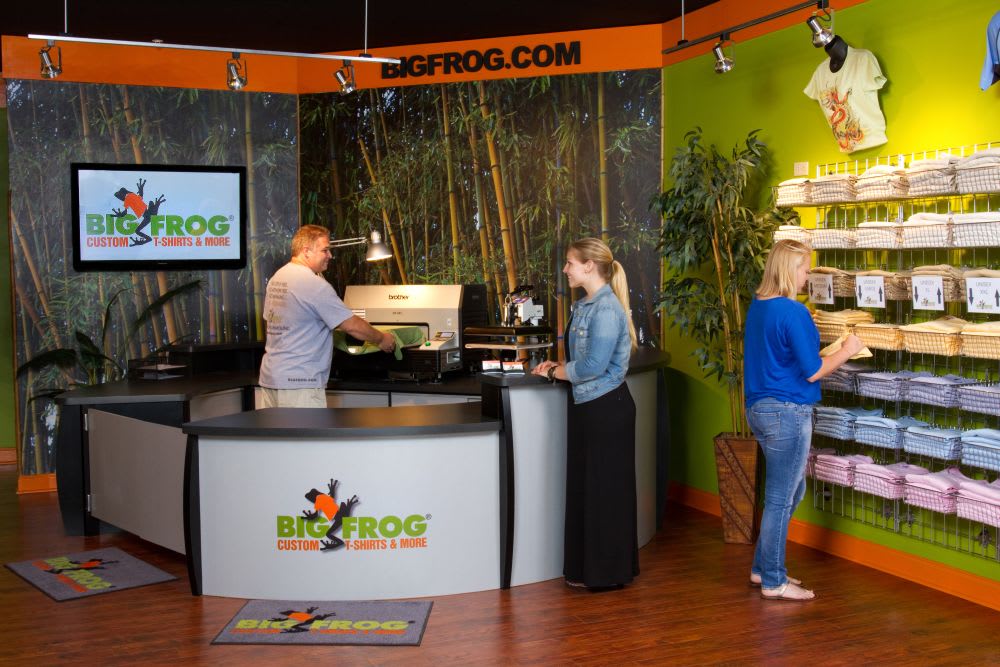 NEVER UNDERESTIMATE THE POWER OF A T-SHIRT!
Customers love Big Frog because we offer NO MINIMUM QUANTITIES – NO SETUP FEES – NO ARTWORK CHARGES and 24-HOUR TURNAROUND - NO KIDDING! Our stores are garment decorating consultants; we offer just about every decorating technique and can handle orders of any size. We entertain our customers, help them with their designs and make sure they have a lot of FUN!
Will Big Frog be right for you? Our best franchise owners are outgoing and friendly and want to love what they do! They have some business experience and can follow a system, with marketing and team-building skills being especially useful. They like to speak with people and want to be an active part of their community.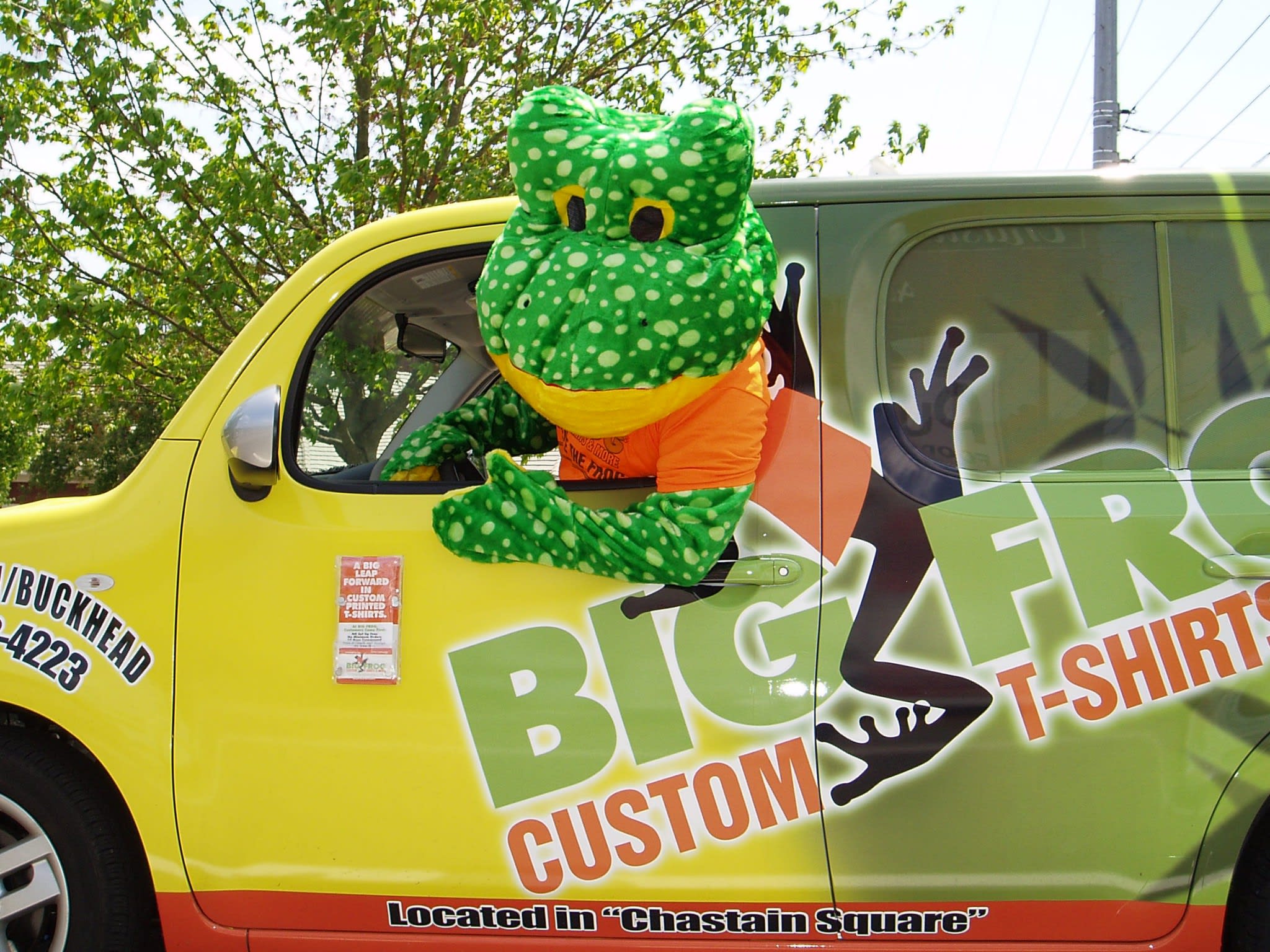 WE CREATE LASTING MEMORIES!
Franchisees love Big Frog because our small retail boutique stores are only open daylight hours 5 and ½ days a week, and have 2 or 3 high-retention employees, minimal inventory, no accounts receivable and average 65% profit margins on 6 revenue streams! We participate in the VetFran and DiversityFran programs and offer discounts to encourage franchise ownership by veterans, women, and ethnic minorities.
Recent recognition and awards include: #24 Lowest Risk Franchise Investment by FranchiseGrade.com, Top 500 Franchise by Entrepreneur Magazine, Top 200- Franchise by Franchise Times; and Top Franchises for Women, Top Franchises for Veterans for the 6th year and Top 50 Franchises for Franchisee Satisfaction by Franchise Business Review for the 7th year in a row.
As a member of The Big Frog Family, you and your staff will get comprehensive training including eLearning courses, Big Frog University in Florida, webinars and videos, weekly coaching calls and our annual Frog-A-Thon franchise convention. Our proven community networking and marketing programs include a store website, social media, bi-monthly e-mail blasts, a wrapped vehicle, T-shirt giveaways and lots of community involvement.
EVERYONE IS A PROSPECT, EVERYONE WEARS T-SHIRTS!
Our market opportunities are endless. We sell to schools and clubs, churches and civic organizations, charities and philanthropic organizations and to businesses for their employees and promotional opportunities.
Join our terrific family of friendly franchise owners who will help you build your new business with peer groups, internet forums, an active Franchise Advisory Council and much more. SBA financing and qualifying retirement plan rollover programs are available through terrific outside vendors.
WHERE FUN IS ALWAYS CELEBRATED!
Download the franchisee satisfaction report on Big Frog Custom T-Shirts absolutely free