College Hunks Hauling Junk & Moving
Total Startup Investment
$89,300 - $208,000
Net Worth Required
$200,000
US/Canada Franchise Units
108
Franchise Owner Reviews
Reviewed by 85 franchise owners (59% of owners)
Make the Right Move and Join the College Hunks Team
Whether you're a recently retired military veteran and want a new kind of adventure, you're seeking refuge from the traditional corporate work environment, or you're simply ready to build a successful and profitable business of your own, the College Hunks Hauling Junk and College Hunks Moving franchise opportunities offer you the chance to achieve your dreams.
Our Training and Support
Our rapid growth and success has been attributed to the support and training that we provide our franchise owners. We are proud to offer franchise owners a variety of resources to help grow their business like business coaching, in-person training sessions, manuals, exclusive videos, and so much more!
Resources like the ones below can help you join the College H.U.N.K.s team and grow with two revenue streams!
Funding available for credit qualified. We have a perfect score with the SBA, ensuring quick fund availability
2 Businesses for one franchise fee (Moving and Junk Removal)
Manage many aspects of business from your smartphone
Performance Team provides training and coaching to ensure success
Monthly coaching calls to address any issues and keep building you up!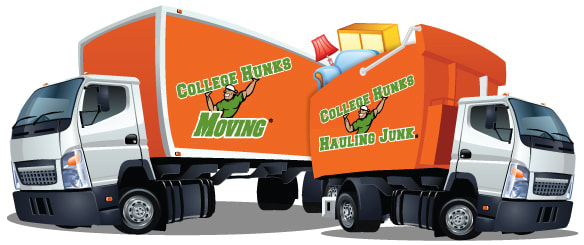 We Do the Heavy Lifting so You Can Grow Your Business
Making sales and fielding calls while you're trying to network across town and communicate with your employees can be a scheduling nightmare – which is why we have the College Hunks Hauling Junk Franchise Center! As a franchisee, you won't have to worry about missing a potential job because you were serving a customer or your employees weren't available to take a call. The College Hunks Hauling Junk Sales and Loyalty Center fields calls from customers nationwide, seven days a week, and schedules jobs for franchisees.
The Sales and Loyalty Center offers great advantages that you wouldn't anywhere else like:
Professional customer service
Saving you time and money
Building brand recognition
More than 70% of sales are made through the call center and using the call center is equivalent to hiring two full time employees to field your sales and generate leads!
What We Look for in a College Hunks Franchisee
Our Franchise Partners are Head Coaches. They have a desire to lead, build and empower their team. Our owners:
Inspire, motivate and manage young men and women who do the heavy lifting
Follow a step-by-step program that has been developed over the past 10 years
Have the perfect balance of motivation, grit and desire to control their personal situation and develop a legacy with an iconic brand
Managers, prior business owners and military veterans excel with our franchise model!
Don't believe us? Check out our awards and recognition!
The COLLEGE HUNKS HAULING JUNK® and COLLEGE HUNKS MOVING® systemized franchise business model is easy to learn, and our world class corporate support team has the resources to support you as you scale your operations. We have been recognized for our efforts in supporting our franchisees and their communities in many publications below.
Download the franchisee satisfaction report on College Hunks Hauling Junk & Moving absolutely free