Donatos Pizza
Total Startup Investment
$375,000 - $699,900
Net Worth Required
$850,000
US/Canada Franchise Units
160
Franchise Owner Reviews
Reviewed by 22 franchise owners (71% of owners)
50+ YEARS. 160+ RESTAURANTS.
AVERAGE NET SALES OVER $1M PER YEAR*
THE GOOD NEWS JUST KEEPS COMING
Our Franchise Partners value our restaurateur experience, our success running our corporate locations, and of course, our strong profit potential. And they also tell us that they appreciate how our culture aligns with their values. Together, we believe that success comes from sharing a quality pizza and building goodwill with our customers and the community at large. If you do too, let's talk.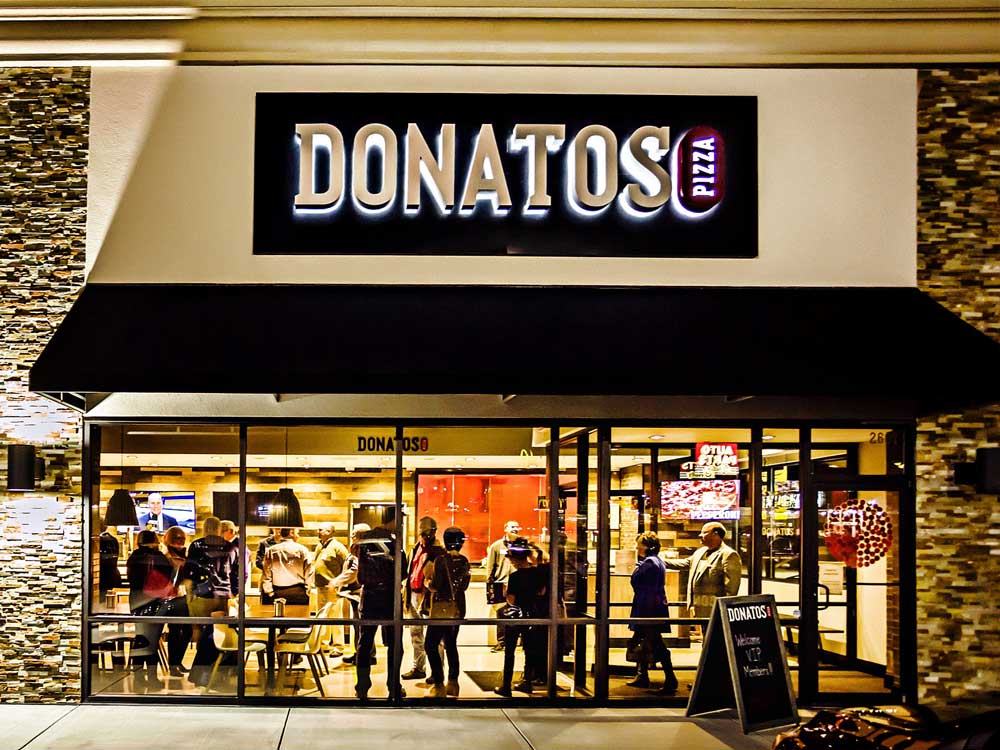 RESTAURANTS RUN RIGHT
We know how to efficiently run pizza restaurants because we manage over 15 million transactions per year ourselves. We use our 54 company-owned restaurants as testing grounds for new processes and menu items before they are launched with our Franchise Partners. That way, you can be confident that new additions have been thoroughly vetted for efficiency and profitability. Here are just a few of the ways that you benefit:
Our efficient kitchen allows you to prepare popular pizza items in advance to meet peak demand
You will have predictive intelligence to calculate delivery times and number of drivers needed each day
Our website and mobile app make it easy for guests to order and improve your average guest check
Our restaurant design is flexible so you can enhance the guest experience and your profit potential by adding a patio, pick-up window and/or a selection of craft beer
We stand out from the pack in the materials we use to build our new restaurants, the service we offer our guests and the hospitality we extend to all
ONGOING TRAINING AND SUPPORT AND A TEAM BEHIND YOU
The training programs and expertise we use to educate over 1,900 company associates who operate high-performing restaurants is available to you and your staff. This includes custom-designed curricula for Franchise Partners and your management staff. We also provide an ongoing, online training curriculum for your associates.
You'll have the support of these industry experts:
Field Marketing Manager
Annual plan development
Local opportunity exploration
Local Store Marketing
Website, social, and email communication of promotions
Media and PR services
Marketing dashboard insights and intelligence
Franchise Business Consultant
Weekly profitability report
Monthly P&L review
Annual business plan and budget development
Best practices report
Three restaurant visits per year to provide feedback on operations and to train associates
HELP US SHARE PIZZA AND GOOD TIMES WITH MORE PEOPLE!
We are looking to grow in the following areas...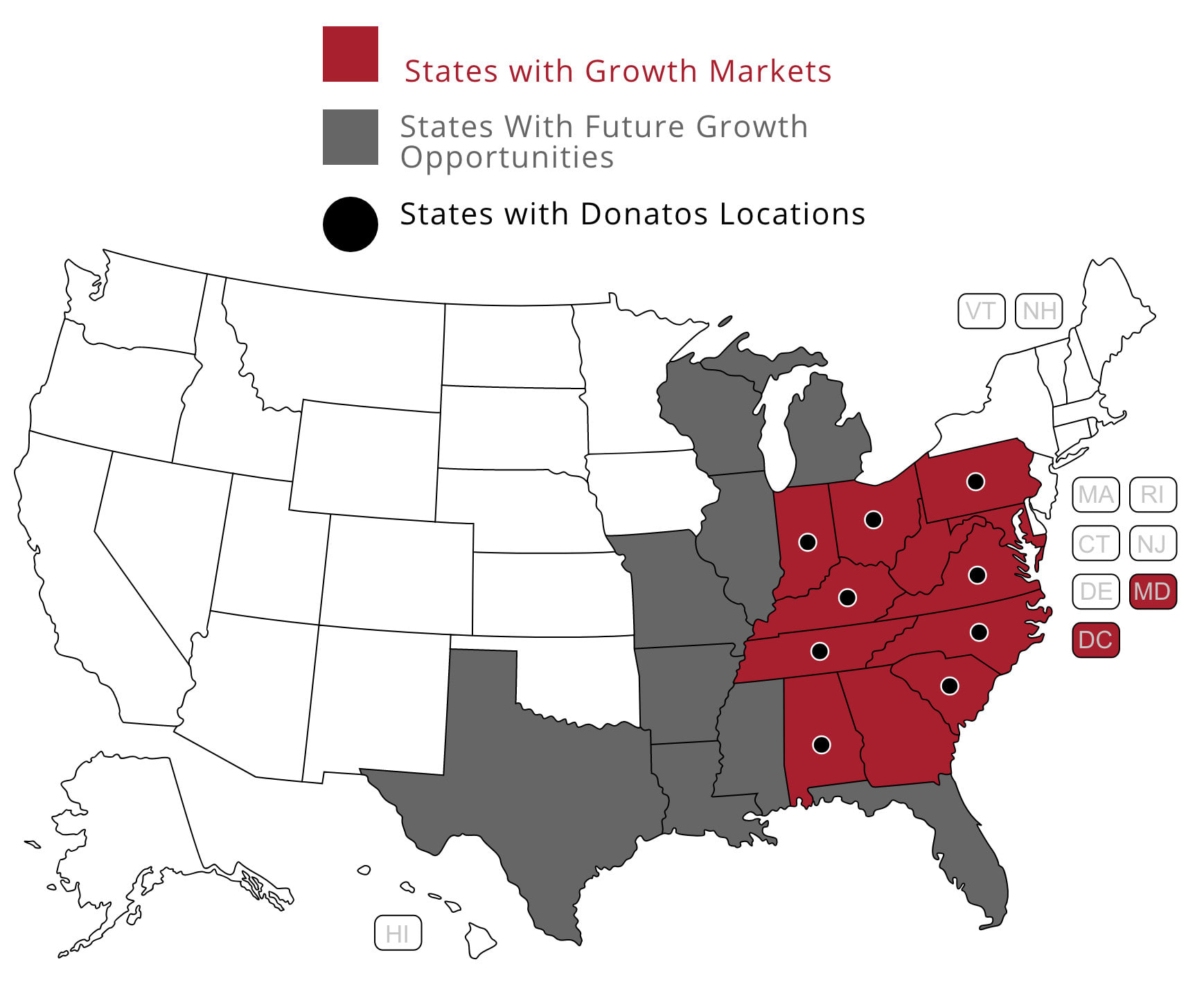 WE WANT TO HAVE A LONG-TERM PARTNERSHIP WITH YOU
When you become a Donatos Franchise Partner, you have the rights to a 20-year contract and a renewal fee of $0. For candidates that meet the following criteria, please complete the form below to introduce yourself to our franchise development team. We want to hear from you!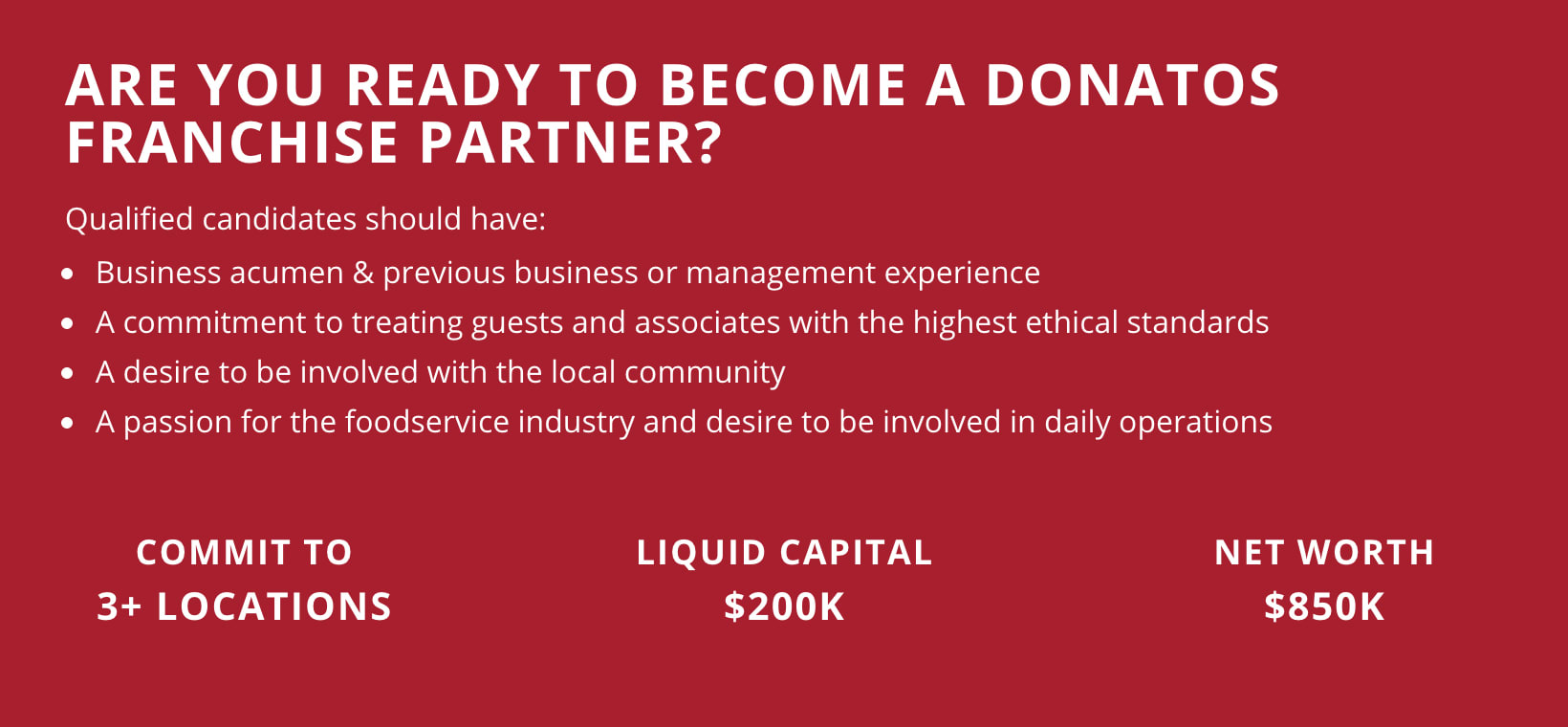 *Calculation and further explanation of the Average Net Sales for restaurants appears in Item 19 of our Franchise Disclosure Document. Individual results may differ. Please see Item 19 of our Franchise Disclosure Document for further financial disclosures.
Download the franchisee satisfaction report on Donatos Pizza absolutely free