How You Can Become a Social Entrepreneur in 5 Steps
Sponsored content provided by Apex Leadership Co.
If you aspire to make a profit while also giving back, consider starting your own venture as a social entrepreneur.  Social entrepreneurs connect their business to social issues in a way that improves the lives of people connected to a cause. They "work to solve critical social problems and address basic unmet needs through innovation," according to the Social Enterprise Alliance.
Examples of social entrepreneurs include Blake Mycoskie of TOMS shoes, Jeffrey Hollender of Seventh Generation, and Muhammad Yunus of Grameen Bank, according to ChangeCreator. But you don't have to be the brainchild of a multi-million dollar brand to be successful as a social entrepreneur.
Here are five steps you can take to get started on your path to social entrepreneurship.


1.    Identify Your Mission
Not surprisingly, there are several businesses that produce innovative products and services that also support financially or socially disadvantaged people or communities. Social entrepreneurship ideas run the gamut from providing products, to donating proceeds, to extending loans to vulnerable people.
If you've ever bought TOMS shoes for example, you understand that for every pair you buy, a pair goes to a person in another country who needs them. To date, the company has provided 93 million pairs of shoes to children in more than 20 countries.
Seventh Generation, which develops safe cleaning products and is the largest eco-friendly cleaning supplies seller in the United States, operates under a social mission board. The brand was recently purchased by Unilever, but it hasn't abandoned its commitment to health and sustainability. According to Forbes, Seventh Generation's 2025 goals include operating with 100% renewable energy. The brand is committed to sourcing all natural or recycled materials. It also plans to use zero-waste packaging.
Grameen Bank requires no collateral from its borrowers who live in poverty. However, the bank has realized a net income of $10 million and its founder, Yunus, won a Nobel Peace Prize in 2006 for his efforts to bring equity to poor people in Bangladesh.
It's important to understand how you want your product or service to impact others. To zero in on your mission, you might ask yourself these questions:
Are you interested in helping locally, regionally, or globally?
What types of social entrepreneurship models appeal to you?

Are you looking to create a non-profit, partner with a non-profit, open a socially responsible business?
Do you wish to operate a "give one, get one" donation model like TOMS?
Do you want to create an awareness brand in conjunction with an existing business?
Would you consider investing in a socially conscious franchise?
Do you have the characteristics of a strong social entrepreneur? For example, do you have the leadership capabilities, business acumen, team spirit, creativity, adaptability, and perseverance needed to move your idea forward?


2.    Conduct Your Research
Social enterprises span a wide variety of industries and business models. There are plenty of ways to come up with social entrepreneurship ideas, and there are several approaches you can take to identify what product and service gaps exist in relationship to community needs. To do that, you might consider:
Volunteering within your own community or for a cause you feel passionately about.
Identifying needs in a community you already know well.
Reviewing existing products and services on the market and looking for a way to connect to them socially.
Seeking out support from the Social Enterprise Alliance, a national membership organization that provides social enterprises with the resources they need to succeed, support and grow social entrepreneurship on a national scale.


3.    Determine Your Difference
The more specific you are about what you plan to offer, the better chance you have to offer something truly unique.
Writing your ideas down on sticky notes can help you keep your goals in the forefront. For example, in them you should identify who you want to help, how you can do all of that uniquely, and how you can add value in your specific niche, according to Free Enterprise.
Think outside the box. Social entrepreneurship not only builds social capital and promotes equity-– it also provides employment for financially and socially disadvantaged people. Sometimes your difference is not your product or service offering, but in who you choose to employ to deliver them.  
4.    Partner with Others


Chances are, there is someone else with business experience who might be able to help you refine your idea. A program of the United States Small Business Administration (SBA), SCORE has helped more than 11 million entrepreneurs through mentoring, workshops and educational resources since 1964. The program offers small businesses local mentors who can listen to your idea, give advice, and help you launch your business plan.
Investing in a  socially conscious franchise might be the optimum way for you to connect your desire to help with a proven product and business model. Recently named a Top 200 Franchise by Franchise Business Review, Apex Fun Run, developed by Apex Leadership Co., combines fun with fundraising by partnering with schools and other organizations to promote both leadership and fitness through its events. Since 2012, Apex Leadership Co. has helped schools in 30 states, served 3 million kids and raised $60 million dollars for schools to spend on supplies, field trips and other items.
5.    Identify Funding Resources

If you are looking to launch your socially conscious business from scratch, you'll need capital. Grant funding, donations, angel investors and business partnerships are a few of the ways in which you might get your new business off the ground.
 Crowdfunding is another way to not only get funding, but to test your "proof of concept" with potential customers, according to Social Good Impact. It also lets you gather funding upfront, before you hire, invest in real estate or equipment, or buy supplies. Different types of crowdfunding include equity crowdfunding, in which funders receive a small piece of equity in the company; and reward-based crowdfunding, in which backers give money and are usually rewarded with discounted products, supporting merchandise, or other perks, according to Guidant Financial.
Franchisor financing is yet another possibility, if you plan to invest in a socially conscious franchise that either offers its own financing or offers financing through a third-party vendor. Some franchisors offer financial assistance to new franchisees. For instance, certain brands may offer to waive or discount the franchise fees, offer a loan based on simple interest with no principal, or offer deferred payments. Others will help you connect with outside lenders to get funding.  This information can be found in Section 10 of a franchise's Franchise Disclosure Document. Furthermore, if you are an independent business owner looking to move into franchising, you may have opportunities to merge your business with an existing franchise system. Best of all, because the costs to operate a franchise are usually more predictable than launching an enterprise from the ground up, you'll be able to get a stronger sense of how much money you'll need to borrow to cover your initial costs.
Social enterprise business plan competitions can help you refine your ideas before a launch by forcing you to commit your ideas to paper. This can include completing an online application and submitting your idea and/or a full business plan. Even if you don't win a cash award, participation can expose your idea to advisors, board members and other supporters who can help grow your social enterprise.
You might find yourself in a position to borrow from friends or family, or "bootstrap," your business. Bootstrapping refers to using your own savings to fund the initial equipment, supplies, staffing, and launch—and carries with it the most risk.
Investing in a Socially Conscious Franchise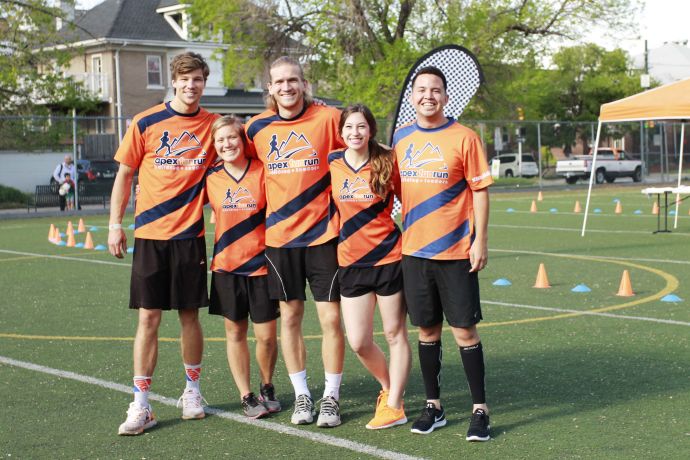 If you are wary of starting your own business from scratch, there are plenty of franchise options available that appeal to social entrepreneurs. Apex Leadership Co., for example, provides two-week leadership and recreational programs that raise money for local schools. 
In fact, Apex Leadership Co. describes its ideal franchisee as a "philanthropreneur," or someone who desires to give back to their community while also making a great living for themselves. The mission of its fun run events: to promote fitness and leadership in children, while at the same time raising money for cash-strapped schools. Since 2012, the program has helped schools in 30 states, served 2.5 million kids and raised $65 million for schools.
After all, the concept of Apex Leadership Co. was inspired by a need that founder Scott Donnell saw in his own community. Donnell's wife Amy was an elementary school teacher. After seeing how much his wife spent on supplies for her classroom every fall, he decided to do something about it—and that's how Apex Fun Run began. The company specifically looks for franchisees who share the same characteristics as social entrepreneurs: they should be relentless, good team builders, and passionate about making an impact in their local communities.
If you enjoy children and producing spirited events that funnel dollars right back into the classroom, Apex Leadership Co. helps franchises succeed with a step-by-step two-week fundraising model. 
The mission of Apex Leadership Co. is clear: to bring value to elementary schools – with fitness, leadership and funds. "When you are an Apex franchisee, you are surrounded by like-minded people who know that making money isn't exclusive to making a difference. Choose both," its founders said.
When you invest in a franchise, you'll be required to make an initial investment and pay a franchise fee; but in exchange you'll receive training, marketing support, and a proven business model. Franchisees enjoy flexibility, the ability ramp up quickly, and the power to scale up their businesses locally.
Apex Leadership Co./ Apex Fun Run Fast Facts – source FDD
Cash Required: $50,000
Total Startup Investment: $80,000 - $85,000 (including initial franchise and training fees)
Initial Franchise Fee: $49,500
Initial Training Fee: $16,000
Royalty: 8% of gross revenue, paid weekly
To Learn more about Apex Leadership Co. visit https://franchisebusinessreview.com/top-franchises/apex-fun-run/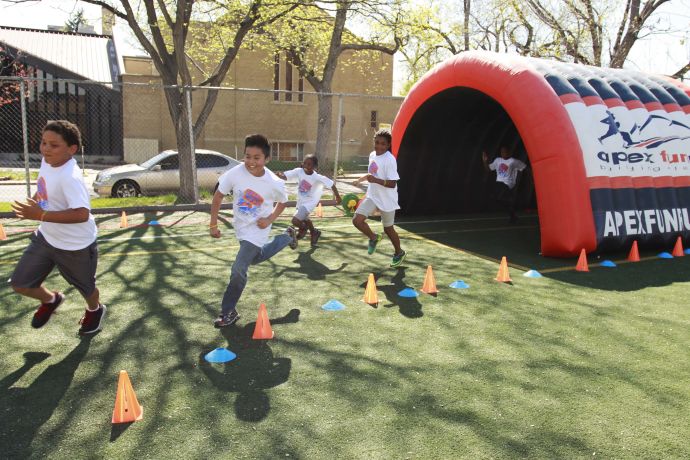 Whether you want to pave your own way as a social entrepreneur or partner with businesses that support causes you care about, there are several approaches you can take to build your own social enterprise. While there is a risk in any venture, franchising can give you a unique opportunity to create the change you want to see in the world, while also providing you a model for success. If you prefer to follow a proven business model and scale up rapidly, investing in a social franchise might be your best bet. 
You can learn more about Apex Leadership Co. franchise opportunities here.