How Satisfied are Multi-Unit Franchisees and What are They Like?
Both single and multi-unit franchisees typically rank their system highest in the areas of overall enjoyment they get from running the business and being a part of their franchisee community, respect for their franchisor, and willingness to recommend their system to other prospective franchisees.
Generally, franchisee satisfaction among multi-unit owners is slightly higher than satisfaction among single-unit franchisees. This isn't surprising since profitability can influence satisfaction, and multi-unit operators tend to be more profitable. 55% of the participants in our latest franchisee satisfaction survey ranked the financial picture of their business as strong/very strong compared with 43% of single-unit owners.
More information about how satisfied multi-unit franchisees are in addition to demographic information about them, is detailed in the graphic below.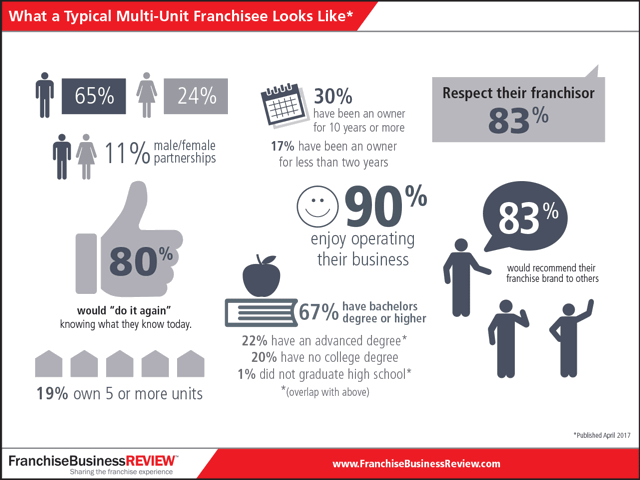 To increase your chances of being satisfied as a multi-unit operator, it's crucial to ensure any brand you are considering investing in has the resources, processes, training, and technology in place to actually support multi-unit franchisees. Perhaps the best way to answer this is to find out what multi-unit operators within the system think. There are two ways to do so. The first is to speak directly with multi-unit operators. The second is to ask the franchisor if it has a third party survey its franchisees and, if it does, to request the results of their latest survey. Many of the 50 brands featured in Franchise Business Review's 2017 Top Multi-Unit Franchises report share their franchisee satisfaction survey results for free within the Franchise Reviews section of FranchiseBusinessReview.com.