Senior Care Franchises Offer a Lucrative, Feel Good Business Opportunity for Franchisees
Published: October 1, 2019

Senior care is a booming industry that is attracting entrepreneurial altruists, who recognize a great opportunity when they see it. As baby-boomers age, the need for senior care is increasing, particularly for in-home senior care — and this need is creating both a lucrative and rewarding business opportunity.

"By 2020, people aged 65 and older will outnumber children under age five for the first time in history," said Dave Banark, COO of Home Instead Senior Care. "The demand for our services is strong now and only going to grow exponentially."

Nick Way, brand manager at Home Helpers Home Care agrees, "There has never been a better time to enter the senior care market as an entrepreneur. With 74.1 million baby boomers planning to age in place, there has never been a greater need for senior in-home care than today. The upward trend in population needing our in-home care services is expected to continue its growth trajectory for the next 20 years."

In Canada, the demand — and the financial opportunity —for in-home senior services is just as strong. There are more seniors (those 65 and over) than children (those 14 and under) in Canada. "According to an estimate from CIBC, the cost of caring for aging parents alone in Canada is more than $33 billion," explained Matt Vijayan & Angie Kunnath, Home Care Assistance franchisees. "This report factors in $6.6 billion out-of-pocket costs and approximately $27 billion in lost labor productivity and income. Aging in place has been a trending factor in the growing senior care industry."

With such great need, the industry is virtually recession-proof, remarked Nathan Weber, VP of Franchise Development at Qualicare Family HomeCare.

This year, Franchise Business Review surveyed 1,633 franchisees in the senior care sector to gauge their satisfaction with their franchise and their happiness with their decision to invest in a franchise. Based on this research we determined the Top Senior Care franchises of 2019. You can see the full list of award-winning brands here.
Top Rated Senior Care Franchises of 2019
You Gotta Have Heart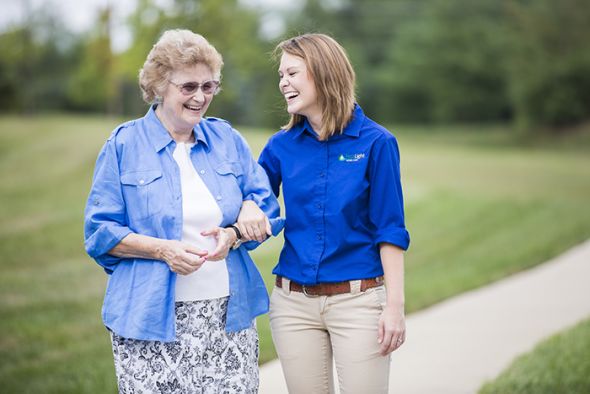 FirstLight Home Care caregiver and client
"Senior care franchises fill so many buckets. If you build and run it right, you can make a huge social difference while being financially rewarded," said Dave Banark, COO at Home Instead Senior Care. "The senior care industry offers a rare opportunity to make money by doing the right thing and by making a positive impact on society."
Of course, while the financial prospects of the senior care sector are appealing to many, the majority of franchisees invest in the space because they have a strong desire to give back. A senior care business is a lot of work; it's a 24/7 commitment, which means that to be successful you must be motivated by more than money.
Seth Michael, a Home Instead franchisee, shared a common sentiment among senior care franchisees. "We have the honor of serving and loving people each day. Seeing the love and support of our CareGivers in the community makes senior care a great opportunity. The impact we have had on families and their loved ones is unmatched. Each day is an opportunity to change someone's life."
Matt Preston, co-owner of a Home Instead Senior Care franchise in Portland, OR asks prospective franchisees to be honest with themselves. "What do you really want? If you only want financial success this is not for you. Senior care is all about heart, giving and expecting nothing in return. Your return is all in the positive outcomes you and your team will help to cultivate."
Michael explained that he chose the senior care space due to his desire to pass it forward. "It is important to me to live a life of impact. I wanted the opportunity to help people because there was a time not too long ago, that people helped me when I was in need. Home Instead Senior Care made it personal. I spend each day helping families in need because at one time it was my family that needed help and someone chose to make a difference in our lives."
How Much Money Can You Make as a Senior Care Franchise Owner?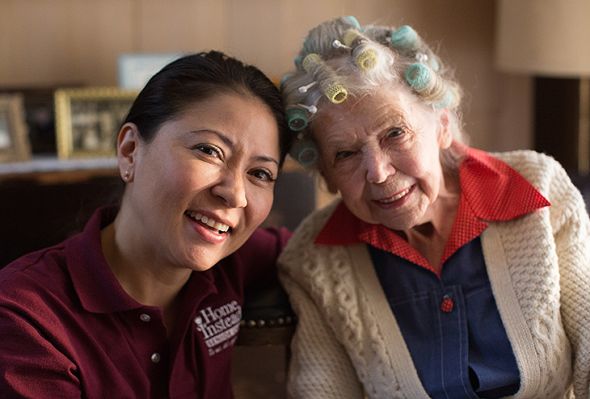 Home Instead Senior Care caregiver and client
The senior care space has proven lucrative for many franchisees, which is no surprise when you consider the need. Still, before you invest it's important to look at the numbers; yes, as Preston said, you need to have heart to work in this industry, but you also need to be business savvy and hard-working if you want to make money on your investment.
In a growing space like senior care, there is no ceiling to the financial opportunity for franchisees who are willing to roll up their sleeves and work hard. "Our average franchise does close to $1.9 million in annual revenue; our largest does nearly $11 million annually," said Dave Banark, COO of Home Instead Senior Care.
According to our most recent surveys, the average income for franchisees in the senior services sector is $135,625 annually.
Bill Mishkin, who owns a Home Instead Senior Care franchise, said that they were able to double revenue in three years and increase gross margin by 9%.
Vijayan & Kunnath said they broke even in 10 months and have had positive cash flow every quarter since.
Michael said that finding financial success took some time. "We're still working hard each day to make a good living." And although success hasn't been immediate for Michael, he says it has been a rewarding experience, and he would recommend the business to anyone who is willing to work hard.
Michael is not alone; in fact, 79% of survey respondents said they would recommend their franchise to others.
How Much Will a Senior Care Franchise Cost You?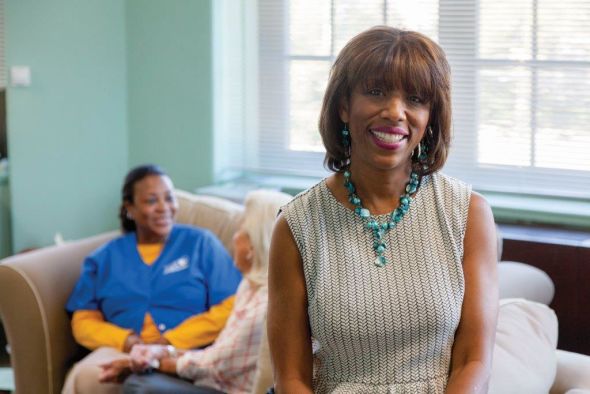 Constance Hill-Johnson, Visiting Angels franchise owner in Cleveland, OH
So, the market looks hot, the profitability prospects look good, but how much will it cost you to get in?
The top franchises on this year's list have minimum initial investment requirements that start as low as $52,500 and go as high as $110,881. Liquid capital requirements start at $45,000 and go as high as $150,000. You can review the costs for each brand here.
"There's a fairly low financial barrier of entry into the senior care franchise market," said Dave Banark, COO of the Home Instead Senior Care franchise system. "Aside from the franchise fee (ours is $55,000) you generally have relatively minimal start up costs, and will need working capital for at least the first year of operation. Depending on where you start your franchise you may incur local licensure costs."
When you invest in a franchise you can expect to pay the following costs and fees:
Franchise fee

Start-up costs

Marketing and advertising fee

Royalties
Most franchise systems also require that you have a minimum liquid capital and net worth to be eligible for ownership.
At Home Helpers, for instance, the franchise cost is $48,900 and they estimate you will need an additional $84,750 to $136,900 in working capital for the launch of your Home Helpers Franchise.
Franchisee Satisfaction in the Senior Care Industry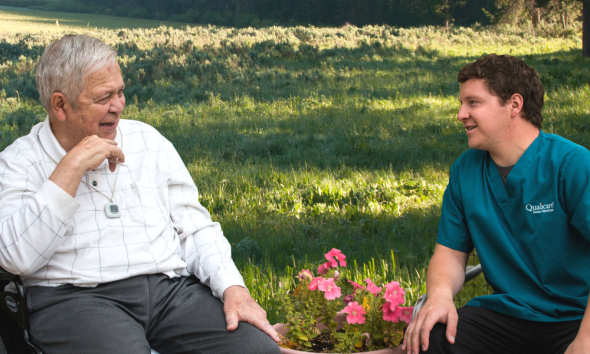 Qualicare Family Homecare caregiver and client
It might not come as a surprise, but franchisee satisfaction in the senior care industry is very strong. In fact, the senior care sector has one of the highest satisfaction ratings in all of franchising. In our surveys of senior care franchisees, nearly 90% reported that they enjoy operating their business, as well as being part of their franchise organization.
And, when asked about the long term growth opportunity for their business, over 75% of survey respondents said that it is strong or very strong. The bottom line: 8 out of 10 franchisees said that they would do it all over again.
Mishkin enjoys running his Home Instead Senior Care franchise so much he says he wishes he knew about it sooner.
But, that's not to say owning a senior care franchise is easy. Mishkin explains that it can be stressful keeping up with the growth and staffing demands of their business.
Also, the industry requires franchisees to be on call 24/7. This can be challenging for business owners.
"The best part of owning a senior care franchise is serving all the families and providing job opportunities within the community. The worst part is it's a 24/7 business," said Michael. "We care for people every hour of every day. There is never a day off in senior care. We take calls in the middle of the night, on Christmas and Thanksgiving. The business is never shut off."
Vijayan and Kunnath agree. "The best thing about our business is that we get to do what we love doing. It is a 24/7 business and yet it provides immense satisfaction. The ownership provides opportunity not only to help seniors but also help many caregivers with employment and a source of income. We currently have over 200 caregivers between two offices. The worst part about owning our business is that you have to be available 24 hours, seven days a week, initially. Over a few years, you build capacity to hire people on call," they remarked.
Due to the nature of the business, providing a caregiving service for seniors, the work can also be emotionally draining. Preston said the best part of owning his franchise is changing people's lives. "I love our mission and what we do." But, he says, the hardest part is that it's tiring, emotional work. "But even with the difficult things, it's always worth it," he said.
Exploring Top Senior Care Franchise Brands

In an exploding field and competitive market, there are many senior care franchise brands to choose from. As you begin your research and vet your options, the FBR Top Senior Care Franchises list is a great place to start. All the brands on this list have been rated highly by the franchisees who own them — and many of them have decided to share their satisfaction reports openly. So, if you are curious to dig deeper and learn about a certain brand, please visit our website to see their scores and to request additional information.
As you review different franchise opportunities, keep in mind what matters most to you.
Roy Wu, a Home Instead franchisee put values first. "The Home Instead brand is the only one we looked at due to their number one stated value, Honor God in all we do, and the values they believe in for doing good by doing well," he said.
Vijayan & Kunnath decided on Home Care Assistance because they liked their science-based approach. "We felt a science and evidence-based approach to senior care made sense having come from pharmaceutical and financial industries respectively. The Cognitive Therapeutics Method specifically designed for people living with dementia and Balanced Care Method, anchored in a holistic caregiving completely made sense."
Preston, on the other hand, was looking for strong corporate leadership, which Home Instead Senior Care was able to provide "Home Instead was by far the most professional organization that we vetted. They are supportive of their owners, work hard to support the brand, are innovative and push to maintain their quality," he said. "They self-manage and protect their brand through high franchise standards and maintain their positive culture through thoughtful hiring of the Home Office Staff, as well as diligent vetting of new owners."
If you decide that a senior care franchise is the best option for you, be sure to talk to as many franchisees as possible. They can give you unbiased and straightforward feedback on what it's really like to own the franchise you are considering.