The Service Sector Is Ripe with Franchise Opportunities
Published: July 10, 2019

Three years ago, David and Lynn Lepak decided to add a deck onto their home so they could enjoy the outdoors with family and friends. But shortly after their deck was finished, they realized they had a terrible mosquito problem. After researching pest solutions, they decided to test one on their front yard. "We truly were astonished at how well it worked. We have two dogs that always used to get ticks and after using the service, they were not harmed and we no longer have the tick problem," remarked the Lepaks.

Not only did the Lepaks find a solution for their mosquito problem, they discovered an appealing business opportunity. "Business ownership was always something we were interested in, and after having such a positive experience with this mosquito prevention service, we thought it would be a great business venture," they said. Today, the Lepaks are proud owners of a Mosquito Joe franchise in Waukesha County, Wisconsin.

Mosquito Joe is just one of thousands of business opportunities available in the consumer services sector. A recent Plunkett Research report estimates the U.S. consumer services sector was worth $70 billion in 2018 — and it is expected to grow to $89 billion by 2024. Beyond the demand and growth in the sector, service businesses are appealing for several reasons including their low cost, low overhead, and flexibility, not to mention the wide selection of opportunities within the sector.
Best Service Franchises 2019
Learn More About 360clean
---
360clean
Cleaning & Maintenance
Have you been searching for a franchise opportunity that offers high earning potential, low investment and the ability to run the business from home? You should consider a 360clean franchise....
Investment: $15,800
Cash Required: $15,000

Learn More About ActionCOACH
---
ActionCOACH
Business Services
ActionCOACH is the World's #1 business coaching firm. Currently, ActionCOACH has nearly than 1,000 coaches in more than 70 countries, and ActionCOACH delivers it's proven business develop...
Investment: $45,000
Cash Required: $45,000 - $125,000

Learn More of ActionCOACH
Learn More About Critter Control
---
Critter Control
Services
Critter Control® is a nationally recognized brand, the only wildlife management firm with offices coast-to-coast. When it comes to nuisance wildlife, homeowners, businesses and...
Investment: $63,525
Cash Required: $8,075 - $52,075

Learn More of Critter Control
Learn More About Amazing Athletes
---
Amazing Athletes
Child Services
Amazing Athletes is a mobile, year-round, educational sports and fitness program that introduces young children to the basic fundamentals of 10 different sports while helping them master 6 key area...
Investment: $27,500
Cash Required: $30,000

Learn More of Amazing Athletes
Learn More About Cruise Planners, an American Express Travel Representative
---
Cruise Planners, an American Express Travel Representative
Travel & Hospitality
Cruise Planners, an American Express Travel Representative, is the largest home-based travel agency franchise in the nation with over 2,500 franchise owners in all 50 states. Cruise Planners franch...
Investment: $2,295
Cash Required: $6,995-$10,995

Learn More of Cruise Planners, an American Express Travel Representative
"Service franchises aren't necessarily right for everyone but for many they are a terrific investment option," said Charlie Kerr, president of the Drama Kids franchise system. "Many service concepts (like Drama Kids) are low overhead, high margin models, and can be very easy to start small and allow the franchise owner to scale the business rapidly. Many service franchises also offer the opportunity to make a real difference in the lives of customers (students and parents in our case) and the franchise owner's community."
In our 2019 list of Top Service Franchises, we examine the best franchise opportunities to pursue in the Services sector. Top brands span the gamut from child services to home services to financial services and more. But, before you start inquiring to franchise companies, you probably have a few questions about the service segment. Below, we'll walk through some of the most common questions we hear from prospective franchises like 'How much does it cost?,' 'Am I the right fit for a service franchise?,' and the ever popular 'How much money can I make?'.
How Much Does It Cost to Start a Service Franchise?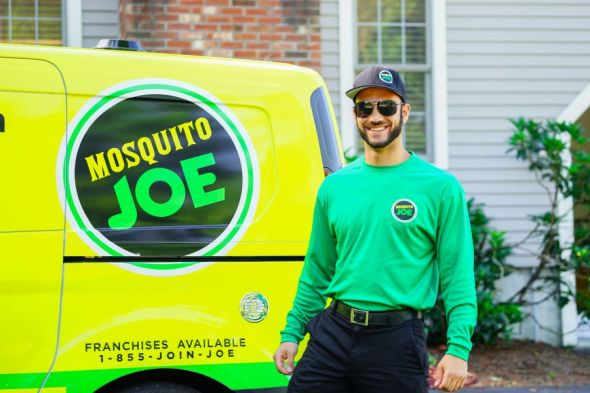 Mosquito Joe Technician
One of the appeals of the service sector is the low barrier to entry. And, because many service businesses do not require a brick and mortar location, you will not have to pay the additional infrastructure costs that come with most retail franchises.
This year, the top service franchise brands had initial investments that started as low as $975 and climbed over $500,000. The median average initial investment was $90,000.
When considering any franchise investment, it is important to factor in additional costs beyond the initial investment, as well. These costs include:
Marketing/Advertising Costs: This fee is mandated by the franchisor to pay for national and local advertising efforts. Sometimes it is a percentage of sales while, other times, it is a set fee.

Royalties: A monthly fee collected by your franchisor in exchange for permission to use their brand and business model. Typically, this is a percentage of gross sales that ranges from 4% - 12%. In other cases, the royalty is a set fee.

Materials/Supplies: Costs for materials and supplies will be both affordable and high quality given that franchisors will have established deep-rooted relationships with their suppliers. Materials will be less expensive because of the franchise's collective buying power.
How Much Money Can You Make Owning a Service-Based Franchise?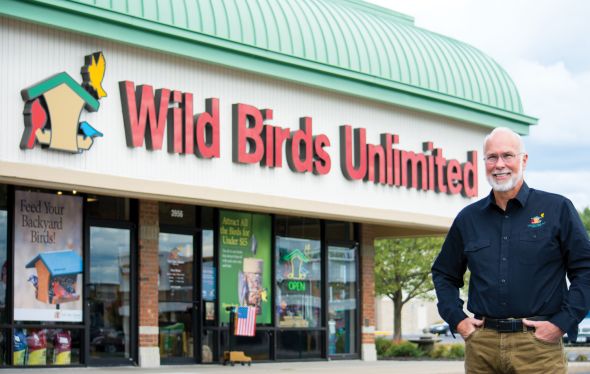 Jim Carpenter, Founder, President and CEO of Wild Birds Unlimited
'How much money can I make?' is usually one of the first questions we hear when talking to prospective franchisees. Unfortunately for prospective franchisees, franchise systems will not promise nor guarantee that you will make a certain amount per year. However, based on our research, franchisees who own a service business that has been ranked by Franchise Business Review, earn an average median income of $91,461 per year.
Of course, it is important to remember that there is a difference between business profit and owner income. Prospective franchisees often confuse a business's profits with their potential annual income/salary, which is a big mistake. As a business owner, before you can "pay yourself," you often have to pay business taxes, debt repayments on loans, and reinvest in your business (that new piece of equipment you need, or the new signage you're required to buy, for example). While your business may grow to be quite profitable, your actual take-home income could be substantially lower.
Franchise systems also follow different business models, which can significantly affect your profitability. "People considering buying into a service franchise should consider the long-term revenue generating opportunity," explained Michael Miller, CEO and co-founder of the Brightway Insurance franchise system. "Brightway, for example, pays 'royalties' when a piece of new business is sold and again when that policy renews (every six or 12 months). This residual income builds over time, helping you to grow faster and faster each year. In other service franchises, you earn revenue once for a sale and need to go make another sale each time to earn that revenue. With Brightway, you enjoy the residual income that grows over time as you continue selling new business year-over-year."
Service businesses also tend to be attractive because they are scalable. "Our recurring revenue business model with compelling and scalable unit economics provides an offering that is very attractive to entrepreneurs seeking to start their own business," said Lou Schager, president of the Mosquito Joe franchise system.
For those seeking flexibility and freedom, service franchises can be a great choice. Michelle Fee, the founder and CEO of Cruise Planners, explained how Cruise Planner's franchisees can choose how they want to grow their business. "If you want to build your business to a certain level and stop because you want to go to kids' sporting events you can; if you want to be the million-plus producer you can do that as well. People join for different reasons," she said.
Top 5 Service Segments by Average Income
1. Real Estate – $138,678
2. Business Services – $97,317
3. General Services - $96,633
4. Home Services – $91,277
5. Advertising and Sales – $71,392
Who Makes the Best Service Franchisee?
"There is no magic answer to this question," said Kerr. "It definitely needs to be someone who is committed to making the investment of time and money to make their business successful. Good people skills and a strong customer service mentality are also very important."
As Kerr noted, franchisees in the services space must not only have a strong entrepreneurial interest but they must also enjoy working with others and have a sales mentality. "The best franchisees are those who "want to grow a career in sales. You've got to be a people person, not someone that wants to be caught up in the administrative part of the job," said Philip Visali, CEO of We Insure.
Although service franchisees come from varying backgrounds, most enjoy hands-on work, with many possessing a specific skill or trade experience. "Our best franchisees like having their hands in the business. If they want a hands-off business model, we're probably not the right choice," said David Hicks, CEO of HomeVestors of America®, a franchise company that buys and sells "ugly" houses.
Hicks explained that business, especially in the real estate industry, can be very competitive. Agents fight to close deals, and making a sale turns into a game. This is not the case with HomeVestors; everyone wants one another to succeed, and HomeVestors prides itself on their team mentality.
One of the major perks of franchise ownership is the community you buy into — not only do you receive support from the corporate team but also from your fellow franchisees. You'll frequently hear the phrase "in business for ourselves, not by ourselves."
In the services sector, community extends beyond the franchise system. Justin Bredeman, CEO of the Soccer Shots franchise system explained how their franchise system prioritizes the communities in which they work, a common sentiment you'll often hear from service-based franchises that rely on strong community relationships to ensure businesses growth.
"The ideal franchisee for a service franchise is someone who is passionate and invested. A service franchise is about the impact and the people. It is not simply a transaction or a 'set it and forget it' business model – it's a relationship," said Bredeman. "A franchisee has to be hungry, humble and smart and willing to put in the hard work – knowing that hard work will bring them satisfaction when they see the end result, both financially and in the impact they are making on their consumers."
In summary, the best service franchise owners have at least one of the following characteristics:
Loves working with people

Sales and service oriented

Likes to take an active role in their business

Enjoys forging strong community relationships

Thrives as part of a team but can also work independently

Self-motivated

Entrepreneurial and dedicated to growth
Of the 19,500 franchisees in the service sector who were surveyed:
61% are men, 32% are women and 6% are partnerships

36% of franchisees live in the Southern U.S., with the Northeast, Midwest and West all representing about 20%

63% of franchisees have their bachelors degree or higher

The majority of franchisees are between 45 and 64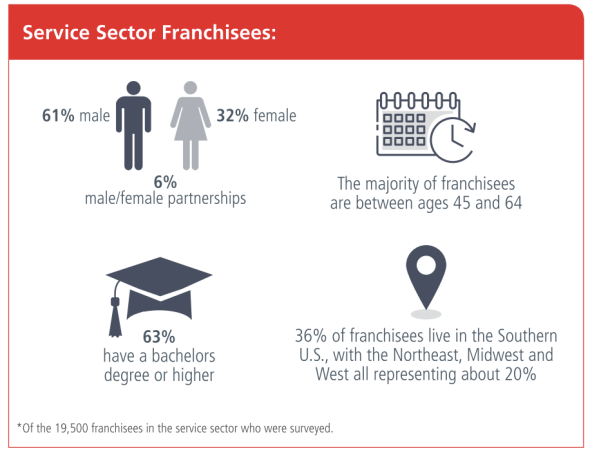 Are Franchisees in the Service Sector Happy?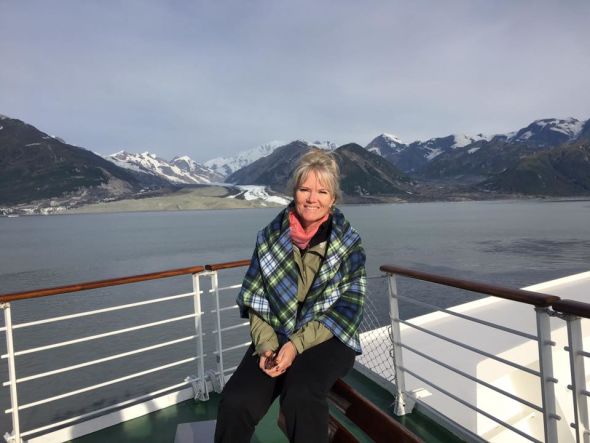 Carolyn Leibowitz, Cruise Planners Franchisee in Alaska
Overall, franchisees in the service sector are generally pretty happy. Eighty-eight percent of franchisees of service brands who were surveyed by FBR say they enjoy operating their franchise and 87% say they would recommend it to a friend.
One of the best resources you can tap into as a prospective franchisee is current franchise owners. They are a great source of unbiased information and can give you a good sense for what it is really like to own a specific franchise business. At Franchise Business Review, we survey franchise owners on your behalf to help you narrow down the best franchise opportunities. When researching franchise options, the Lepaks talked to several franchisees. "They had nothing but great things to say about the business and how happy they were about being franchisees," said the Lepaks.
It's also important to note that the highest rated franchise companies prioritize franchisee satisfaction. Steve Dregits, a Soccer Shots franchisee believes Soccer Shots was rated so highly by franchisees because their system genuinely cares about the success and development of each other. "It's not uncommon for franchisees to communicate struggles, success, and new ideas on a regular basis," he said. "Plus, we all believe in the central mission to positively impact the lives of every child we serve."
What Are the Best Service-Based Franchises?
As a prospective franchisee, our annual Franchise Business review Top Franchises Guide is a great place to start your franchise research. Over the past 18 months, our team at Franchise Business Review has surveyed nearly 19,500 franchisees across 174 brands to find out exactly how satisfied they are with their franchise business. Our Top Services Franchises list represents the best of the best that franchising has to offer in the service sector. You can use this list to narrow down your options.
If there is one thing every franchisor and franchisee agrees on it's that you must do your due diligence. As Kerr advised, "Do your research. Know exactly what the franchisor provides and offers, how training and support work, who the competition is and how the company is innovating to stay ahead of the competition. Also – speak with several existing franchisees to learn about their experience with the corporate headquarters and just as importantly, to gauge the company's culture."
You can learn more about today's top service franchises on the 2019 Top Service Franchises list.