TSS Photography Talking with Franchisees and Staff
TSS Photography has had a banner year of growth and technological advancement along with accolades such as being named in Franchise Business Review's Top 50 Franchises. So TSS asked franchisees for some feedback: Why TSS and how it is helping you achieve your goals?
Q: Those who are already photographers would like to know, why TSS?
A: After doing wedding photography for over 15 years, we started growing into schools and sports and I needed to find systems to support me and sustain the growth. After meeting the [TSS] team and seeing all of the systems in place ... I was sold! ~James Whigham, franchisee in Louisiana
A: The franchise offered me a one-stop-shop for all the tools and resources I was looking for to grow my business. ~Victoria Schafer, franchisee in Ohio
Q: What's one thing TSS provides that's invaluable?
A: The franchise does a lot of research before it implements new tools and techniques. After TSS has tested an idea and has proven results, we can implement this into our business to grow. A great example of this is their mobile ordering tool. ~Tod Cohen, franchisee in Virginia
A: They encourage and facilitate (through annual meetings and a community site) franchisees keeping in contact with each other. We share resources on large jobs, and we have conversations about how to implement new technology. ~Lindsay Verdun, franchisee in Illinois
A: The innovation they have is pretty awesome. I think TSS is helping to keep me competitive in this department and they are helping to give me an edge. ~Guillermo Palos, franchisee in California
A: TSS Photography has a great training program and a continuing photography education system that keeps the TSS franchisees on top of our market as the leaders in sports and school pictures. ~Gerald Jordan, franchisee in Florida
A: I would have to deal with four to six labs to get the full range of products that TSS offers. ~Victoria Schaefer, franchisee in Ohio
Q: What is part of the role TSS has as a franchisor?
A: You can't do the same thing year after year and expect to maintain a business … much less grow a business. We do the R&D legwork for our franchisees in terms of product and systems innovations. Once something is vetted and proven, we give franchisees the marketing and sales tools they need to use those innovations. We want franchise owners to have cool products and tools that help them compete on anything but price. We also focus on tools to cut out office work so our owners can have fun running their business. Work-life balance is important to us and our owners. We create business tools to get you more time with friends and family and less time editing and uploading. ~Alison Counts, TSS Photography marketing director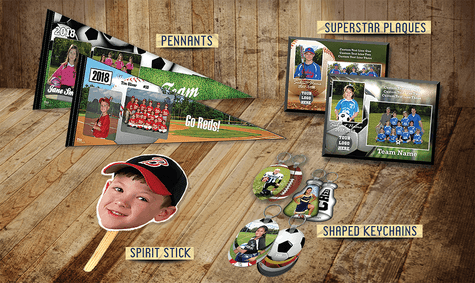 Q: What are some examples of TSS innovation?
A: TSS has more powerful software than anyone in the industry, with special tools for school, sports, graduation, and event photography. Our PhotoMatch tool allows photographers to match images with names while at a shoot with the options to upload images and even transmit orders during the shoot. We have photographers who leave a shoot with no further work to do and their orders can ship the same day. On the sales side, we're the only photo organization to run a call center. Our owners can elect to have outbound sales calls made by professional sales staff who set up appointments for them with leagues, schools, and other potential clients. On the product front, we continue to create products that are customized at reasonable prices with a fast turnaround. For example, we hold the patent on software to build groups from individual images—a product we call Virtual Groups. ~Eric Atkins, TSS Photography national sales director
Q: What's the latest TSS technology offering?
A: Face Finder allows owners to photograph an event, and the software uses facial recognition to pull together all the images for a single person. We have seen that reducing the number of images a customer needs to sift through increases sales for online orders. Or if the photographer enables the feature, consumers can click on faces and sort images themselves. ~Demetri Barges, TSS Photography chief technology officer
Q: How do you see the TSS role in the photo community?
A: TSS Photography offers the most technologically advanced systems for capturing and marketing images in the photo industry, including our new facial recognition feature, mobile ordering, advanced green screen solutions, and patented virtual groups. We plan to continue in this spirit of innovation. TSS owners enjoy working in their local communities with organizations that help with growth and development of local youth. TSS has over 30 years of experience in helping photographers build businesses and is now backed by Candid Color Systems, which has over 40 years of experience in professional lab production, software, and building photo businesses. We are committed to helping our franchisees grow. We are not successful unless they are successful.