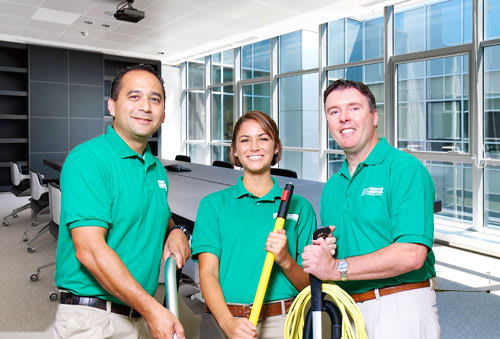 Business-to-business (B2B) franchises focus on selling products or services to companies or business owners and often eventually become the "trusted expert" of their clients.
Outsourcing services is often more cost effective for businesses than hiring staff to handle them.
Why B2B Franchises Are in High Demand
Businesses thrive by increasing productivity when they focus on their core competencies and do not spend time on things that can be outsourced more efficiently.

Businesses keep their overhead lower by outsourcing services in which they lack expertise instead of taking on the expense of hiring staff to handle them.
While researching top B2B franchise opportunities, you'll likely be surprised by the variety of options available. As mentioned earlier, they fall into two categories: services and products.
B2B Services Franchises
B2B services franchises fall into two categories: those which provide ongoing services and those which provide niche services that are used from time-to-time.
Many B2B services franchise offerings can be customized to accommodate the needs of almost any customer. For example, an accounting service can handle balance sheets for one business and payroll for another or an IT consulting company can offer various levels of support based on the client's needs.
Ongoing Services
Examples of B2B franchises that provide ongoing business and maintenance services are TeamLogic IT (IT consulting), ActionCoach (sales consulting), Our Town America (marketing), ImageOne (printing), Payroll Vault (payroll), Brightway Insurance (insurance), U.S. Lawns (commercial landscaping), and Office Pride Commercial Cleaning Services (commercial cleaning).
Niche Services
Examples of niche services include Murphy Business & Financial (business brokers), andFibrenew (repair and renewal of leather, plastic, vinyl and upholstery fabrics).
B2B Product Franchises
Small businesses need a variety of products on an ongoing basis in order to run smoothly and grow.
Businesses need a variety of products on an ongoing basis and there is a franchise to fulfill their every need. For example, FASTSIGNS serves all industries by providing a full range of custom sign and graphics products while Snap-on Tools serves mainly car dealerships, mechanics, marinas and airports by providing tools and diagnostic tools directly to them.
There are literally hundreds of other B2B product franchises, including ones that provide promotional products, pool supplies to hotels and municipalities, and office supplies.
How to Find the Right B2B Franchise for You
The sheer number of B2B franchise opportunities to select from can be overwhelming. A great way to narrow down your options is to determine what you would enjoy doing and then to identify franchises that would enable you to do it and that have a good reputation.
Franchise Business Review's Top B2B Franchises list is a great place to start your search. Each of the 33 featured brands was selected based on feedback from Franchise Business Review's survey of 4,934 franchisees representing 53 different B2B brands in the previous 18 months.
For an in-depth understanding of what it's like to be a B2B franchisee, read the informative FBR Franchisee Insight Q&A's with B2B franchise owners including our most recent ones, Chris Beer with Our Town America and Connie Chandler with Minuteman Press.
Investing in a B2B franchise has provided many entrepreneurial minded individuals like you with the ability to finally be their own boss. Doing so offers many benefits over other types of franchise sectors.