Fish Window Cleaning Services
Cash Required
$60,000 - $150,000
Total Startup Investment
$83,225 - $146,200
Net Worth Required
$50,000
US/Canada Franchise Units
270
Franchise Owner Reviews
Reviewed by 153 franchise owners (68% of owners)
"The business you can own without it owning you!"
Founded in 1978, Franchising since 1998.
Why do candidates choose FISH?
Low overhead, low investment.
Monday-Friday daytime hours. No weekends. No holidays.
Simple system with strong support.
Overview
Fish Window Cleaning is the dominant window cleaning franchise in North America. FISH franchisees do not clean windows; they have employees who clean. Their job is to manage the business. FISH focuses on low-rise commercial window cleaning and has developed it into a much larger and more profitable business than you would ever dream possible. Competition is typically unimpressive, poorly managed, and unreliable. FISH combines a professional approach (a clean professional look, proprietary scheduling and routing software, solid training and franchisee support, allowing the franchisee to give exceptional customer service on time, every time) with an effective, straightforward sales process that gobbles up market share. Candidates can build a large and profitable business with FISH and have a great lifestyle to boot.
80% commercial and 20% residential customers. Commercial accounts need service year round. (Not Seasonal!)
Niche is 5 stories and under; no high-rise.
Clients are high frequency: every week, 2 weeks or 4 weeks.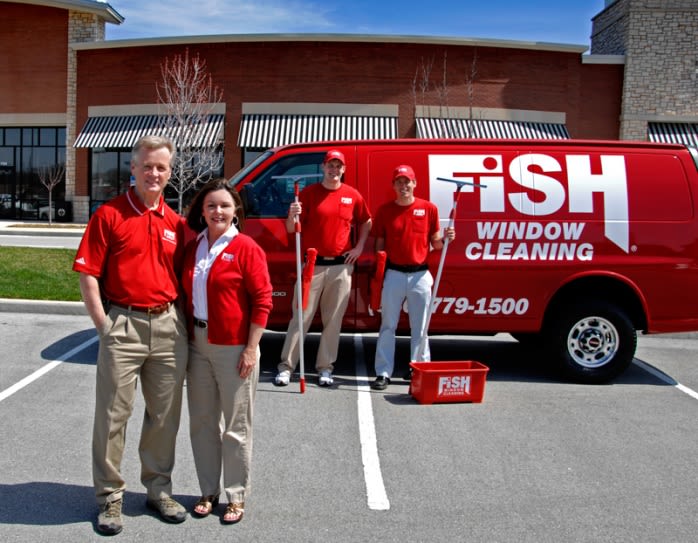 Key Traits
Rapid break-even, immediate cash flow
Fantastic growth and return potential
Simple operations
Not a fad or trendy business
Sales path is plan-able and predictable
You won't be a service tech. You will be managing people and a process.
Low overhead
Fragmented competition
Corporate lead generation
90% customer retention
Depth and breadth of management; senior HQ staff available in all areas to answer questions and situations

SupportFISH's support system is second to none. We provide over 50 marketing tools, including SEO, vehicle branding, B2B direct mail and a corporate call center, just to name a few. We have an excellent national accounts program. You will likely have a number of established national accounts in your territory when you open. Software is web-based so you can check on your business 24/7 from anywhere in the world. It handles everything: routing, scheduling, employee production tracking, sales tracking, P&L, A/R and more.Investment, Cash and Net Worth Requirement The total investment and cash requirement ranges from $78,225 - $139,700; varies based on size of protected territory. You can build a solid business with a reasonable investment. It does not require expensive equipment and inventory. Minimum net work requirement is $100,000.

Think about it. Glass is EVERYWHERE.
Car Dealers, retail stores, doctor's offices, insurance offices, banks, auto repair shops Restaurants
Government buildings and schools
Office and industrial buildings
Manufacturing and warehousing facilities
Franchisee Testimonials
Total Locations is 261, owned by 214 franchisees, 1 company owned location … all in the US. We have franchisees available in all 50 states!
Download the franchisee satisfaction report on Fish Window Cleaning Services absolutely free