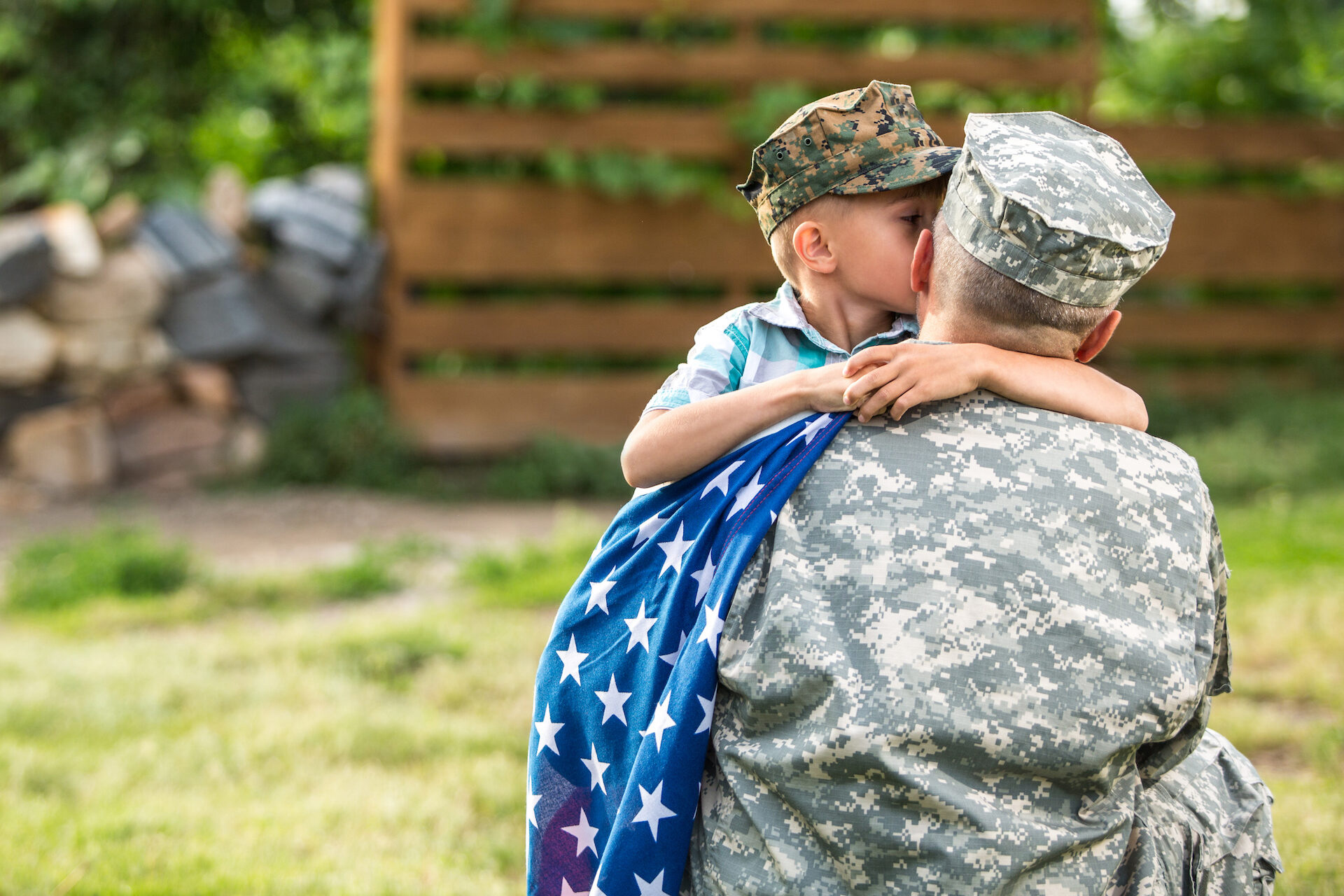 After 26 years in the U.S. Army, including a stint as a flight medic during Desert Storm, Mike Hanlon was looking for a second career with flexibility and purpose that he could pursue while raising his children.
"This has really turned into the perfect job for me," said Hanlon, owner of a Dream Vacations franchise business in Wilmington, North Carolina since 2015. "I get to make my clients happy, supplement my military pension and spend time with my kids. It doesn't get any better than that."
Meanwhile, Will Childers, a six-year veteran who specialized in logistics/embarkation in the U.S. Marine Corps, wanted to explore a career where he could take advantage of his military training and business education, and pursue his passion for taking care of others.
"I can't help but feel this was God's plan for me all along. I get to run my own business while helping others who are unable to help themselves," said Childers, franchise owner of HomeWell Care Services in Georgetown, Delaware since 2020.
After years of military service, Hanlon and Childers both discovered the exciting and rewarding world of small business ownership through franchising. It's proven to be a mutually beneficial relationship with franchisors recognizing the unique skills that veterans offer. Many franchise brands are even making a concerted effort to recruit more vets to run their businesses by enticing them with a long list of incentives, such as major discounts on startup fees.
Veterans, who in many cases struggle to transition to civilian life and find steady employment, play a critical role in the franchising success story. Among the more compelling statistics are:
Veterans own 1 out of every 7 franchises in the U.S., according to a study conducted by the International Franchise Association (IFA), despite making up about 7 percent of the civilian adult population.
There are more than 66,000 veteran-owned franchise businesses in the U.S., which generate more than $41 billion in GDP.
According to the U.S. Small Business Administration (SBA), roughly a quarter of all veterans are interested in starting their own businesses.
Understanding and appreciating the value that veterans bring to the franchising sector, Franchise Business Review (FBR) is proud to identify the Top Franchises for Veterans. FBR surveyed 3,000 veteran franchise owners across more than 300 leading franchise brands on their overall satisfaction with their brands and their likelihood to recommend them to others. The top 80 franchise companies with the highest satisfaction among their veteran owners made this year's awards list.
"Franchising needs more business owners with grit and leadership skills, especially now given the pandemic," said retired Navy veteran Eric Stites, the founder & CEO of Franchise Business Review. "Veterans are very resilient by nature. If anyone is well-equipped to operate under challenging circumstances, veteran franchise owners are."
As the director of recruitment at Dream Vacations, Janet Harris and her team make hiring veterans and their spouses a top priority. On average, the online travel agency recruits about 100 veterans a year as franchise owners. With more than 520 former vets in the network now, approximately 35 percent of Dream Vacations' entire franchise system is now composed of former military men and women.
A Veteran-Focused Franchise Mission
"Veterans are just a natural fit for us because many of them have been exposed to international travel and other cultures while in the military," said Harris, who also serves on the International Franchise Association's VetFran committee, whose mission is "educate both veterans and franchisors about the unique match between the skills and aptitude of entrepreneurial veterans and the demands and opportunities of being a franchisee."
The other important mission of VetFran is to make entry into franchising easier for veterans. At Dream Vacations, which was also named a Top Low-Cost Franchise by FBR, all military vets who purchase a travel agency franchise receive an Enlistment Package valued at no less than $5,000, or 30 percent off the initial franchise fee. They can also select one of two perks currently being offered — waived administrative fees valued at $1,350; or a computer tablet valued at $1,000. In addition, they can receive a waived training fee for a business partner, veteran-themed marketing assets, and the ability to hire active-duty military spouses and veterans as associates at a discount.
Additional veteran incentives that Dream Vacations offers include travel discounts for military customers and access to veteran networking groups.
"The great thing about being a Dream Vacations franchise owner is that we offer a lot of flexibility. It's a commission-based business so it's up to you how much work you put into it and how much money you can make," said Harris, who points out that Dream Vacations was named the No. 1 Franchise for Veterans by the Military Times for four consecutive years (2014-2018).
Neighborly's Commitment to Vets
With more than 4,800 home-service franchises in nine countries, including 3,200 in the U.S., holding company Neighborly placed five of its 19 brands — Mosquito Joe, Mr. Appliance, Mr. Electric, Mr. Handyman and Glass Doctor — on FBR's list of Top Franchises for Veterans this year. Neighborly COO Mary Kennedy Thompson says her company's commitment to supporting and hiring veterans is personal.
"Don Dwyer, our founder, who served in the military, wanted to give back to those who served our country. So, he started the VetFran Program right after Desert Storm in the 1990s," said Thompson, an ex-Marine herself. "From the start, our company has  made it a top priority to recruit veteran employees and franchise owners because we feel veterans deserve the power to prosper. They served our country and put their lives on the line for us. We owe it to them to take care of them."
Military veterans Hanlon and Childers have certainly benefited from their franchising experiences. Hanlon is one of Dream Vacations top performers, growing his business every year. Despite the pandemic, which severely impacted the travel sector, he says he sold more luxury vacations at a higher price point in 2021 than in previous years.
"It takes a special skill set to become a successful franchise owner, and the fact is not all veterans make great franchisees. But a lot of them do, and I'll do whatever I can to educate them and guide them through the process," said Hanlon, who in 2019 was named Dream Vacations' Ambassador of Veteran Affairs, an award which honors a former member of the Armed Forces who represents the interests of military veterans and is dedicated to their advancement as travel agents.
Childers, who became passionate for home care services while caring for his ailing grandmother, credits his military experiences with providing him the discipline and the tools to become a successful multi-unit franchise owner.
"In the Marines, I was put in charge of the logistics of moving hundreds of troops, everything they required to take with them to prepare them for war. I now run a franchise with about 100 employees who are caring for clients with a lot of different kinds of physical and mental disabilities. I feel like I was prepared to take this challenge," he said.
"The Marines taught me a lot of things, but most importantly discipline and organizational skills," said Childers who opened his HomeWell franchise during the pandemic and yet still exceeded his first-year revenue goals by 300 percent, placing him among the franchise's top performers. "The thing I like about the franchise model is it's got a good game plan, and it also provides me with the structure I need to be successful."