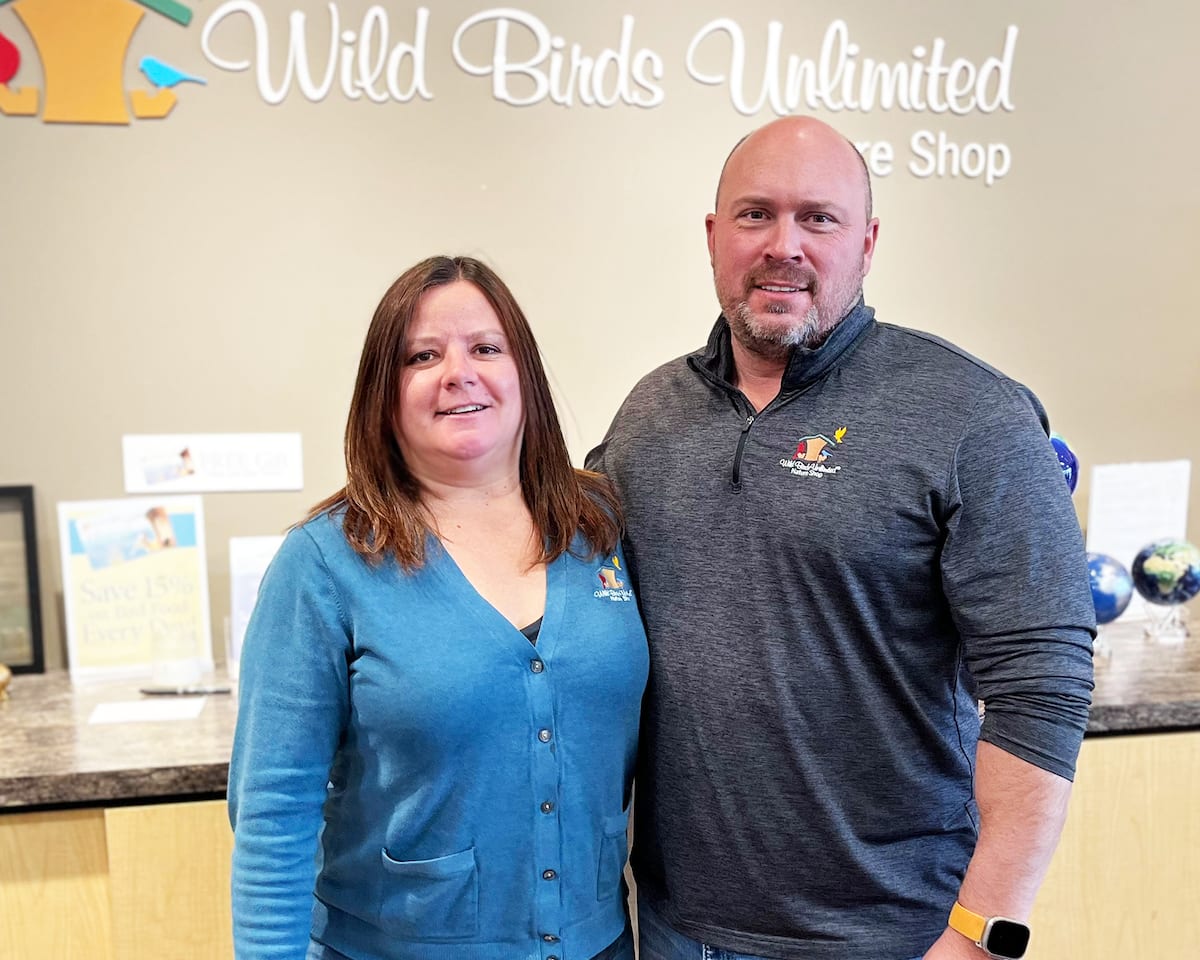 Dean Seifert, Wild Birds Unlimited Franchisee
Franchise Owner Since 2020
Denver, CO, Highlands Ranch, CO, Arvada, CO (2022),
20 Employees
After 20+ years as an executive for leading technology companies, 'selling birdseed' seemed like a significant departure for Dean Seifert. But once he saw the positive impact that his business has on his life and in his community, he realized that something doesn't have to be global in scale to make a significant impact.
"I worked at Amazon.com for six years running two global business units: Amazon Gift Cards and Amazon Dash Replenishment," Dean said. "I also worked for three different start-up companies in payments and e-commerce. I'm listed as a primary inventor on 52 patents."
"When my wife, Tina, and I moved from Seattle to Denver, we met a Wild Birds Unlimited owner in Washington. They shared their success story of buying a store 18 years ago, how much they have enjoyed running and building that business, and how they worked together as a husband and wife. That inspired us!"
When Thorough Due Diligence Pays Off
When they first started exploring franchises, Dean and Tina's most important considerations were:
Resiliency: How the business model addresses customer needs and whether it would be sustainable over time.
Business Model: A strong financial model with predictable costs/expenses and a relationship-based customer acquisition model versus transactional.
Brand Reputation: A clear vision, purpose, and positive standing in the community.
"We looked at many franchises and independent businesses over the years. We chose Wild Birds Unlimited as a franchise because it checked all the boxes! We had never seen a brand or business model as mature and consistently successful as the WBU brand."
"We reviewed the brand's background, business model, and franchise reviews. We also talked to ten Wild Birds Unlimited franchise owners to get their insights and feedback on how they liked operating their businesses and whether they'd recommend ownership to others. We asked these key questions:
In what ways is the franchise supporting the growth of your business, new products, new customer acquisition, technology, and online growth?
What material changes has the franchise made to the system over the past five years? Did they have a positive or negative impact on your store?
What large initiatives is the franchise investing in in the near future? How do you feel these will impact your store?
What are the three most important factors or considerations we should think about regarding investing in a Wild Birds Unlimited location and/or purchasing a store?
What are some examples of actions the franchise has taken that directly resulted from franchisee feedback? What actions has the franchise yet to take after feedback from franchisees?
What sets WBU apart from other pet and bird-related stores? Why do people shop with WBU instead of other brick-and-mortar stores or online stores?
What role does the franchise have in helping its franchisees succeed—specifically, what actions, programs, or initiatives are you doing to ensure that your franchisees can thrive?
What are a successful franchisee's 3-5 biggest drivers? What are the 3-5 drivers of a failed franchisee?
The Divide and Conquer Approach
"The thorough training, orientation, and onboarding processes with Wild Birds Unlimited are first-class. Even though we were onboarded during COVID, the franchise provided a wonderful coach that guided us through all aspects of the program. They provided a step-by-step onboarding checklist, thorough training, and an orientation program that helped us focus on the most important things from the start."
"The biggest challenge starting out was learning all of the business systems, products, programs, and accounting aspects while also learning about birds and how to engage and interact with customers. The team that the previous owner had built was fantastic in helping us get up to speed quickly with the products and point-of-sale systems. Learning the back office took a bit more time as several systems manage the ordering, receiving, advertising, emails, and online ordering."
"My wife, Tina, and I knew that taking on a large, successful store would take a lot of work, especially with having no specific retail knowledge about birds or hobbyist stores. However, we underestimated how complex and all-absorbing the first six months would be when we started. We chose to divide and conquer in the first few months, with my wife focusing on the front of the house (staff, training, products, customer experience) and me focusing on back-of-house (finances, bookkeeping, inventory, ordering, payroll). As a team, we were able to bring it all together. It would have been much more challenging if it were just one person rather than the two of us approaching this as a team. That was the biggest lesson—we needed to work as a team to be successful."
"Our franchisor does a great job of looking for feedback from its franchisees so they can understand the things that impact our success most. We participate in all of the surveys. I believe the franchise values franchisee feedback and looks to take action or invest in addressing the biggest issues. As with any organization, investments need to be prioritized and sometimes compromises need to be made regarding what gets done now versus what has to be put on the back burner."
Becoming Part of a Thriving Community
"We were fortunate enough to purchase a successful store with a long legacy of over 30 years in the community! We grew the store to be the #1 top-selling store about six months after we took over by increasing our advertising spend in certain areas, focusing on growing the online store, and signing up new Daily Savings Club members."
"We've joined several local organizations, including Audubon, Denver Field Ornithologists, Greenwood Wildlife Rehab Center, and Nature's Educators. We love our community and business! When our customers come in, they're always in a good mood and happy to talk about their favorite hobby—birds! Our business is a welcoming and fun environment that engages and rewards us, our team, and our customers!"
For more information on the Wild Birds Unlimited franchise opportunity, Call: 888-730-7108, Visit: WBUfranchise.com