Brightway Insurance
Total Startup Investment
$42,300 - $178,916
Net Worth Required
$250,000
US/Canada Franchise Units
203
Franchise Owner Reviews
Reviewed by 145 franchise owners (82% of owners)
Verified Brightway Insurance Franchise Owner Reviews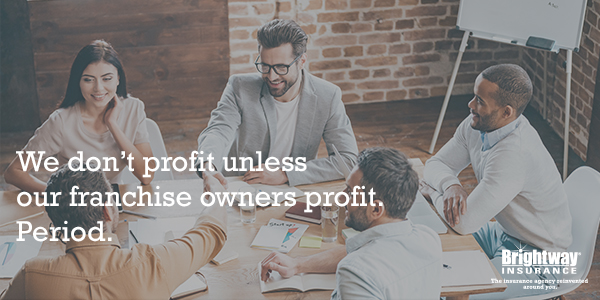 Richard, Overall Brand Rating: 87 FSI
Major Metro Market (500,000+ population) 
"I am the most enthusiastic franchise owner. Brightway has changed my family life and financial future. I encourage fellow franchisee to stay focused and keep at it. I encourage them to put in the hard work for their future success." - Richard Miller, Brightway Insurance Franchise Owner 
Michele, Overall Brand Rating: 89 FSI
Medium Market (100,000 - 249,999 population) 
"Brightway Insurance has been the right choice for me. I truly believe that it is a WIN WIN WIN. Brightway Insurance is constantly finding new ways to make our system better, even if it isn't broken. Our management team is constantly seeking and implementing ways to help us grow, and stay ahead with innovative solutions." - Michele Robicheaux, Brightway Insurance Franchise Owner 
Timothy, Overall Brand Rating: 80 FSI 
Small Market (50,000 - 99,999 population) 
"Support has been fantastic. I feel very comfortable that if I call in with a question or issue I will have it answered or resolved. The high quality of the support team has actually helped me catch up in the training side of things. The training I've received has not been bad at all, however coming as I did into a new system out of a captive agency I can say that having some extra time and emphasis placed on learning how to effectively and efficiently operate the AMS & Ezlynx systems, as well as to learn some of the more important quality control priorities would have helped me and my staff perform better at the start." Timothy Walters, Brightway Insurance Franchise Owner 
Brightway Insurance Expert Review
Brightway Insurance is a Florida-based insurance distributor. Franchise owners serve as local insurance experts in their communities—counseling individuals and businesses and helping them choose the best coverage plans and providers.
Over the past decade, most franchise owners have been well served. The system boasts an average annual revenue figure higher than most in the industry and has, over the years, accumulated a number of prestigious franchising awards (including multiple Top Franchise, Top Franchise Innovator, and Top Franchise for Veterans Awards from FBR.) 
Brightway Insurance has also further expanded the number of franchise model offerings to four: each catering to a different level of investment and involvement, allowing prospective owners unique flexibility to enter the system at a commitment level that best aligns with their personal resources and professional objectives. 
Achieving financial success with Brightway Insurance is not, however, without its challenges. Though a certain level of complexity is expected when building out a competitive insurance brokerage, franchisees feel the initial training they received could have better prepared them and their staff to hit the ground running. Recent franchisees are also less than thrilled with the early trajectory of their financial return, but ultimately remain optimistic; they understand building their business will take time and describe operating a Brightway Insurance franchise as a marathon and not a sprint. 
Our Bottom Line: Starting a franchise in the insurance industry isn't for everyone, but if you're willing to put in the time to build the business the right way, Brightway Insurance is an award-winning system that can provide you with a tremendous path for success. 
Brightway Insurance Franchise Profile 
Tenure: 46% of Brightway owners have been open and operating 4+ years (21% - less than 1 year, 18% - 1-2 years)
Units/Territories: 93% of Brightway owners own/run one unit/territories
Location: 83% of Brightway owners are located in the South
Market Size: 42% of Brightway owners operate in markets with 500,000+ population (Major Metro)
Work Hours: The majority of Brightway owners work 40-50 hours/week
Work Weekends: 37% of Brightway owners state "they work weekends a couple times/month"
Flexibility: 71% of Brightway owners state their work schedule is flexible to very flexible
Work-Life Balance: 54% of Brightway owners say they have a balanced work-life
Age Group: 36% of Brightway owners are 35-44 years old
Sex: 72% of the respondents to our FBR survey are male
Awards & Recognition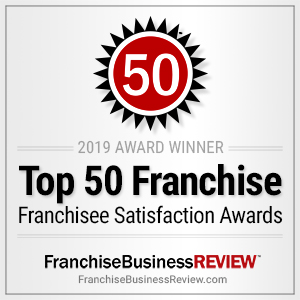 Brightway Insurance has been recognized for their high franchisee satisfaction year after year, being named to several FBR Top lists including:
- Top 200 Franchises (2017-2019)
- Top Innovative Franchise (2018)
- Top Low-Cost Franchise (2012)
- Top Franchise for Veterans (2017, 2018)
- Top Emerging Franchise (2018)
- Top Franchise for Women (2018)
- Top Franchise Leader (2017-2018)
Download the franchisee satisfaction report on Brightway Insurance absolutely free