Firehouse Subs
Cash Required
$90,000 - $100,000
Total Startup Investment
$131,150 - $928,405
Net Worth Required
$300,000
US/Canada Franchise Units
1135
Franchise Owner Reviews
Reviewed by 305 franchise owners (56% of owners)
We are currently looking for hardworking, dedicated franchise partners in markets throughout the United States.
The Firehouse Subs Story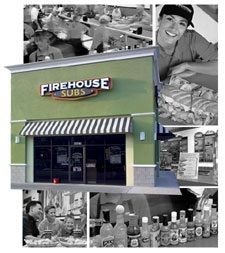 Firehouse Subs® is a fast casual restaurant chain with a passion for Hearty and Flavorful Food, Heartfelt Service and Public Safety. Founded by brothers and former firefighters Chris Sorensen and Robin Sorensen, Firehouse Subs is a brand build on decades of fire and police service, steaming hot subs piled higher with the highest quality meats and cheeses, and its commitment to saving lives through the creation of Firehouse Subs Public Safety Foundation®. The founders are the real deal, the food is their creation, and the company is built upon a family of franchise operators who share their same passion for serving others.
Quick Facts:
43 states
870+ restaurants
Headquartered in Jacksonville, Fla.
Spreading Like Wildfire
At headquarters, we like to call our growth a "controlled burn." With more than 870 locations, our expansion is carefully calculated to optimize potential, profitability, investment, and of course, our franchisees' success. Our plans show Firehouse Subs reaching 2,000 locations by 2020. That's a fire with some serious heat, it's a good thing we were founded by firefighters.
Reasons to Invest
As one of the country's fastest growing restaurant brands, and a leader in the fast casual sandwich industry, the demand for our uniquely prepared specialty subs is growing by leaps and bounds, opening up opportunities for expansion in new and existing markets. With our strong brand identity, exceptional franchisee relationships, and passionate executive team, Firehouse Subs is perfectly poised for development with the right investor.
Investment opportunities from $131,150
High average AUVs (Average Unit Volume)
Well-defined real estate guidelines
Strong brand heritage
Operational Excellence & Training
With an ever-growing history of innovative products, a focus on exceptional customer service, and a one-of-a-kind brand identity, Firehouse Subs is committed to building profitable businesses for franchisees and area representatives alike. Furthering our commitment, we offer extensive training programs and operating systems to help build your business. Our support team includes development and construction experts, training managers, field marketing managers, and seasoned operational managers -- all working together, streamlining operations for businesses that are simple to run.
Industry Recognition
No. 1 consumer choice for welcoming and comfortable atmosphere by Technomic's 2015 Chain Restaurant Consumers' Choice Awards
Technomic Inc. 2014 Consumers' Choice Awards for Chain Restaurants #1 "Pleasant and Friendly Service"
Restaurant Business Magazine 2014 #1 Fast Casual Chain
Market Force 2014 #1 Favorite QSR Chains: Sandwich Category
Market Force 2014 #1 Friendly Service
Community Service
As former firefighters, we know all too well that to save a life, you must have the proper tools, gear, and knowledge. That's why we launched Firehouse Subs Public Safety Foundation, to give back to the public safety entities in the communities we serve. Since its inception in 2005, the Foundation has donated more than $13 million in equipment and resources to Police, Fire, EMS Departments, and the Military across the country. We are dedicated to improving the life-saving capabilities of all emergency services, with funding, resources, and direct support to those who need it most.
Download the franchisee satisfaction report on Firehouse Subs absolutely free