Office Pride Commercial Cleaning Services
Total Startup Investment
$59,500 - $107,200
Net Worth Required
$100,000
US/Canada Franchise Units
137
Franchise Owner Reviews
Reviewed by 74 franchise owners (63% of owners)
Become a Part of Something Great
Become a part of one of the nation's fastest growing franchises! Run your own business, be your own boss and reap the benefits of your hard work — all with a company that will support you every step of the way.
Our Values Make Us Different™
Office Pride is an industry leader in commercial cleaning and janitorial services. With more than 25 years of experience serving our clients with professionalism and integrity, we have one of the highest retention rates among our competitors – and that makes us proud! Our pride in cleanliness, along with our values-based approach, is a winning combination for our franchisees, our clients and our company.
Office Pride is recognized as one of the most advanced and admired full-service commercial cleaning/janitorial franchises in the building services industry. We are a nationwide franchise that exists to equip people to build a profitable business that honors God. Our franchisees provide top quality commercial cleaning services delivered in a professional and consistent way, through our commitment to our core values. We have 
created a complete, turnkey franchise business system with proven success in a recession-resistant industry.
Our Values Make Us Different™.
Integrity • Professionalism • Exceeding Expectations
Benefits of Office Pride Franchise Ownership:
Industry leader for more than 25 years

Faith-based franchise

Nationally recognized brand

Established multi-billion- dollar industry

20% system sales growth last 4 years

Debt-free franchise system

Outstanding Item 19 financials

Viable in any size geographic market

Recession-resistant industry

Billings and collections services provided

Significant vendor discounts

Stable customer base

Service business with recurring income

Comprehensive franchisee training and ongoing support

Scalable business model
Exceptional Franchisee Ratings
in Franchise Business
Hall of Fame:
Office Pride is listed in Franchise Business
Review's Hall of Fame. This honor recognizes brands
whose franchisee satisfaction scores are among the Top
200 of all franchises surveyed for at least 10 consecutive
years.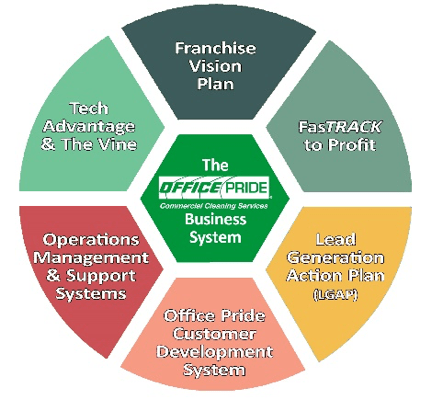 As an Office Pride franchisee, you will enjoy the benefits of running your own business plus the added security that comes with being part of an organization with a carefully designed business model and support structure. Enjoy the freedom of being a business owner while working side by side with a team of professionals dedicated to helping you achieve your personal and professional goals.
With the Office Pride brand, reputation, systems and network, you will immediately have impeccable references and marketing materials. Our proven financial and operational tools and 24/7 support will help you grow and impress prospective clients to earn and keep their business.


Download the franchisee satisfaction report on Office Pride Commercial Cleaning Services absolutely free