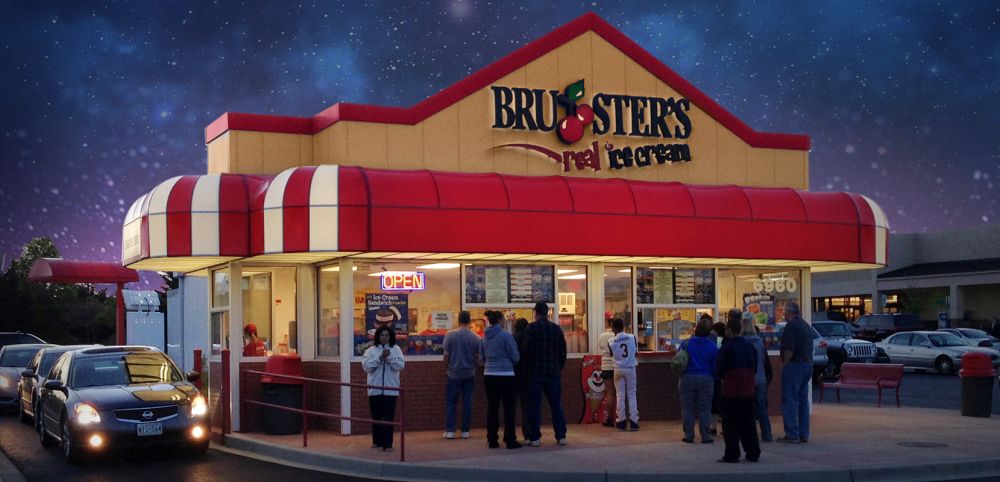 Get to Know Bruster's Real Ice Cream
If you are looking for a business that is meaningful and fulfilling, you should take a closer look at Bruster's® Real Ice Cream!
As a privately held company, our focus is 100% on helping you build the right store, in the right place with the right training and the right employees. For three decades we have refined our business model, improved our programs, and supported our franchisees. That's why our franchisees have enjoyed seven consecutive years of same store sales increases and our average unit volume is at a record high. We don't answer to shareholders or equity groups. We measure our success based on the success of our franchisees! If you are looking for a culture where people listen, collaborate and work together to achieve great things, you owe it to yourself to learn more about Bruster's®.
You'll discover that being a Bruster's® franchisee is more than a financial investment or a means to support your family. A Bruster's® Real Ice Cream shoppe is a place where people come happy and ready to make a memory! This business is a catalyst for community connections and family celebrations. You will become a mentor to your young employees, your ice cream becomes the basis for special family traditions, and your patio becomes a gathering place for friends and family celebrations. You will have the opportunity to sponsor neighborhood teams and offer fundraising opportunities for schools and churches.
Interested in opening your own Bruster's Real Ice Cream franchise? Take the next step and request more information.
Send Me More Information
Who Makes an Ideal Bruster's Real Ice Cream Franchisee?
Here's Who Tends to Thrive in the Bruster's System:
Profile Summary:
Net Worth $250,000-$500,000
Liquid Capital $100,000-$200,000 depending on type of store
Prefer college education or higher
35 to 65 years old
Business and/or financial experience
Single or multi-unit operator
Psychographic:
Ambitious
Driven to succeed
Works hard, plays hard
Enthusiastic, upbeat attitude
Leadership by example
Tough, but fair
Respect and empathy for others
Enjoys mentoring youth, Seeking control of destiny
What the Candidate Wants
Personal Traits:
Developing staff/culture
Dedicated to quality and service
Builds relationships
Diligent, ambitious, persistent, patient
Can identify and capitalize on opportunities
Honesty and integrity
Positive outlook, upbeat
Connected to community
Collaborative
Strong work ethic
Bruster's Real Ice Cream Frequently Asked Questions (FAQs)
Get Bruster's Real Ice Cream Information Today!
Franchise information about

Bruster's Real Ice Cream
Net Worth Required
$250,000
Total Startup Investment
$230,000 - $1,300,000
US/Canada Franchise Units
177
What Franchise Owners are Saying
"We love [Bruster's creativity and products.] We love what we do! It's super that the Franchise reaches out. We believe the more ideas, knowledge, and options one has makes a great recipe for success!"
Angelo
Bruster's Franchise Owner