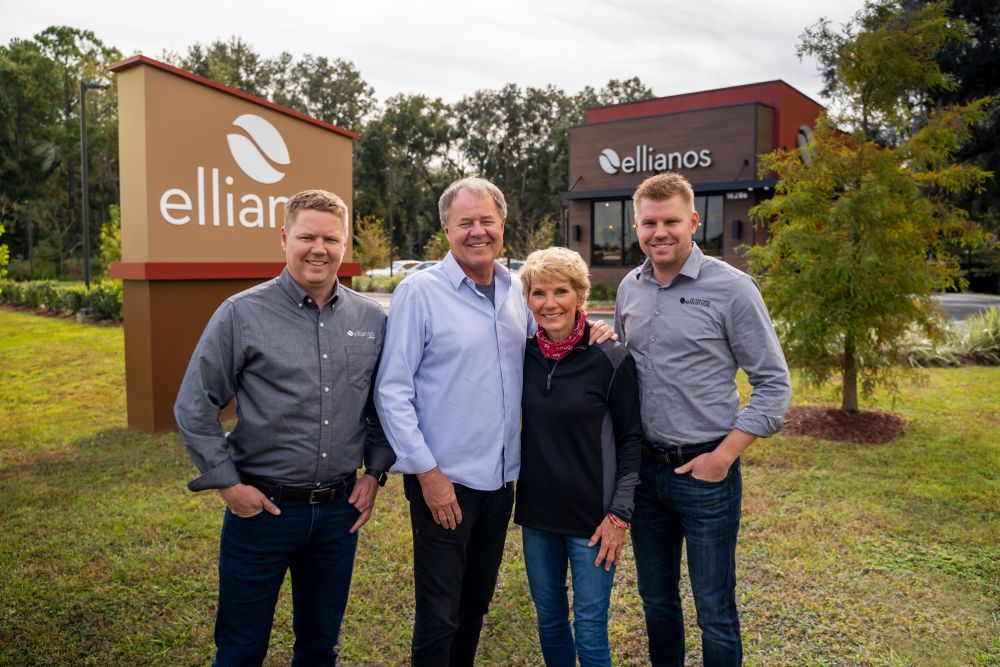 Get to Know Ellianos Coffee Company
Ellianos Coffee was founded in 2002 with the mission to serve 'Italian Quality at America's Pace.' Founders Scott and Pam Stewart have dedicated their lives to this mission, developing systems and strategies to satisfy to the consumer and franchisee alike. One such system is the proven, efficient double-sided drive-thru. This design provides consumers with speedy, convenient service while offering high-quality coffee and allows the franchisee to maximize sales.
Ellianos Coffee is a rapidly growing brand with territory availability in states across the southeast United States. The small building footprint, starting at just 700 sq. ft., allows Ellianos Coffee store locations to fit where other brands are unable to. Its modular-style buildings are perfect for parking lots of existing shopping centers, are quick to develop, and are a great asset to any landlord.
Providing ongoing support to each franchisee throughout the development stage and beyond, Ellianos Coffee focuses on building relationships with its franchisees and considers them a part of the Ellianos Coffee family. Ellianos also encourages franchisees to engage with their customers and conducts initiatives to give back to its communities.
2021 Entrepreneur Top 500 ranking
2021 Franchise Business Review Top Food Franchises Satisfaction Award
Member of VetFran
Member of the International Franchise Association
Currently franchising in the following states: FL, GA, AL, TN, MS, SC, NC.
Interested in opening your own Ellianos Coffee Company franchise? Take the next step and request more information.
Send Me More Information
Hear What People Are Saying About Ellianos Coffee Company
Who Makes an Ideal Ellianos Coffee Company Franchisee?
We are looking for entrepreneurs who love to accept the challenge of new ventures, enjoy every moment, and are willing to put in the hard work it takes to achieve their business goals. Our most successful franchisees are those who are deeply rooted in their communities, take pride in their work, are team players, and who are dedicated to Ellianos' mission – 'Italian Quality at America's Pace.'
Requirements to become an Ellianos Coffee franchisee:
Cash or liquid assets of $100,000 or more
Net worth of at least $400,000
Ability to pay the initial $25,000 franchisee fee
Drive and flexibility to start and operate your business
Good credit history
Ellianos Coffee Company Frequently Asked Questions (FAQs)
Get Ellianos Coffee Company Franchise Information Today!
Franchise information about

Ellianos Coffee Company
Cash Required
$150,000 - $250,000
Net Worth Required
$400,000
Total Startup Investment
$397,500 - $690,000
US/Canada Franchise Units
25