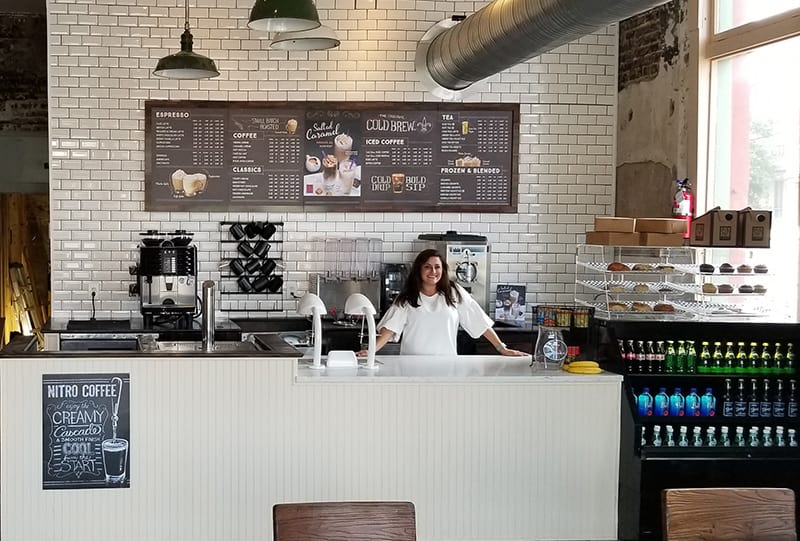 If you're interested in buying a coffee franchise, you're probably looking at a long list of brands. But finding the best coffee franchise for you requires due diligence. Franchise Business Review empowers potential franchise buyers to research and compare franchise reviews and satisfaction ratings – based on actual franchise owner feedback. One of the best places to begin your research on investing in a coffee shop franchise is a targeted list of award-winning coffee franchises.
The Buzz About Coffee Shop Franchises
Coffee is one of the most traded commodities in the world — and Americans just can't get enough of it. From Starbucks to Dunkin' to local coffee shops and cafés, Americans have myriad options when it comes to satisfying their coffee cravings. As Dunkin' (formerly known as Dunkin Donuts) famously proclaims, "America runs on Dunkin'." Today, it may be more accurate to say America runs on caffeine.
64% of all U.S. consumers drinking coffee daily.  In fact, the average American consumes about two cups per day. If you're ready to reap the rewards of this brewing investment opportunity,  but are hesitant about starting your own business from scratch, you may want to consider opening a coffee franchise. To help you identify the best coffee franchises, we interviewed thousands of franchisees across brands to determine the best opportunities based 100% on franchisee satisfaction. Below are the coffee franchises from this year's Top Rated Food List, based on the overall satisfaction of franchise owners with their brand.
Top-Rated Coffee Franchise Opportunities
PJ's Coffee prides itself on being a coffee shop franchise that sells specialized brews, organic tea, and fresh breakfast pastries. Their innovative cold-drip process, created by their founder Phyllis Jordan, prepares iced coffee to perfection. Franchising since 1985, PJ's now has over 130 locations in the U.S. With such tremendous growth, PJ's Coffee is now expanding internationally. Learn more about the PJ's Coffee Franchise Opportunity.
The initial cost is $168,900 – $566,000. The cash required (the cash you need on hand in order to enter into the franchise agreement) to purchase a PJ's Coffee franchise is $100,00 with the total Initial Investment being $200,775 to $584,000.
Aroma Joe's positively impacts people with passion, caring and a commitment to excellence throughout the communities they are proud to serve. They have quickly become a beloved destination for handcrafted coffee and espresso drinks, unique infused blends, signature AJ's RUSH® Energy Drinks, and all-day food offerings served in a friendly and upbeat environment. The company offers prototypes beginning at 700 square feet for drive-thru locations to 1,700 square feet to include a coffee house with drive- thru accessibility.
The initial investment cost is $296,000 – $1,046,500 and the cash required is $150,000. Learn more about the Aroma Joe's Coffee Franchise Opportunity. 
Named the fastest growing coffee chain in America by CNBC, BIGGBY COFFEE credits their success to their founders' decades of experience in the restaurant business. Franchised since 1999, the brand now has over 250 locations across the U.S. With a "come as you are" atmosphere, customers can expect for the baristas to learn their name and their order.
BIGGBY COFFEE is on the lookout for prospective owners who are looking to open a coffee franchise in Alabama, Florida, Georgia, Illinois, Michigan, North Carolina, South Carolina, Ohio, Texas, and Wisconsin. Will you be the one to bring BIGGBY COFFEE to your neighborhood?
The cash required to buy a BIGGBY COFFEE franchise is $15,000 with the initial investment range being $161,350 to $319,110. Learn more about the BIGGBY COFFEE franchise opportunity.
With about 20 locations now in the U.S. and another 30 or so projects in the works now at various stages of construction and development mainly in the Southeast, Ellianos is another fast-growing coffee franchise. The drive-thru coffee concept advertises $846,331 system wide average unit net sales, according to reports.
The initial investment to buy an Ellianos Coffee franchise is $340,000 to $575,000, including a $25,000 franchise fee. Learn more about the Ellianos Coffee Franchise Opportunity. 
The Human Bean was founded in 1998 with a commitment to developing the very best drive-thru experience for quality coffee, tea & espresso. The Human Bean franchise team delivers the experience and expertise needed to help franchisees succeed – from start to finish. If you're considering opening a Human Bean Espresso Drive-Thru business, here's what you can expect to spend to start the business and what ongoing fees the franchisor charges throughout the life of the business.
The initial investment is $386,350 – $908,770 with a cash requirement in the amount of $200,000. Learn more about The Human Bean Coffee Franchise Opportunity. 
Ready to Brew Your Own Coffee Franchise?
Owning a coffee franchise can mean long hours and early mornings — and it requires a substantial financial investment. But owning your own coffee shop franchise can also provide the chance to serve your community and be your own boss in an exciting and in-demand industry. Before you dive in, make sure you do your research. Every franchise has its own startup costs, company culture, levels of support, and franchisee satisfaction levels, which is why it is so important to thoroughly vet any coffee franchise you are interested in. Begin your due diligence by learning more about these top-rated coffee franchise opportunities.
As you research various brands, Franchise Business Review can help you understand which brands have the best reviews and ratings from current franchisees — the people who know best! While the above mentioned coffee franchises are all great options, as they have each been rated highly by the franchisees that own them, there are many more options in the food and beverage franchise space.