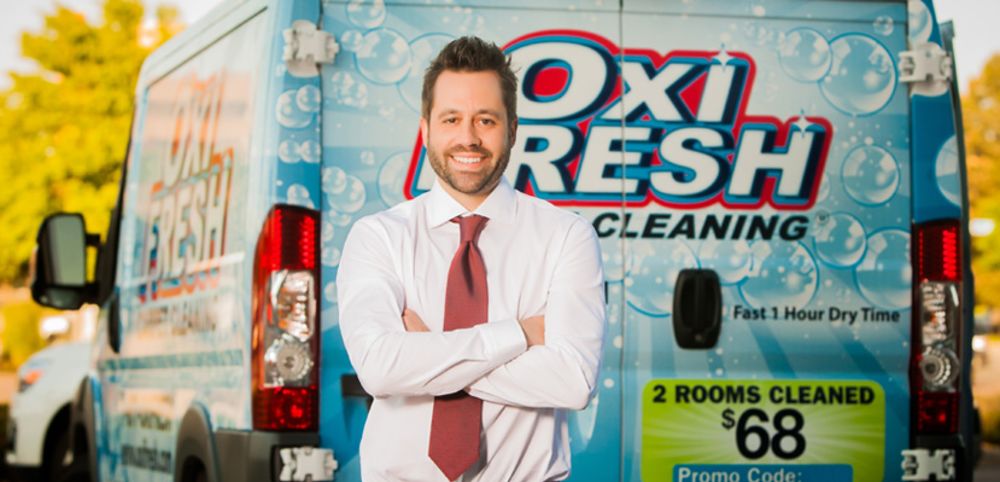 Get to Know Oxi Fresh Carpet Cleaning
Oxi Fresh is the World's Greenest Carpet Cleaning company that services both residential and commercial clients. Oxi Fresh has spent 14 years building the most efficient cleaning systems for carpet, upholstery, tile & grout and hardwood floor cleaning. Oxi Fresh utilizes 1-2 gallons of water per home, 1-2 hour dry times, low-cost fuel-efficient vehicles, and home-based operations while maintaining the most positive reviews in the US.
Oxi Fresh has invested heavily in operational automation with a fully functioning scheduling center dedicated to taking calls, giving accurate quotes, collecting all customer data and booking jobs for franchisees across the country and Canada. Oxi Fresh is on the cutting edge of franchise technology allowing customers to take advantage of true online scheduling capabilities. Oxi Fresh gives you time back to focus on growth, employee development, and customer satisfaction.
With an entire management team specializing in each aspect of the business, individual coaching programs, and Oxi Fresh University, franchisees do not have to guess at the steps to success. The plan is laid out for the franchisees from the very start. Oxi Fresh has taken the technology onus off the franchisees by providing a back end office technology suite to help with the day to day operational management. From customized scheduling capabilities, complete reporting tools, product and equipment stores, print and apparel stores, and a detailed record of all customers, franchisees can always have their thumb on the pulse of their business. Let's see if Oxi Fresh is a good fit for your Clients.
Interested in opening your own Oxi Fresh Carpet Cleaning franchise? Take the next step and request more information.
Send Me More Information
Hear What People Are Saying About Oxi Fresh Carpet Cleaning
Who Makes an Ideal Oxi Fresh Carpet Cleaning Franchisee?
Oxi Fresh franchisees are people who enjoy innovation, technology, competitiveness, support, and structure. Oxi Fresh has pushed the bounds of innovation and technology to automate day to day activities that typically take time away from small business owners. Our franchisees benefit from being able to get time back in their schedule to focus on growth, employee development, and customer relations.
Oxi Fresh Carpet Cleaning Frequently Asked Questions (FAQs)
Get Oxi Fresh Carpet Cleaning Franchise Information Today!
Franchise information about

Oxi Fresh Carpet Cleaning
Net Worth Required
$41,900
Total Startup Investment
$41,900 - $60,000
US/Canada Franchise Units
475