FASTSIGNS, NerdsToGo Franchising Proves a Great Fit for Veteran Couples
Published: November 18, 2021

"Chain of command"

"In the trenches."

"Strategies and tactics."

"Mission accomplished."

There's a reason why so much military language has made its way into franchising. As a time-tested business model that's proven to be a lucrative avenue for those who seek both freedom and financial stability, franchising mirrors the military model in several ways. From working within an established structure and proven systems and processes to being assigned goal-oriented missions and problem-solving under pressure, franchising like the military demands attention to detail and the discipline and fortitude to work through all challenges.

Given the similar approaches taken by the U.S. military and franchises in running well-oiled working units, it's no wonder why so many franchises covet those who served in the Armed Forces and why thousands of veterans choose to transition into franchising every year.

"This was always something we wanted, owning our own business," says Danielle Miranda, who served 16 years in the U.S. Army while her husband Johnny served 20 years in the Marine Corps prior to purchasing their FASTSIGNS® franchise in Tracy, California in 2019. "We couldn't be happier with our decision to buy a franchise."
Advantage of Franchisee Vet Discounts
Like many veterans, Danielle and Juan "Johnny" Miranda, Jr. saw franchising as a great opportunity to best employ their military training and know-how in civilian life while building a better future for their family. Danielle was a multimedia illustrator in the Army and earned a bachelor's degree in mass communication and a master's degree in advertising with her G.I. Bill benefits. Her husband, Johnny, meanwhile, has extensive operations, leadership, training, and mentoring experience in the Marines.
It didn't take long Mirandas to set their sights on FASTSIGNS, and taking advantage of the special incentive the global brand offers military veterans and first responders including paramedics, emergency medical technicians, police officers, sheriffs, and firefighters. Those incentives included a 50% reduction on the franchise fee — a savings of nearly $25,000 for the Mirandas.
"As military veterans, we're both intensely focused on service, quality of work, and contributing to a bigger cause — whether that's helping customers meet their business goals or supporting the growth of the FASTSIGNS brand," said Johnny Miranda who along with his wife also finds time in their busy schedules to run a French Bulldog breeding business.
The exemplary training and support that FASTSIGNS provides its franchise owners has been recognized by Franchise Business Review, which has made the global custom sign and graphic brand a mainstay on its list of Top 200 Franchises. In 2021 FASTSIGNS was named to Top Franchise for Veterans for the 11th straight year by FBR, which ranks the best franchise opportunities on the market based on owner satisfaction.
"We're proud to provide veterans with the opportunity and support to become successful entrepreneurs through the franchise business model," said Mark Jameson, the Chief Support and Development Officer for Propelled Brands, the corporate umbrella of FASTSIGNS®, SIGNWAVE®, NerdsToGo® and Suite Management Franchising, LLC, the parent company of MY SALON Suite and Salon Plaza.
Jameson said that about 14% of franchisees currently in the FASTSIGNS system are military veterans. "We value their contribution to helping us build a top-ranked franchise," he said.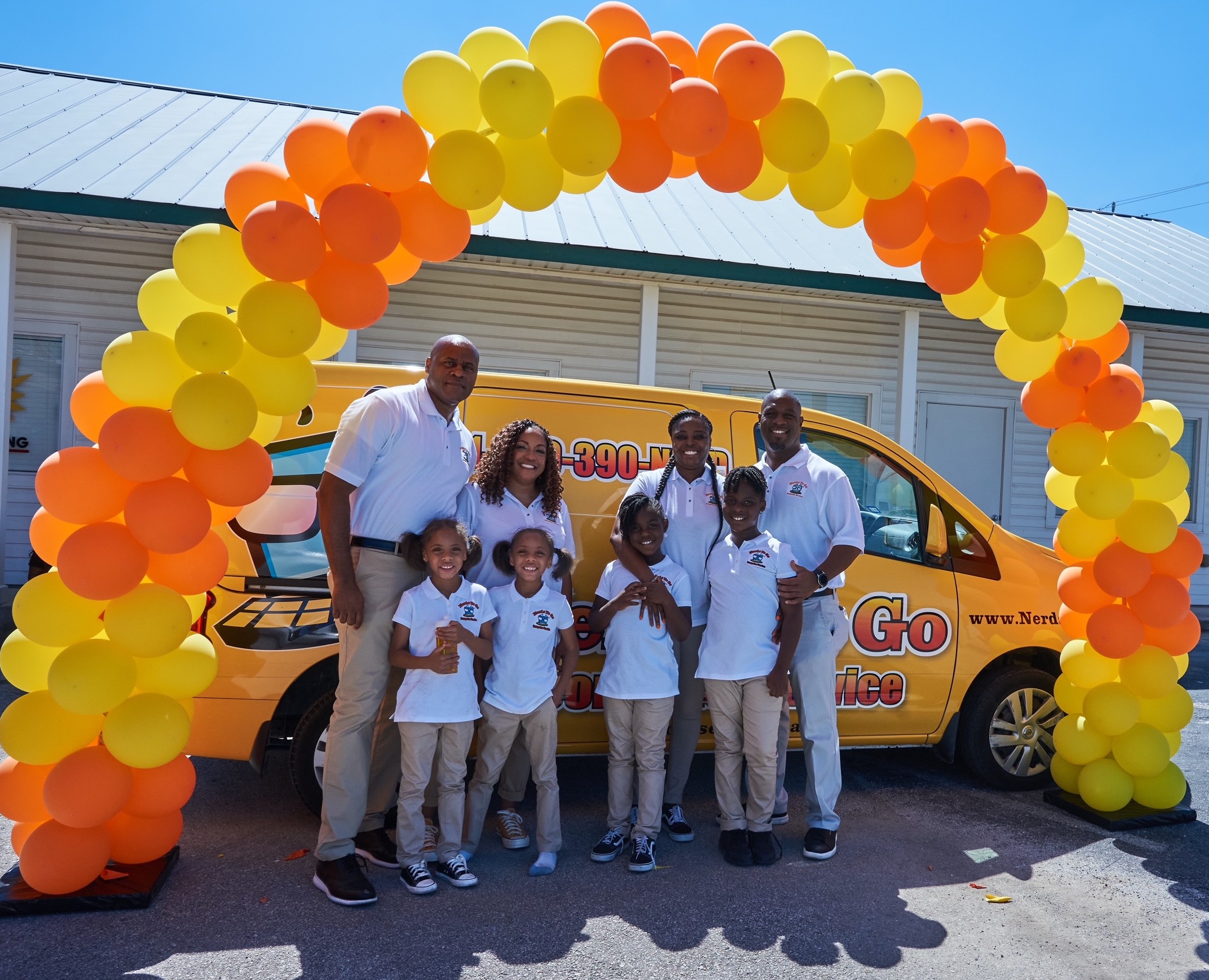 Leveraging Military Expertise
Roger and Michelle Turnbow are another couple who found their way into the Propelled Brands family of franchises. They partnered with Air Force veterans Dion and his wife Kanisha Robinson to take over an existing NerdsToGo center in San Antonio, Texas in 2021.
For Roger Turnbow, NerdsToGo offered a perfect segue to his 30 years of experience working in IT for the Department of Defense as well as the commercial industry. Dion Robinson, who served 20 years as an Air Force Medic, and Roger focuses on the day-to-day operations of their NerdsToGo business while their wives manage business development and HR.
"We looked at other franchises in the IT space and felt that NerdsToGo was the one that was going to have our backs and were going to give us the support and resources we needed to be successful," said Roger Turnbow who pointed out that NerdsToGo has provided a business coach and the marketing support they need.
"Our business coach has been key to our success from the start. He provides mentorship, assist in establishing goals, and provides business best practices from data received from other NerdsToGo franchisees," Roger said. "The biggest value that I've found is that he was able to answer questions we didn't even know we had. Having that person that we can lean on, who is only an email or phone call away, really helps build or confidence."
Asked how it feels to be in the first year of franchise ownership, Turnbow didn't mince his words. "It's been both scary and exciting dealing with the unknowns," he said.
"But I really feel that what we learned from the military about leading teams and dedication to service and just dealing with unexpected. We feel like we are fully prepared to take this on," Turnbow said.
Seeking Qualified Franchisee
NerdsToGo is currently seeking qualified franchisees to be owner-operators and help the brand grow across the U.S. Prospective franchisees do not need experience in information technology but should have a strong desire to grow a successful business in their local community, developing relationships with small business owners to become their outsourced IT department.
The initial investment for a NerdsToGo franchise is approximately $146,200 - $217,050, including a $49,750 franchise fee.
The initial investment for a FASTSIGNS franchise, meanwhile, is $233,555 to $307,308 (for a new, full-service center). FASTSIGNS franchise initiatives available to veteran franchisees and first responders include:
Franchise fee of $24,875 (usually $49,750)
Reduced royalties for the first 12 months
Flexible FASTSIGNS location options (over 400 ideal markets available)
SBA-approved franchise financing