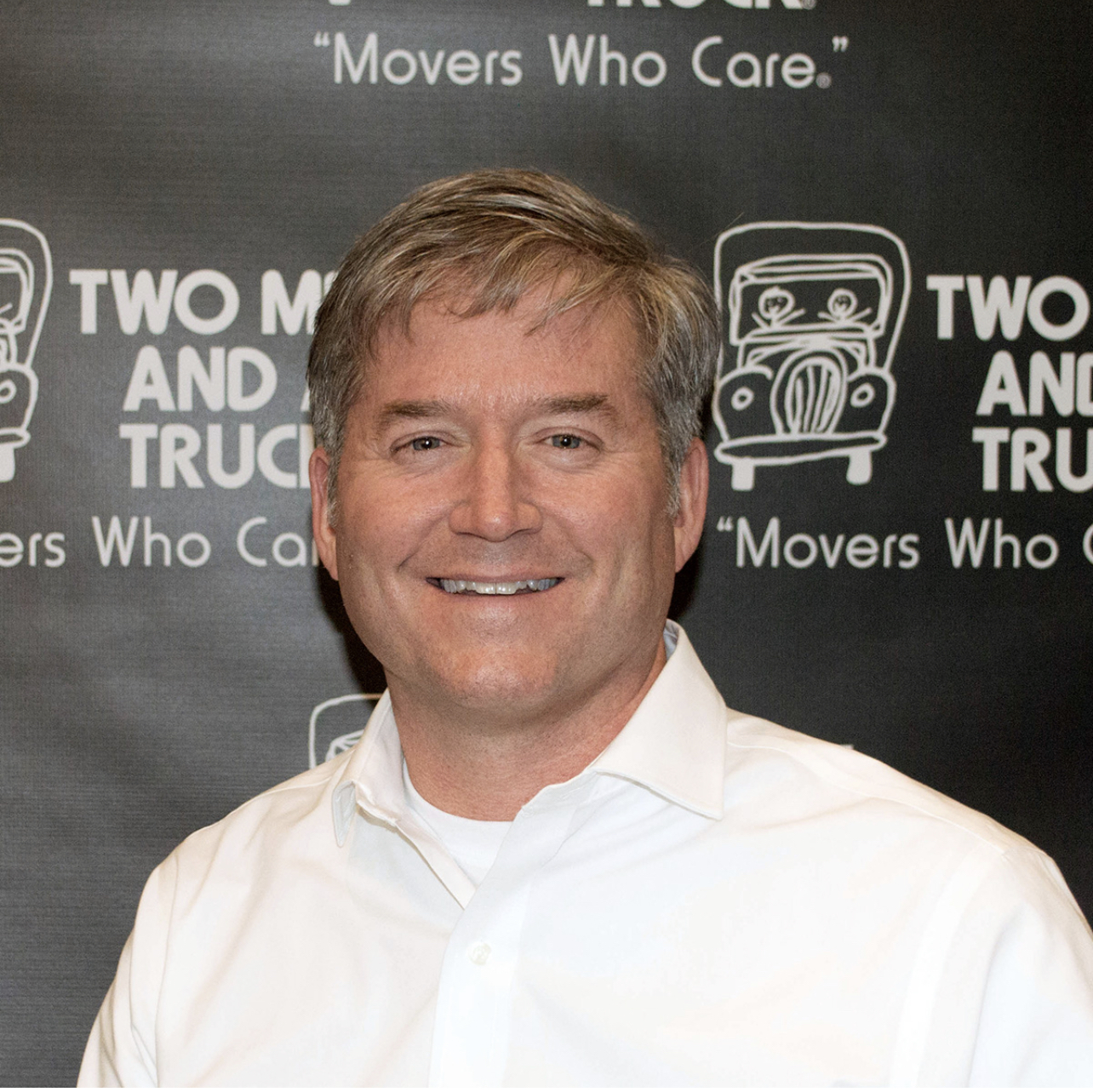 Franchise Business Review recently spoke with TWO MEN AND A TRUCK multi-unit franchisee Michael Lally to gain insight on what it's like to be a franchise owner and the challenges of running your own business. Excerpts from the following interview with Lally are featured in FBR's 2022 Top 200 Franchises issue.
Name: Michael Lally
Locations: Louisville, Lexington and Erlanger, KY; Cincinnati, OH; Philadelphia; West Hartford & New Haven, CT
Franchise owner since: 2004
---
Can you share a bit about your background? What were you doing prior to being a franchise owner and how did that help prepare you for what you're doing now?
My background prior to TMT was varied. Out of college, I worked in the chemical industry (with a distributor and then manufacturer) for about 10 years. Taking a huge change of direction, I worked in the securities business, renovated homes, and wrote a novel over the following five years. The variety of work and jobs helped me embrace change and accept uncertainty, which proved useful when I joined the TMT system.
What are the most critical skills that you feel are needed to be successful? Did you have those skills and how did the corporate group help you develop those skills?
Business ownership and success in general require determination and perseverance. To think that effort alone will get you to the finish line will often disappoint. There are simply too many obstacles on the road to success that require soul-searching, sacrifice, creativity, and sometimes just a good laugh to overcome. All of these things, plus many others, make up determination and perseverance. Communication and organizational skills are also key, as are the abilities to recognize and develop leadership skills in others and to build a capable team that is rooted in common purpose and has chemistry.
What were you looking for in franchising that you were not getting from your previous career?
Work prior to TMT was rewarding in many different ways. But, frankly, I wasn't that good at a couple of the jobs and wasn't prepared for a couple of others. As the years went by, life prepared me for the challenges of business ownership in a tough industry, one that I found I was passionate about. Physical labor has always suited me, and I found that I deeply respected the people who joined our team and worked their butts off day after day. It was early on with TMT that I knew I had found a home.
Can you tell us about the process you went through to select your franchise brand? How long would you say it took you to get to signing the agreement?
I began looking to buy a small business in 2003. I worked both with a business broker and without. I found little that was intriguing and that I could afford. An ad in the Cincinnati Business Courier for TWO MEN AND A TRUCK franchise opportunities got me thinking. I had never considered the moving industry, and I hadn't even realized TMT was a franchise system. I called the director of licensing and, after an initial conversation, was impressed and intrigued. I completed a request for consideration and then went to Lansing, MI to meet with TMT leadership. After a half-day of meetings, I left Lansing knowing that I wanted to become a TMT franchisee.
Were there any pressing questions you needed answered before signing your agreement that future buyers should ask?
Prior to starting, and early on, I was very unsure about the skills most important to succeed within the TMT system and the moving industry. I don't know that I would have believed anyone who told me then that determination and perseverance would be the keys to my success, though I believe that now.
Did you speak with other franchise owners during the process? How important is this in making your decision? 
The TMT annual meeting was being held in Scottsdale, AZ in February 2004. I signed my first franchise agreement the week prior and flew out to Scottsdale. It was a fortuitous decision. I met and spoke at length with many franchisees there, several of whom are still part of the TMT system. They were instrumental in helping me put together the systems that I started with. They convinced me, because of their helpfulness and downright goodness, that I had made a great decision to join TMT.
What convinced you that this was the right brand for you?
Moving is very challenging work and unappreciated by many people. The opposite is true with me. I respect most those people who take on the least glamorous and most difficult tasks. I recall a passage in the book To Kill A Mockingbird where Miss Maudie tells Scout that her father, Atticus Finch, is one of those people who was born to do other people's unpleasant tasks. That's how most other people see moving, as an unpleasant task. I don't see it that way in the least. It is gratifying to help others and to work on a team that appreciates you and encourages professional growth. That's what TMT is all about.
Now that you have been up and running for a bit, are there things you know now that you wish you had insight into before that might have made it easier for you?
Not really. I think a person has to do something for a period of time before he knows what it takes to be successful at it. There weren't any surprises within TMT that I wish I had seen coming.
If you think about your first year in business, what was the biggest obstacle you've faced, and how did you overcome it?
I didn't really know what professional moving was all about. I learned by spending much of my first six months on the truck. Though many people would consider this the hard way, I wouldn't trade it for the world. I got to know my team, I earned their respect, and I learned how to properly move furniture. Some great basic training.
What advice do you have for prospective franchise buyers?
If you don't love what you do, it's hard to sustain a 100% effort over a long period of time. Before you dive into a franchise system, be honest with yourself about your values and how you're wired. If you believe the fit is a good one, dive in and never look back.
For more information on TWO MEN AND A TRUCK franchise opportunities,

Call: (888) 884-1114