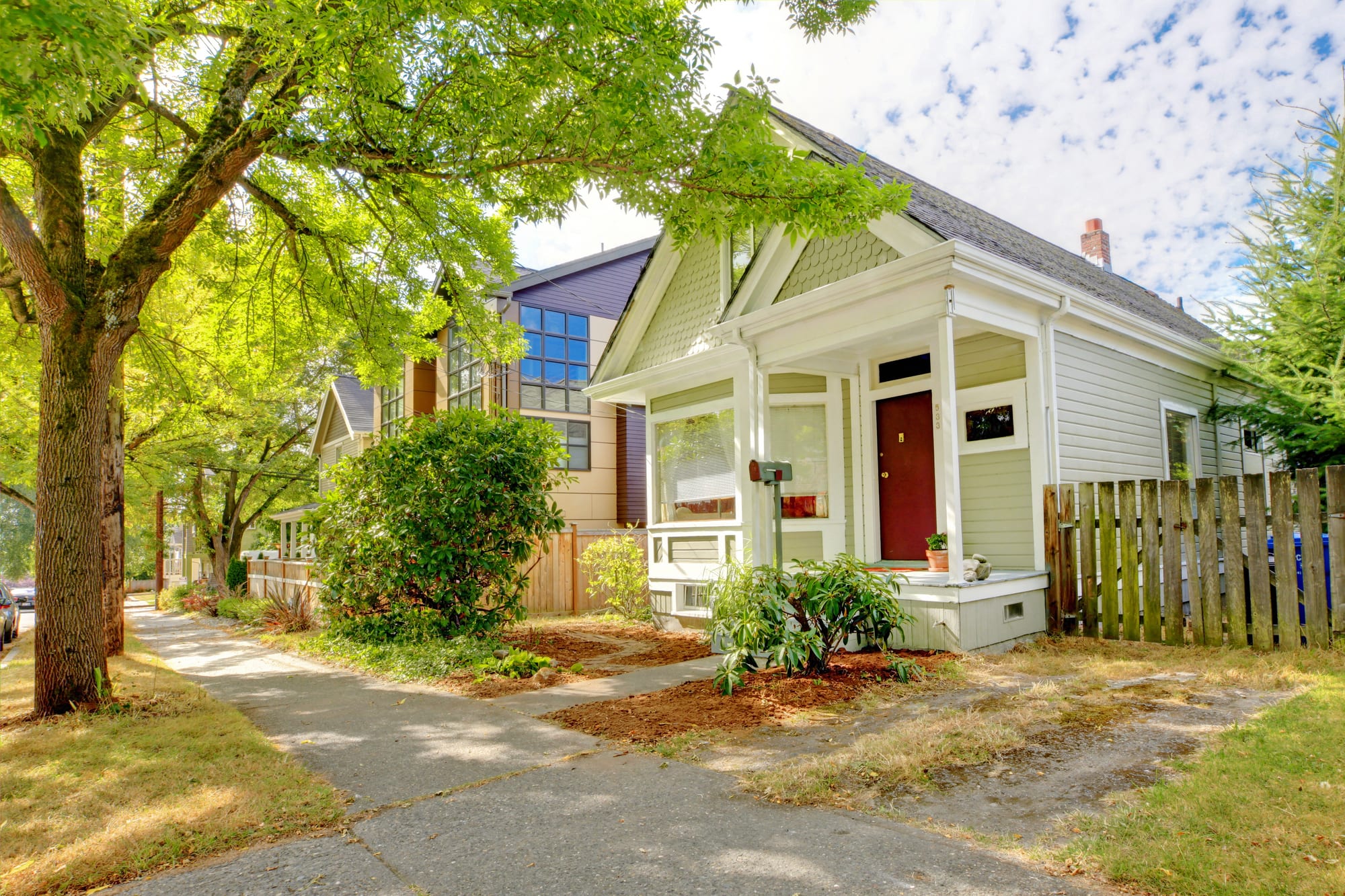 You check Zillow every morning; you pop into open houses now and then even though you aren't actually in the market for a new home (you just bought one last year!); you pay for cable just so you can watch HGTV; and you dream of leaving your day job to open up your own real estate agency or home staging company. Or maybe, you're already working in real estate but you're eager to go out on your own, to run your own agency and have more control and flexibility over your work life.
In either case, you have options, primarily between opening your own independent agency or starting your own small business versus purchasing an established real estate franchise — be it an agency or a property management company, home inspection business, or home improvement concept (among others!). Each option has its own benefits and challenges. The business model that is right for you will depend on what you are looking for in a business and how much control you wish to maintain over your business.
Buying a Real Estate Franchise vs. Opening an Independent Agency (or Starting Your Own Small Business)
If you are interested in opening a real-estate business, the first question you'll likely consider is whether you want to open an independent agency, start your own real estate related business from scratch or purchase an established franchise brand. When you purchase a real estate franchise you are buying into a proven system where you'll benefit immediately from franchisor support, pre-established processes and an instant referral network.
Not to mention, you'll be able to get up and running fast thanks to the tremendous brand recognition that comes along with many real estate franchises on the market today, such as Keller Williams, Sotheby's International Realty and Better Homes and Gardens Real Estate, just to name a few. When you purchase a real estate franchise all the initial work and research has been done for you from marketing to training to tech. You also benefit from the many other franchisees in your franchise system, who can help answer questions or offer guidance.
"My fellow franchisees opened their books, their offices, and their files to me in the beginning. They will take my call in the middle of a busy day and spend countless hours sharing files, research or lessons learned knowing I'll do the same for them," said Keith Roberts, a HomeVestors of America franchisee. "I look forward to the mid-year summits and the annual conventions mostly for the knowledge I know I will gain from my fellow franchisees."
On the other hand, when you buy a real estate franchise you do give up some control. You will not be developing your strategies or picking your systems, vendors or suppliers, among other things. All that will be done for you at the corporate level. For many business owners this a great benefit to purchasing a franchise because it frees up their time to focus on selling and building relationships with clients.
For others, this type of relationship can feel too restrictive. When they think of owning their own business, they imagine developing their own brand and systems exactly how they envision them, on their own terms. If this sounds like you, an independent brokerage agency is probably the best choice. Just remember, that the time to profitability might be longer with an independent agency, as you will have to build brand awareness, bring in clients, implement systems, market your business, maintain your office and then do all the actual work of helping clients buy and sell their homes.
When deciding between a franchise and an independent agency, there are also franchise fees to consider. These fees typically range from 6-10 percent depending on the brand you choose. Fees cover all the marketing, training, support, brand awareness and ongoing research and development that is done at the corporate level and then delivered to the franchisees.
Is a Real-Estate Franchise Right for You?
If you are just beginning to research your options and still trying to decide if a franchise makes sense for you, consider the following:
How much money do you have to invest in a franchise?
What type of real estate interests you – residential, commercial, leasing, relocation, home-staging, home-improvement, home-flipping services?
What are you looking for in terms of support from the franchisor?
What top-rated brands are available in the territories you are interested in?
Are you passionate about real-estate?
As you compare your options, it is important to understand that not all franchises deliver the same level of support or have the same level of satisfaction amongst their franchisees. For example, some franchises simply offer you their logo and branding and then leave the rest up to you. The best franchises, however, offer you a tested system to follow and extensive support. They are also rated highly by their current franchisees.
Examining feedback from other franchise owners is one way to get unbiased advice from those who have already made the leap into franchise ownership and have first-hand experience with the brands you are considering.
To assist you in gathering unbiased feedback from franchisees, Franchise Business Review surveyed thousands of franchise owners representing hundreds of franchise brands. Each survey participant was asked 33 benchmark questions about their franchisor that focused on areas such as leadership, training, and core values as well 16 more personal questions concerning topics such as their business lifestyle and overall enjoyment of running their franchise. Based on these results, we are able to provide unbiased, third-party ratings of the best real estate franchises, based solely on franchisee satisfaction. Below are this year's top-rated brands.
Top-Rated Real Estate Agency Franchises
| Franchise | U.S. Offices | Associates & Brokers | Cash Required | Initial Investment |
| --- | --- | --- | --- | --- |
| Keller Williams | 757 | 149,203 | $183, 947 | $183,947 |
| Sotheby's | 608 | 17,429 | $63,650-$206,000 | $194,650 |
| Weichert Real Estate | 462 | 14,200 | unknown | $50,000 |
| Better Homes and Gardens Real Estate | 343 | 11,364 | $100,000 | $65,170 |
| ERA | 516 | 16,228 | $48,000-$221,900 | $48,000 |
| HomeVestors of America | 900 | NA | $70,000 | $54,000 |
| HomeSmart International | 102 | 11,186 | $20,000 | $65,000 |
| United Country Real Estate | 60 | 3,000 | $15,000 | $16,690 |
Other Real Estate Franchise Opportunities
In addition to real estate agency franchises, there are also several home related franchise opportunities that deal less with buying and selling homes, and more with fixing and beautifying homes. The opportunities in the home services space are plentiful, spanning the gamut from painting services to insulation to home staging and more! You can peruse the top-rated brands in the list below.
Top-Rated Home Services Franchises
| Franchise | U.S. Locations | Cash Required | Initial Investment |
| --- | --- | --- | --- |
| Certa Pro Painters | 365 | $85,000 | $134,750 |
| Miracle Method Surface Refinishing | 137 | $40,000-50,000 | $75,000 |
| HouseMaster | 309 | $42,500 | $61,100 |
| Budget Blinds | 1,135 | $64,950 | $110,140 |
| DreamMaker Bath & Kitchen | 36 | $100,000 | $133,350 |
| Surface Specialists Systems | 44 | $25,000 | $43,200 |
| Garage Experts | 32 | $30,000 | $54,400 |
| Bloomin Blinds | 28 | $40,000 | $35,000 |
| WOW 1 DAY PAINTING | 50 | $50,000 | $65,000 |
| USA Insulation | 35 | $75,000 | $203,250 |
| California Closets | 120 | $65,000 – $215,000 | $227,850 |
| Go Minis | 79 | $100,000 | $208,441 |
| The Glass Guru | 86 | $49,500-$150,000 | $67,050 |
| Kitchen Solvers | 61 | $75,000 | $60,000 |
| The Grout Doctor | 75 | $20,000 | $12,000 |
| ShelfGenie | 99 | $70,000 | $70,100 |
| ShowHomes Home Staging | 60 | $10,000 | $45,300 |
How to Choose a Real Estate Franchise
As you narrow down your options, it can also help to ask certain questions of the brands you are considering, such as:
What characteristics make your top performing franchisees successful?
If I am a franchisee and I have a problem, what processes do you have in place to come to a fair solution that works for both of us?
For the first few years, I understand that I will be very depended on you and your staff to help me succeed as a franchisee. However, in the future, when I am more self-supporting, where will I see the value from the fees that I am paying you?
What trends do you see in this industry that could have a negative impact on the business over the next decade, and what are you doing to strategically to overcome these challenges?
Do you have a franchisee satisfaction report that is publicly available?
Just like Joanna and Chip Gaines transform those run down houses into to-die-for dream homes, you can transform your first career into a dream career that offers flexibility, ownership and freedom. Weather you decide to go the independent agency route, buy an existing real estate franchise or opt for a home services business, if you've got the drive, ambition and desire to be your own boss, the opportunities are waiting.
You can learn more about this year's top-rated franchise brands, including the top-rated real estate franchises and top-rated home services companies here.