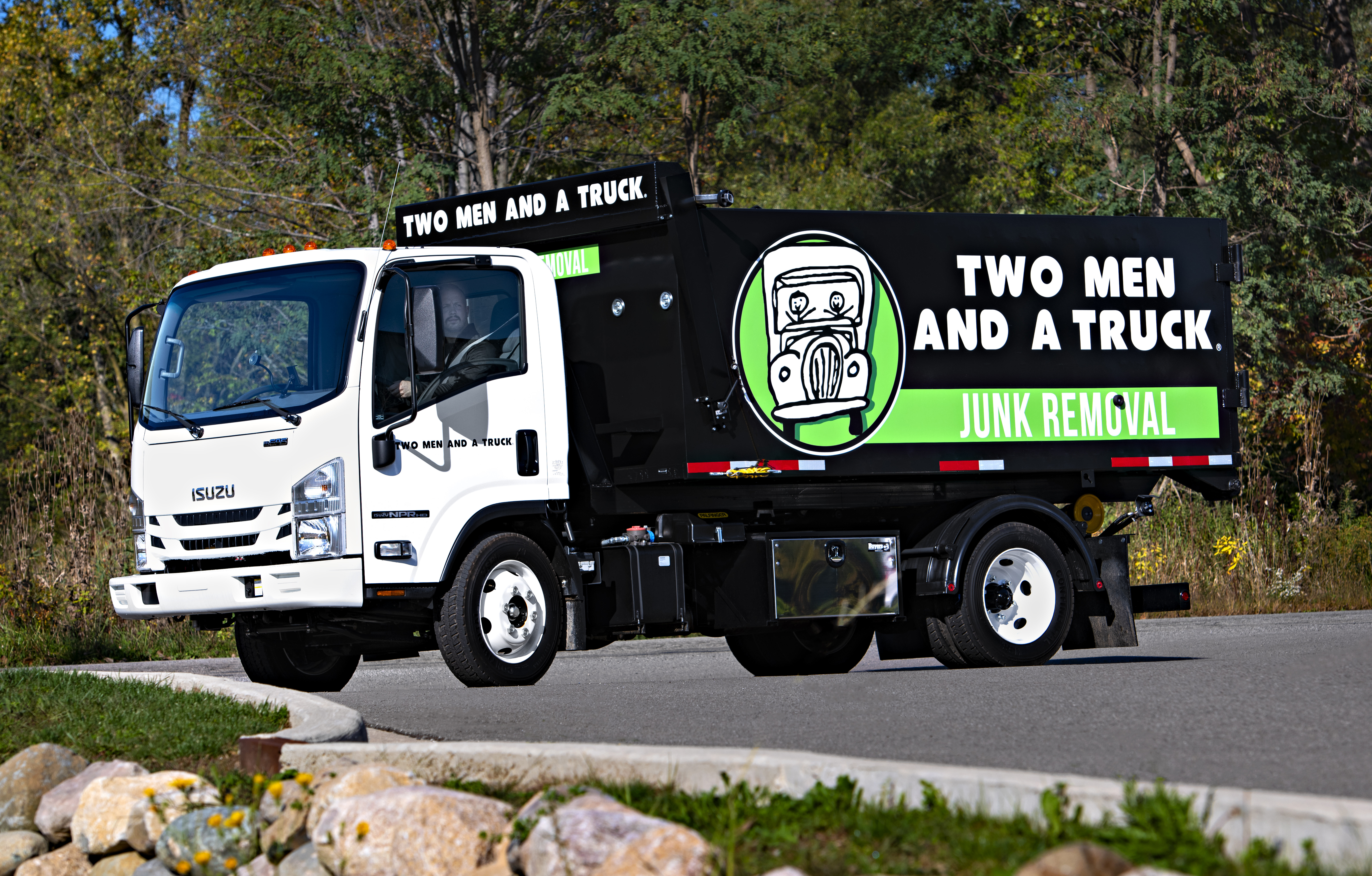 While many franchise businesses have been challenged in 2020, market-leader TWO MEN AND A TRUCK moving company is expanding to meet a growing need: junk removal. With more and more families working and learning from home, many people are decluttering their houses and apartments to make room for office and study space.
Taking advantage of this growing trend, TWO MEN AND A TRUCK, the nation's largest moving company, is now offering a junk removal business to round out its moving and storage service offerings. The Michigan-based franchise, which includes more than 350 locations across 44 states, began looking into adding junk removal to its core business in fall 2019.
TWO MEN AND A TRUCK franchisees, who were receptive to the idea, helped build a go-to-market strategy for rolling out the junk removal business nationwide. The brand had already launched storage and long-distance moving services to help diversify revenue streams for its investors and sees junk removal as the next step in helping serve the needs of its customers.
"As our brand has evolved into other services like portable storage and our long-distance move service, we continue to ask our previous customers what else we could do to help them – either around the move process or in general," said Randy Shacka, president of TWO MEN AND A TRUCK. "This past year, we sent out a specific survey asking about related services they may need around their move, and an overwhelming majority came back and said they would want TWO MEN AND A TRUCK to help with junk removal."
And while no business is completely recession-proof, moving, storage, and now junk removal are all recession-resistant services that are needed in both good times or bad.
More than 31 TWO MEN AND A TRUCK locations today operate junk removal trucks in addition to their moving trucks; more than 75 territories also offer offering junk removal of household items with their traditional moving trucks. The brand anticipates its franchisees will offer junk removal services in more than 100 markets in the United States and Canada by the end of 2020.
"Early on, most of the pilot locations chose themselves, as they were the ones that were active in helping our corporate team built out a model we could take to market," Shacka said. "From there, we worked with franchisees in key cities who were ready to take on a new service, and in a position to look at investing in the new trucks and equipment; we went to work on an onboarding plan for them to go live."
---
Learn more about franchise opportunities with TWO MEN AND A TRUCK
---
The Perfect Ancillary Service
Brian Churney and his business partner, Tim Kirian, operate TWO MEN AND A TRUCK of Eastern North Carolina, based in Greenville. Their territory spans Edgecombe, Craven, Nash, Pitt, and Wilson Counties. The duo opened their doors in 2008—during the last economic recession – with just two trucks. Today, they operate 12 trucks and employ 6 staff to coordinate and support an office that includes 25 movers and drivers.
The franchise recently began offering junk removal in June and offers it as a service using its standard moving trucks. Churney said that the bulk of the company's business is comprised of local moves and long-distance moves. Business moves, deliveries, storage, packing, and junk removal make up about 20% of their sales mix. The addition of junk removal lines up perfectly with what they do, Churney said.
"More often than not, when someone moves, they have a number of items that will not go into their new home. Junk removal allows us to become a one-stop-shop, where we can handle the junk piece as well as the moving piece," he said. "If the junk service is booked in conjunction with a move, a discount is offered."
Although junk removal today makes up a very small percentage of TWO MEN AND A TRUCK Eastern North Carolina's business, Churney said he recently landed a large commercial junk removal contract which has provided a tremendous boost to his company's business this year. He credits the national reputation that THE TWO MEN AND A TRUCK enjoys for allowing locations to expand to meet new demands in the market.
In the future, Churney expects they will expand their storage service and open a secondary office in their territory. He also said he should know by the end of the year if there is enough demand for junk removal to warrant buying a junk truck. Until then, they will use available trucks to handle junk removal in between moves.
"TWO MEN AND A TRUCK brings the same level of expertise, resources, and dedication to customer satisfaction to the table as a junk removal provider as we do to the moving services we provide," he said. "Anyone can remove junk. We do it at a very high level."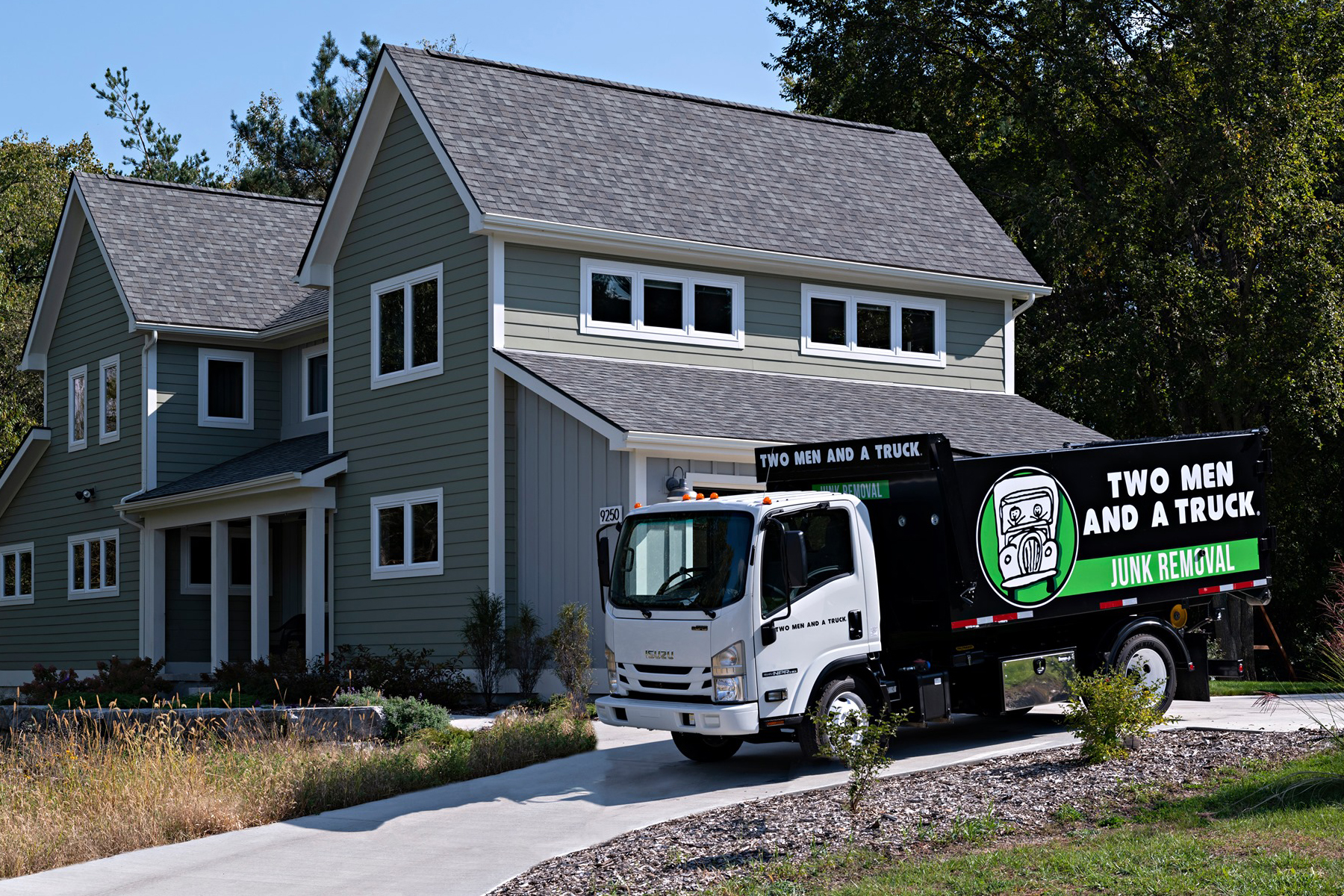 A Big Haul
Bob Christensen and his son, Cory, began their journey with TWO MEN AND A TRUCK in 2007 when they bought their first location in Rockford, Illinois. They added Peoria in 2010 and Quad Cities (Davenport, Illinois) in 2014. All three franchises were new to the system, and in 2019 the father/son team posted a revenue of more than $2 million collectively for all three locations. Today, they oversee 25 to 30 employees and operate between 10 and 12 box trucks.
About 80% of their business is local moves, with long-distance and business moves splitting the other 20%, Christensen said. The home office is always looking for ways in which it can help diversify revenue streams for its franchise locations, and the interstate moves and storage capabilities are examples of new services that have proven to be very successful. Christensen said he expects the junk removal business will be another ancillary service that will likely have the most potential.
"We already have the computer system for booking jobs and we have the people," he said. "All we really needed to do was purchase the trucks and train our movers."
Christensen bought three junk haul-a-way trucks in June—one for each location. He estimates that the trucks go out on the road at least several times a week now. Christensen said the public is definitely interested in the junk removal service, and his office receives phone inquiries about it between 5 and 6 times a day. By winter, he expects the junk trucks will be running daily.
"We are already having discussions about purchasing at least two more junk trucks, as we see the potential. Within two years, we see this as constituting at least 25% of our business," he said. "I think there will always be a demand for this service, but with Covid and people being stuck at home more, this was a good time to get into this additional line of work."
---
Learn more about franchise opportunities with TWO MEN AND A TRUCK
---
Opportunity to Grow
Joel Trost, owner of TWO MEN AND A TRUCK Chicagoland, joined the franchise in 2004 and owns most of Cook County, Illinois—including the downtown Chicago market. His location runs 35 trucks and includes 100 employees. Right now, 85% of his business is focused on local moving, but he's recently invested in two junk trucks to grow the junk removal business portion of his service mix.
"Junk really complements what we are already doing well. People almost always have items they would prefer not to drag to their new address," Trost said. "I would like to see these junk trucks produce $200,000 plus for us annually, each. I think that is possible."
For the past 16 years, Trost has grown with TWO MEN AND A TRUCK. He said he appreciates the company's investment in the growth of its employees and its long-term vision. He began working for TWO MEN AND A TRUCK as a teenager when he moved customers in his hometown of Lansing, Michigan. He met his business partners – John and Jason Judson – at age 21—and credits them for encouraging him to do more within the company.
"The franchise system has been great to me and my family—we are proud to be part of it," he said. "I would also encourage any current franchisees to get involved with the junk removal business. The more we get on board, the faster it will take off."
Do You Have What it Takes to Make the Move?
For investors dedicated to providing the best in customer service and making money, TWO MEN AND A TRUCK may be the right fit. According to their current Franchise Disclosure Document, franchisees earn average annual gross sales are $2.3 million, with their highest-grossing franchise selling nearly $10 million dollars in moving and related services.
If you are looking to join a franchise that exudes a positive company culture, TWO MEN AND A TRUCK has been recognized by Franchise Business Review for their outstanding satisfaction for 15 consecutive years. Franchisees have consistently rated TWO MEN AND A TRUCK as "Excellent" in Core Values and Owner Enjoyment. They have also received recognition as a Franchise Business Review's Top 200 Franchises, Top Low-Cost Franchises, Top Franchises for Women, Top Franchises for Veterans, and Top Services franchises.
You don't need moving, junk removal, or logistics experience, and the corporate office provides support and continuing education after your initial training.
What's Required:
Cash required: $80,000
Franchise fee: $50,000- $85,000;mini-market*: $30,000 (10% discount for veterans)
Net worth required: $160,000 – $400,000; mini-market*: $80,000 – $160,000
Total start-up investment: $179,000 – $585,000; mini-market*: $100,000 – $192,000; costs include:

Two to three trucks
Insurance
Office and technology costs

Royalties: 6% of all gross sales, paid monthly
Advertising fund: 1% of gross sales, paid monthly
Monthly technology support fee: 1-2% of gross sales, with a minimum payment of $1,200 per month
On-site training – 18-24 hours in Lansing, Michigan at "Stick Men University"
*The mini-market opportunity allows franchisees to provide moving services in cities with populations of 100,000 to 225,000 people. There are 85 mini market territories in the United States.
Making the move to invest in TWO MEN AND A TRUCK could help you realize your dream of owning your own business and working in a culture that values giving back to those who need it most. As you would in any potential business venture, you should conduct your own research: compare different franchising options, weigh franchising costs relative to profits, ask for feedback from current franchise owners, and be honest with yourself about how much you're able and willing to take on.
Learn more about TWO MEN AND A TRUCK franchise opportunities in your area. Call the TWO MEN AND A TRUCK franchise development team at 888.884.1114 or visit their website at https://franchise.twomenandatruck.com/