BrightStar Care
Total Startup Investment
$94,618 - $153,263
US/Canada Franchise Units
307
Franchise Owner Reviews
Reviewed by 136 franchise owners (68% of owners)
Are You Ready to Join the TOP Home Healthcare Franchise generating the Highest Franchisee Revenue in the Industry?
BrightStar sets itself apart by offering the full continuum of home care services with FIVE revenue streams: Companion Care, which involves visiting with clients and helping with common household activities like meal preparation, laundry, and housecleaning; Personal Care, which includes dressing, grooming, and help with mobility issues; Skilled Care, which involves nursing care and therapies; Medical Staffing and National Accounts. Most competitors offer only the first two services. We offer the full continuum of care because it's better for clients, and it's better for franchisees.
BrightStar Care provides clients skilled as well as non-skilled in-home care designed to improve their health and quality of life and ease the caregiving burden on their loved ones. Our franchisees earn accreditation from The Joint Commission, a nationally recognized healthcare standards organization that accredits renowned facilities like the Mayo Clinic. The Joint Commission has named BrightStar Care an "Enterprise Champion for Quality" for five consecutive years thanks to the systems and training we have in place to help senior care franchisees and the staff deliver the highest standard of care.
We are the only home care agency to achieve this distinction.
This helps franchisees:
Recruit new staff
Attract National Accounts
Earn Local Referrals from Medical Professionals
Win families' trust
Why the Senior Care / Home Health Care Industry?
Senior demographics continue to grow and the desire to stay at home continues to increase. One of the continued trends in healthcare today is for hospitals to reduce costs by getting people back into their homes faster and helping them stay there longer. Consider the following*:
$50.7 billion industry! That figure predicted to increase 42% by 2022
10,000 people turn 65 each day**
**90% of seniors prefer to age in their own home*****
By 2030, 1 in 5 people will be 65+****
2017 Pew Research Center Report 2017
** AARP.org 2012 survey
* Administration on Aging, US Census Bureau
** US Census 2010 Administration on Aging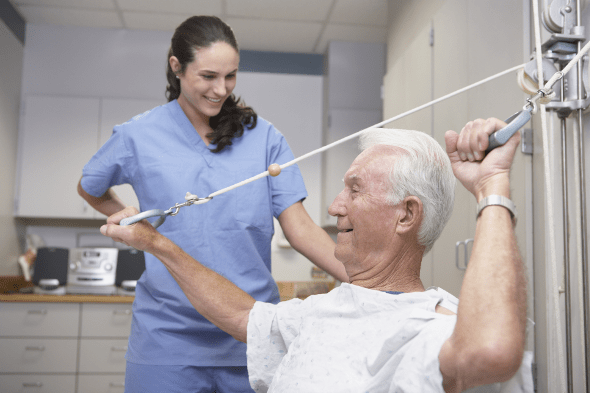 Why BrightStar Franchise?
FIVE Multiple Revenue Streams / Not Limited to Companion and Personal Care – Senior care (non-medical & medical), private pay home health care, National Accounts and medical staffing.
Scalable business model – with uncapped revenue potential
**$1,635,073 Average Revenue** – for franchisees 1st locations open at least 12 months as of December 31, 2016 (see additional info on page 69 & 70 of 2017 FDD, Item 19, Table A.)
$289,237 Average National Account Revenue for franchisees 1st location only opened 12+ months as of December 31, 2016 (see additional info on page 78 of 2017 FDD, Item 19, Table E).**
*Of the 167 agencies opened by franchisees as their first agency that were in operation for a period of at least 12 months as of December 31, 2016, 132 of these agencies were awarded a territory with a population of less than 400,000 people. There were 10 first agencies that were not open for at least 12 months as of December 31, 2016. The average Revenue for these 132 franchise agencies open at least 12 months as of December 31, 2016 is $1,422,308 of which 49 members (37%) attained or exceeded this stated average. The median Revenue for these 132 franchised agencies open at least 12 months as of December 31, 2016 is $1,157,528.
**Total National Account Revenues includes Revenue from all franchised agencies in operation as of December 31, 2016. Revenue reflects the 2016 fiscal year.
Uncapped revenue potential – Robust franchise system allows franchisees to capitalize on multiple services and revenue streams.
National Accounts – BrightStar has established large national and regional accounts that our franchisees can benefit from. These national accounts relationships provide additional revenue opportunities for franchisees that are participating in the program.
Joint Commission Accreditation – Our franchisees obtain J.C. Accreditation, which is considered the highest standard for health care organizations, and earned by many hospitals, doctors' offices and nursing homes. This dedication to high standards sets us apart from our competition and provides peace of mind for our clients knowing that their loved ones are being cared for by a professional organization.
Even though this information is historical and based on actual information, the Federal Trade Commission requires us to include the following statement: "These figures are estimates only.  If you rely on these figures, there is no assurance you will have the same experience.  You must accept the risk of not generating these same results."  This information is published in the Item 19 of our 2017 Franchise Disclosure Document, along with additional information regarding franchisee average revenues, gross margins, and break even.  
The BrightStar Advantage:
Proven System – BrightStar has a robust business model and tools to help our owners grow their businesses.
Training – Extensive training program for new owners and boot camp training for designated roles
Ongoing Support – Ongoing support from our field operations team providing business coaching & consulting
Exclusive Web-based Software & Business Solution – BrightStar has developed a fully-integrated, proprietary business software designed specifically for the BrightStar franchise model.
Financial Assistance – BrightStar has partnered with financing companies to pre-package SBA loans that are specifically structured for this business model.
And much, much more… 
What It Takes:
No medical or health care background required!  Over 70% of our owners have no healthcare background. We are looking for people who have strong leadership/management/marketing/sales backgrounds. This business is about building relationships with referral sources and delivering excellent customer experiences.
The total initial investment necessary to begin operation of a BrightStar Agency is from $94,156 to $176,566. *Initial Investment range as stated in the 2017 FDD.
Download the franchisee satisfaction report on BrightStar Care absolutely free