Minuteman Press
Total Startup Investment
$62,207 - $161,865
US/Canada Franchise Units
775
Franchise Owner Reviews
Reviewed by 286 franchise owners (43% of owners)
For over 40 years and counting, Minuteman Press has developed and refined its customer service driven business model. We are the world's largest design, printing and marketing franchise, providing a full suite of essential products and innovative branding solutions that help other businesses grow. The key to our success is our unique system combined with the ongoing local support we provide to our owners. Learn how you too can reach your goals while helping businesses achieve theirs!
About Minuteman Press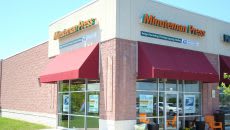 Today, we are the modern version of the printing industry, providing high quality products and services for businesses that go way beyond just ink on paper. Our design, print and marketing centers offer custom marketing and branding solutions that are tailored to meet the needs of today's business professionals. Anything you can put a name, image, or logo on, we can produce. This includes promotional products, custom branded apparel, direct mail advertising, large format printing (banners and posters), signs, and much more including traditional printing and design.
Think about a brand new business just starting up, a business planning to grow and retain customers. They all need a full marketing and brand awareness campaign to get noticed. Minuteman Press has the programs that deliver results to ensure repeat business from clients.
Prior experience is not necessary to own and operate a Minuteman Press franchise. Our owners are business people who are alert to the needs of their local business community and can enjoy a long-term repeat relationship with their clients by providing outstanding quality and service.
Why Minuteman Press?
Here is why we're head and shoulders above any franchise in the B2B services industry!
Rated #1 in category by Entrepreneur 26 times, the last 15 years in a row
A royalty incentive program which can create more earning potential
Over 40 years in franchising with almost 1,000 locations means you will be partnering with the industry leader that has some of the strongest mass purchasing power in franchising
28 regional offices to provide onsite face to face support
Wide variety of products and services that will enable you to handle virtually any job for customers
Family owned and operated franchisor with over 100 locations being owned by 2nd generation owners
We reinvest into our franchise owners and have developed proprietary business management and pricing software so that you can run an efficient business
Learn More Today!
Please fill out the from below to learn more about Minuteman Press and take a no obligation look at this exciting opportunity.
Download the franchisee satisfaction report on Minuteman Press absolutely free