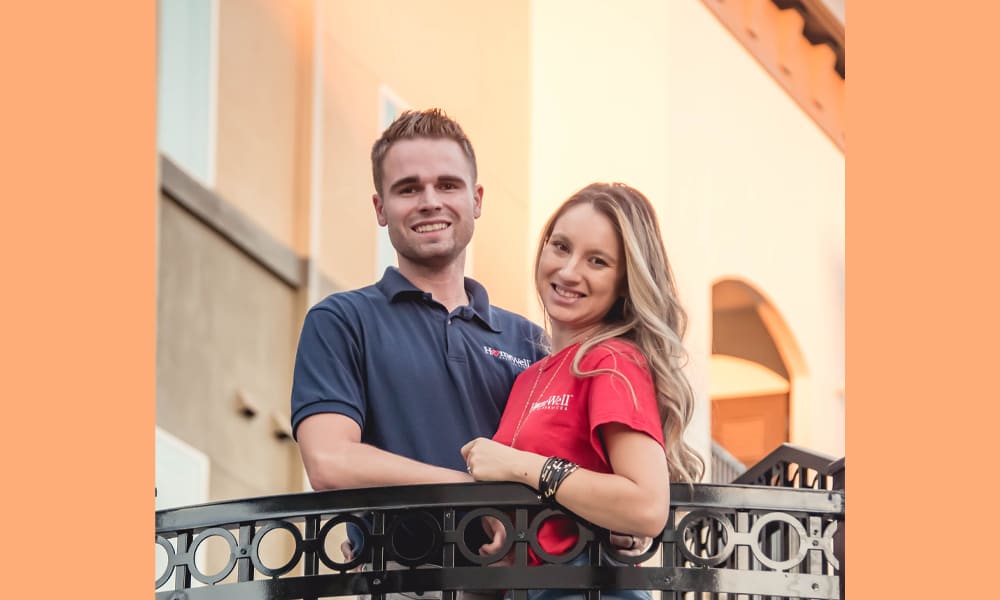 Franchise Business Review recently spoke with Samantha Mccoy of HomeWell Care Services to gain insight into what it's like to be a franchise owner.
Name: Samantha Mccoy
Location: Roseville & Grass Valley CA
Franchise owner since: 2019
---
What is your background? Did you have prior experience with senior care before owning a HomeWell Care Services franchise? 
I went to school for medical administration and management. My husband, who helps me operate the business, is a licensed nurse. We have both worked as caregivers in the past. My husband worked his way from a caregiver to a medical technician to a CNA and then a nurse. I worked managing a medical communications sales team.
What was your research process when exploring franchise opportunities? 
We had a business advisor who looked into multiple franchises for us. We were trying to consider multiple aspects during our vetting process. Most importantly, we wanted a franchise that is family-friendly, not corporate. We only got that feeling with HomeWell Care Services.
What made you decide to transition into franchising with HomeWell Care Services?
We always knew we wanted to own a family business. Home care worked perfectly with both our specialties. But why HomeWell? For two key reasons. First, it feels like family. I was four weeks away from delivering our second child the day we signed our franchise agreements. They included our newborn and three-year-old in every process. And the second reason is that HomeWell actually practiced what they preached. They weren't just trying to provide companions for seniors. There were programs to actually help better their lives.
How many units do you own? Do you have plans to expand someday?
We own two territories and yes we do plan to expand further.
How many employees do you currently have?
101
When did you open your business?
2019
At any time during your research process did you ever consider abandoning your search?
No. We knew this was the direction we wanted to go.
What were the first few months like when you opened your business?
Covid-19 hit within the first year so it was very challenging. Most roadblocks that are faced in the first few months were very different for us us compared to someone opening outside of a pandemic.
What are you most proud of and why? Do you have a special story you want to share?
I am most proud of the fact that, when we started HomeWell, my husband and I were 23 years old with a newborn in tow and a three-year-old. Now, three years later we have a three-year-old, a six-year-old, and a newborn on the way again! Three years later, even with all the challenges of Covid, of being young and raising a family, we've built a multi-million-dollar company.
Looking back now, is there anything you would have done differently? Any lessons learned that you want to share?
Yes! Sign up for AgingCare (agingcare.com) or A Place for Mom (aplaceformom.com) right away. It took us months to get our first clients. But once we learned about these platforms, we grew very quickly because we grew our connections in the community and got B2B referrals.
There are a number of franchises available, did you look at others, and what made you decide to go with HomeWell Care Services?
We had a business advisor who looked into multiple franchises for us. But we were trying to consider different things. When we talked to their vetting rep we wanted that first conversation to be one that seemed family-friendly. Not corporate. We only got that with HomeWell.
Did you look at other types of senior care franchises?
Yes, three others.
Do you currently participate in the Franchisee Satisfaction Surveys? Do you feel your feedback is heard?
Yes! This is our first time participating.
If you can only have one kind for the rest of your life: Hot & Spicy or Sweet and Savory Chicken Wings?
Sweet and savory
Best and worst pizza topping?
Pineapple is the best! The worst is jalapeño…
For more information on HomeWell Care Services franchise opportunities:

Call: (817) 916-8904

Email: [email protected]