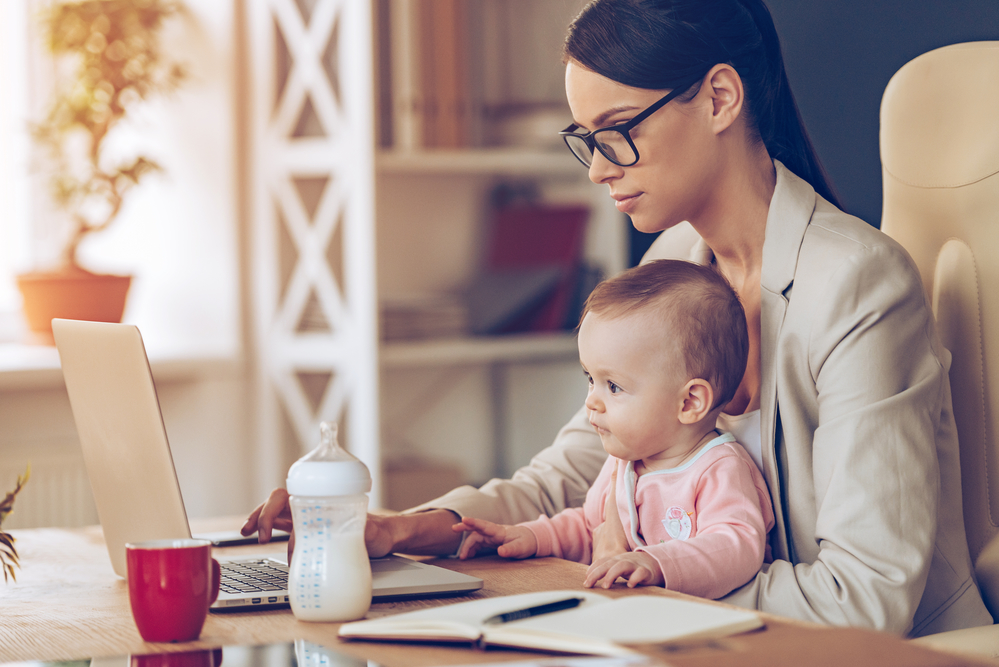 She juggles carpool, youth sports practices, and a seat on the School Board while she logs in after the kids head to bed. Her at-home business isn't a hobby—in fact, she's earning thousands of dollars without stepping foot into a corporate office. While some might coin her a "super mom," the term "mompreneur" more accurately describes this woman.
"Mompreneur" refers to a female business owner actively balancing the role of mother and entrepreneur. It particularly rose to prominence with the birth of the internet, which more easily allowed entrepreneurs to sell products from their homes—or anywhere, according to Investopedia. It's no surprise that the number of mompreneurs continues to rise, as nearly 47% of all U.S. workers are women, and 75% of them work full-time, the U.S. Department of Labor reports. In fact, women own almost 10 million businesses today.
Today's moms increasingly fall into the millennial generation bracket. In fact, nearly 90% of the 1.5 million Millennial women in this country became mothers last year, up 50% from a decade ago, Forbes reports. This group of women might have the ideal background for entrepreneurship, as many of them have spent a considerable amount of time investing in their education and careers before motherhood. In fact, 40% of women in the workforce hold bachelor's degrees, up from 11% in 1970.
Meet the Mompreneurs
One notable mompreneur includes Rochelle Carrington of New York, who left a successful corporate sales career to open a Sandler Training Franchise, a corporate training franchise that helps businesses develop their own sales forces using proven methods. By investing in a franchise, Carrington was able to apply the skills she had learned throughout her career and enjoy increased flexibility—without giving up work or motherhood, she told Franchise Business Review.
"I broke even in one year and was profitable in a year and a half," she said. "I work quite a bit, but absolutely love what I do. I love the product and working with business owners and sales teams every day. From a personal perspective, I get to set a great example for my kids of what you can accomplish as a business owner and I have the freedom to be with them as much as possible."
Ellen Latham, now co-founder of the Orangetheory Fitness Franchise, started working towards her dream as a single mom, when she opened a small pilates studio in 2006. Fast-forward to 2010, and Latham tweaked her program to include weights and monitors. Clients were clamoring to join and showing successful weight loss. Latham then debuted Orangetheory in Fort Lauderdale, Florida as an Orangetheory pilot studio.  Now, Orangetheory operates in more than 1,000 locations in 23 countries, according to an article in the San Antonio Business Journal.
"You will often hear me say, the only thing you have control over in your life is the effort you put into things,'" Ellen Latham, co-founder of Orangetheory Fitness recently told Franchise Business Review. "Women make great franchisees because they do not let their ego get in the way, so there is more bonding with fellow franchisees and not so much of beating their fellow franchisees out, but rather just improving upon their last best effort."
Mompreneurs aren't only involved in fitness; they also have found success in the travel industry. For example, Michelle Fee, CEO of Cruise Planners, recognized in the mid 1990's that the internet was changing the travel industry landscape. She closed her "mom and pop" shop model that relied on independent contractors, and worked with two partners to establish an internet-based franchise model.
"When I started the business, I was scared. I was putting my family on the line," Fee told Franchise Business Review. "I had to invest money into the business, and I had two small children. But, I did it and never looked back."
Fee doesn't have a college degree, nor did she have a background in finance. When she proposed the idea of franchisees working remotely 25 years ago, it was a groundbreaking idea. Now, she's able to employ moms from around the world, who enjoy special perks—for example, top producers recently traveled to Africa.
What Makes a Successful Mompreneur?
Mompreneurs share a few characteristics that make them successful. These include a passion for the product or service she sells, the ability to learn from other successful entrepreneurs, and the ability to set priorities and follow them, according to Inc.
Lead with Passion: Even if you are the sole provider or face staggering bills that need to be paid, your business must be about more than just the money. You should enjoy your business enough to try new things and stick with it in those moments when you feel like you are losing steam.
Follow a Plan: It can be tempting to "go with your gut," but successful mompreneurs listen to others and learn from the advice or business trajectories of others. This is what makes franchising a particularly attractive option for women. In fact, there are many top-rated low-cost franchises that allow mompreneurs to step into entrepreneurship without a large, up-front investment and offer the full support of the franchise corporate team and the franchise community.
Maintain Productivity: It's important to understand that even though you have the flexibility to juggle motherhood with business, you'll need to keep all the balls in the air for your business to be successful. Keeping focus and setting priorities helps mompreneurs remain productive—and profitable.
What Advantage do Mompreneurs Enjoy?
While flexibility tops the list of the benefits of mompreneurship, there are others. Many mompreneurs enjoy the creativity, autonomy, and growth opportunities self-employment affords them.
Flexibility: Whether you want to work 9 to 5, part-time, at night, or on weekends, your hours aren't dictated by a boss. This could mean fewer missed dance recitals and longer weekends; however, you will need to be available to your clients and should be prepared to put in extra hours when the situation calls for it. Still, most momprenuers cite flexibility as one of the top reasons why they decided to strike out on their own.
Autonomy: When you own your own business, you can do it your way. From designing your own products and services, to advertising and determining your rates, mompreneurship puts you in the driver's seat. It's important to understand your market, what your clients want, and how to best address their pain points—no matter what business you are leading. It's also important to build up a web presence and understand how you'll collect payments, according to Fitsmallbusiness.com. If you decide to invest in a franchise, all of the digital marketing and payment collection processes will be established. All you have to do is learn the system, tools and processes.
Creativity: Mompreneurs provide a variety of products and services – from crafting to real estate advising to teaching or running virtual travel agencies, the opportunities are endless.
Growth: Unlike a corporate job, self-employment does not cap your growth or earnings potential. You can expand or stay small—depending on your goals and business plan. While it might take some trial and error, mompreneurs often have the latitude to launch and scale their businesses with a relatively small initial investment.
Are There Any Pitfalls Mompreneurs Should Avoid?
It can be intimidating to strike out on your own, as there is always risk involved in entrepreneurship.  Here are some key pitfalls, and how you can avoid them.
Not knowing your market: It's important to understand just who your customers are. You could have a great product or service, but you might not be selling them to the right people. Or, you could be missing your market entirely.
Over- or under-pricing your goods or services: A crucial part of the marketing mix, pricing and understanding price elasticity are both important. This is where being a franchisee can help. Being part of a franchise can help take the guesswork out of pricing, as franchisors have done their homework and have a good understanding of pricing thresholds for their products or services.
Absence of a sales and marketing plan: Whether it's a side hustle or your full-time job, your business needs a sales and marketing plan. Beyond launching a website, you should understand how much it costs to acquire a customer and how to adjust spending accordingly. Without a sales and marketing plan, you will have no way to forecast how much of a marketing investment you should make to acquire customers at a profit. Investing in a franchise can make it a lot easier for you to plan and carry out marketing efforts as you will be provided with a marketing strategy and tools that have already proven effective with other franchise units. You may also benefit from national and local marketing campaigns that are carried out by the franchisor.
Falling for scams: If it seems to good to be true, it probably is. There are many opportunities that are scams in disguise. Some are pyramid schemes, and others are multi-level marketing businesses, in which a distributor's income includes both their personal sales and that of their recruited sales force, according to Boss Magazine.

It's important to note that franchises are NOT the same as multi-level marketing organizations. Mompreneurs who invest in a franchise purchase a "share" from an already established company. Also, when you buy a franchise, you learn from the company's business model, and benefit from its advertising, customer base and support team. You also may have the ability to sell your franchise for a profit should you decide to exit or end your agreement.
Why Franchising is a Great Fit for Mompreneurs
Franchising offers a great opportunity for mompreneurs who want to follow a tested business model. Many offer low initial investments and ample flexibility—as well as a wide array of products and services that appeal to moms. Franchises also come with resources and support, such as training, proprietary software tools, and marketing and advertising programs that have been tested in other markets.
Although women may still be the minority in franchising, those who have opened and operated franchise businesses are excelling as shown by Franchise Business Review's latest survey of 6,400 female franchisees. The survey reports that 90% of women said they enjoy operating their business and 85% would recommend their franchise brand to others.
Career Opportunity Ideas for Mompreneurs
1. Vacation Planner
Who doesn't enjoy planning a vacation?  Even if you're not the one physically taking a cruise, it's still enjoyable to help other families plan the vacation of a lifetime. The industry is growing, with more than 30 million passengers expected to book in 2019—70% of them via the Internet, according to the home-based travel franchise, Dream Vacations. There are definite perks to becoming a franchisee for Dream Vacations, including:
The ability to work remotely, from anywhere
Low initial franchise fee: $9,800 with flexible financing; you can get started for $3,500 down.
Strong promotional support, thanks to a $4 million marketing and advertising lead generation program
High commission rates
Huge discounts on travel—travel to your own dream destination!
2. Recruiter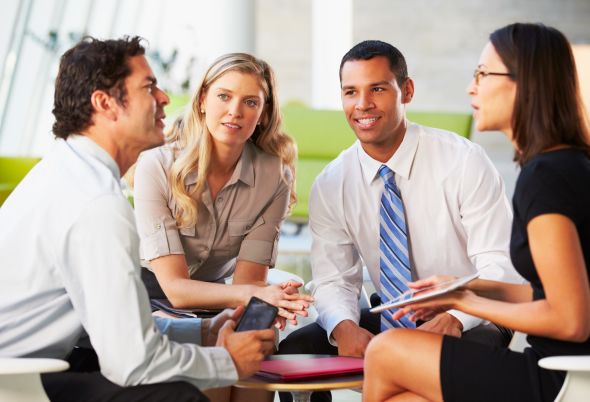 Do you have a human resources background and a desire to match candidates to the right positions? There is a strong demand for recruiters, as the most recent Bureau of Labor Statistics projections report that the employment services industry — which consists of primarily staffing — will add nearly 425,000 jobs between 2014 and 2024, making it the seventh largest job-growth industry in the U.S. Furthermore, annual temporary and contract recruitment agency sales reached $140.7 billion in 2017, according to The American Staffing Association. Being a part of a staffing franchise, offers distinct advantages, according to Remedy Intelligent Staffing, which focuses on placing candidates in the light industrial and clerical fields.
The flexibility you need to hire the right candidates
The choice to recruit for temporary employment, direct employment or national accounts
Back-office support from a company that has been in business for more than 50 years
3. Dessert Distributor
Everyone loves the ice cream truck. Did you know that Kona Ice consistently ranks number one in FBR's Franchisee Satisfaction surveys and has grown to more than 1,000 franchise units since its inception in 2008? Kona Ice sells deliciously flavored shaved ice via kiosks and Ice Trucks. franchisees can open their businesses within 30-60 days, and besides being part of a fun brand, Kona Ice franchisees benefit from the following:
The mobility to sell desserts families love on the open road!
Kona College – an all-expense paid trip to the training program at the Kona Ice Corporate Headquarters, where you learn how to set up your business and digital marketing, as well as how to run your brand-new Kona Ice Truck.
Large, protected territories
The ability to serve school groups, community festivals, and entertainment venues with large customer bases.
4. Caregiver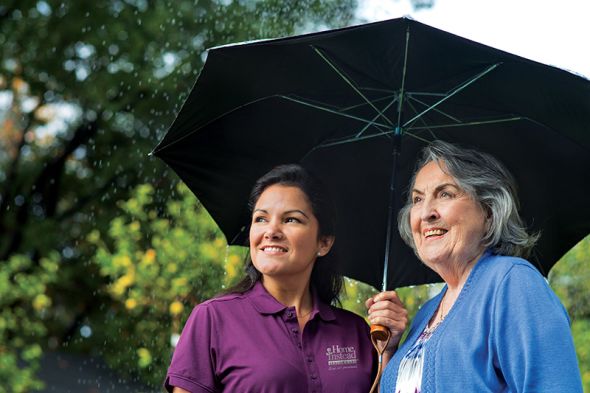 Whether you enjoy taking care of the elderly or helping them find the right caregiving options, there are opportunities to capitalize on your compassion for seniors. Demography and other trends illustrate a growing need for capable, professional caregivers and care managers. According to Home Instead Senior Care, a home care services organization which includes more than 1,000 franchises in the United States and 12 other countries:
Before 2020, people aged 65 and older will outnumber children under age 5 for the first time in human history.
By 2050, the over 65 global population will be more than double that of the world's youngest citizens.
90% of seniors express the desire to continue living at home for as long as possible.
There are several top-rated franchise opportunities in this category, including FirstLight Home Care, Senior Care Authority, Home Care Assistance and Amada Senior Care.
Many of these franchises do not require franchisees to have prior health care experience. And, it's important to note that not all caregiving franchises provide direct care. Senior Care Authority, for instance, focuses on identifying the best assisted living community or residential care home options for seniors rather than providing direct caregiving.
5. Photographer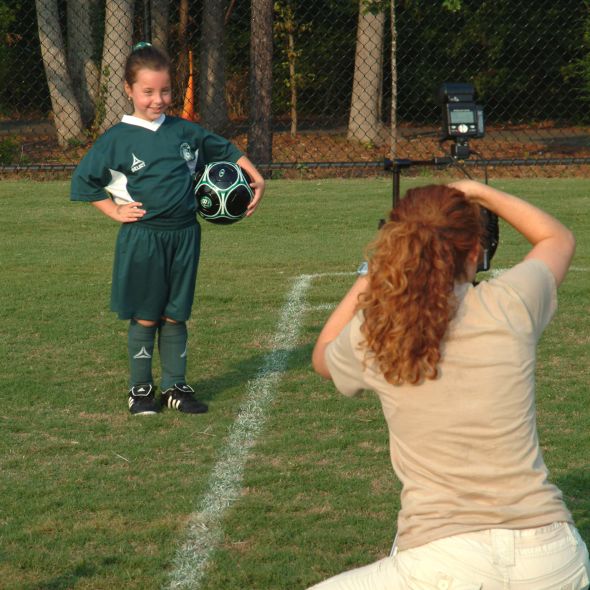 Are you passionate about taking pictures of children and teens? Sporting events, recitals, and special events are a few of the places you can capture special moments for schools, teams or other groups as a TSS Photography franchisee. With national partners such as the YMCA, National Flag Football, and National Recreation and Park Association, TSS Photography is well-known as a provider of school portraits and photos for both fundraising and promotional purposes. The low-overhead franchise, which requires no location, also offers:
A low initial investment of $20,000-74,000, with only $10,500 cash required
No royalties
Photography and sales training, as well as business support
6. Cleaning Services Operator
Maybe your house or office is the cleanest on the block, or perhaps you've been managing residential or commercial cleaning services on your own for a while but want to expand. Operating your own cleaning services franchise can help you maximize your reach, thanks to brand recognition, marketing support, and scheduling technology.
For example, MaidPro, which won a Franchisee Satisfaction Award from Franchise Business Review in 2016, offers low start-up costs, 24/7 support, and recruiting tools to help you succeed.
Office Pride offers commercial cleaning services to offices and businesses and was ranked highly in training and support, with more than 88% of their franchises rating their training and support above average.
Deciding to be a mompreneur franchisee is a big decision. It requires you to dig deep and truly assess whether you have the desire, skills, and will to invest your time and money in a concept. Still, women often make good franchisees, thanks to their ability to foster relationships, connect and engage in their communities, and make key decisions on behalf of their families.
There are a wide range of franchises that appeal to mompreneurs, spanning a variety of industries. Franchise Business Review's 2018 Top Franchises for Women showcase 50 of the best opportunities out there. From Dream Vacations to Remedy Intelligent Staffing to Kona Ice, there are ample opportunities for mompreneurs to enjoy work/life balance—while also turning a healthy profit.