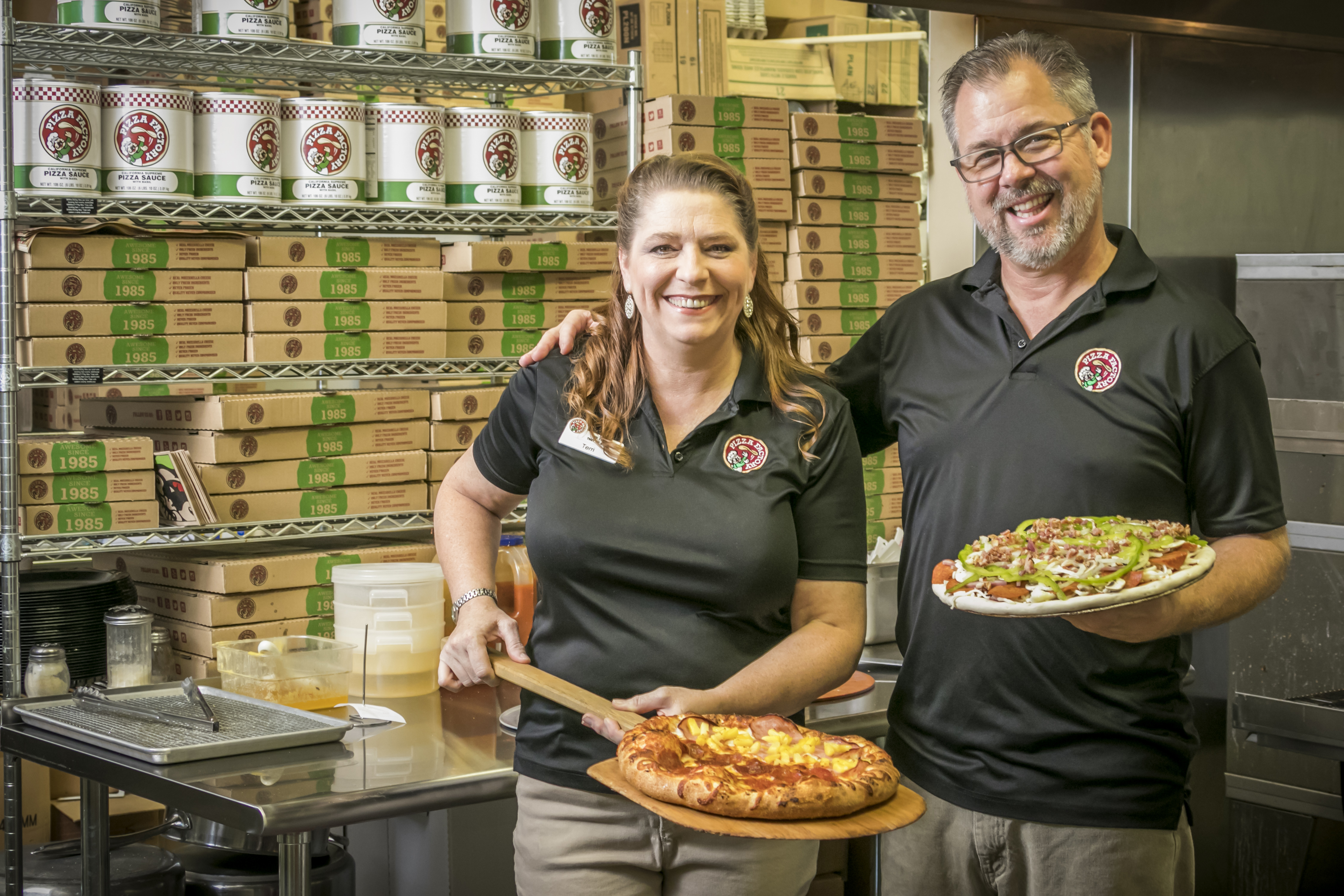 Terri and Dave Thomas nominated by the Pizza Factory leadership team in the Giving Back category for a 2021 Franchise Rock Star Award. They were chosen by Franchise Business Review from among 200 nominations for their outstanding achievements as Pizza Factory franchise owners in Placerville, CA.
What is one of the biggest mistakes you made when you were first starting your business? What was your biggest takeaway from it?
Underestimating the amount of time it would take to run a business. Especially entering an industry you are not too familiar with.
What did you do prior to owning your franchise?
Terri was a bookkeeper and Dave was an operations manager.
Is there a book or podcast you've read/listened to that has helped you in starting or building your business?
One of the books we read after hearing Eric Chester speak at a Pizza Factory convention was "On Fire at Work". Eric and the book were inspirational to us. Other books we have used as inspiration are "Nice Bike" by Mark Scharenbroich and "How to Win Friends and Influence People" by Dale Carnegie.
Why is giving back important to you? What role does it play in your life and your business?
You have to be a part of your community. If people do not feel that you're invested in the community, they are not as invested in you. People come into their restaurant because of the support they do for the town and schools. It might not be a return on investment that next day, but it builds up. People remember a business giving back and making a difference.
What are the biggest work-related challenges you faced during the pandemic? What have you done to address them?
Staffing was a big one and we continued to keep making our employees happy by creating incentives for them to stay. They'd give them bonuses, buy meals and coffee—all of which built up morale. They also made Pizza Factory food 50 percent off for employees at all times. On the customers side we pivoted to focus on delivery. During that time our delivery tripled and we had to hire more drivers than ever before.
For more information on Pizza Factory franchise opportunities, call (800) 654-4840 or visit pizzafactoryfranchises.com. You can also email [email protected].