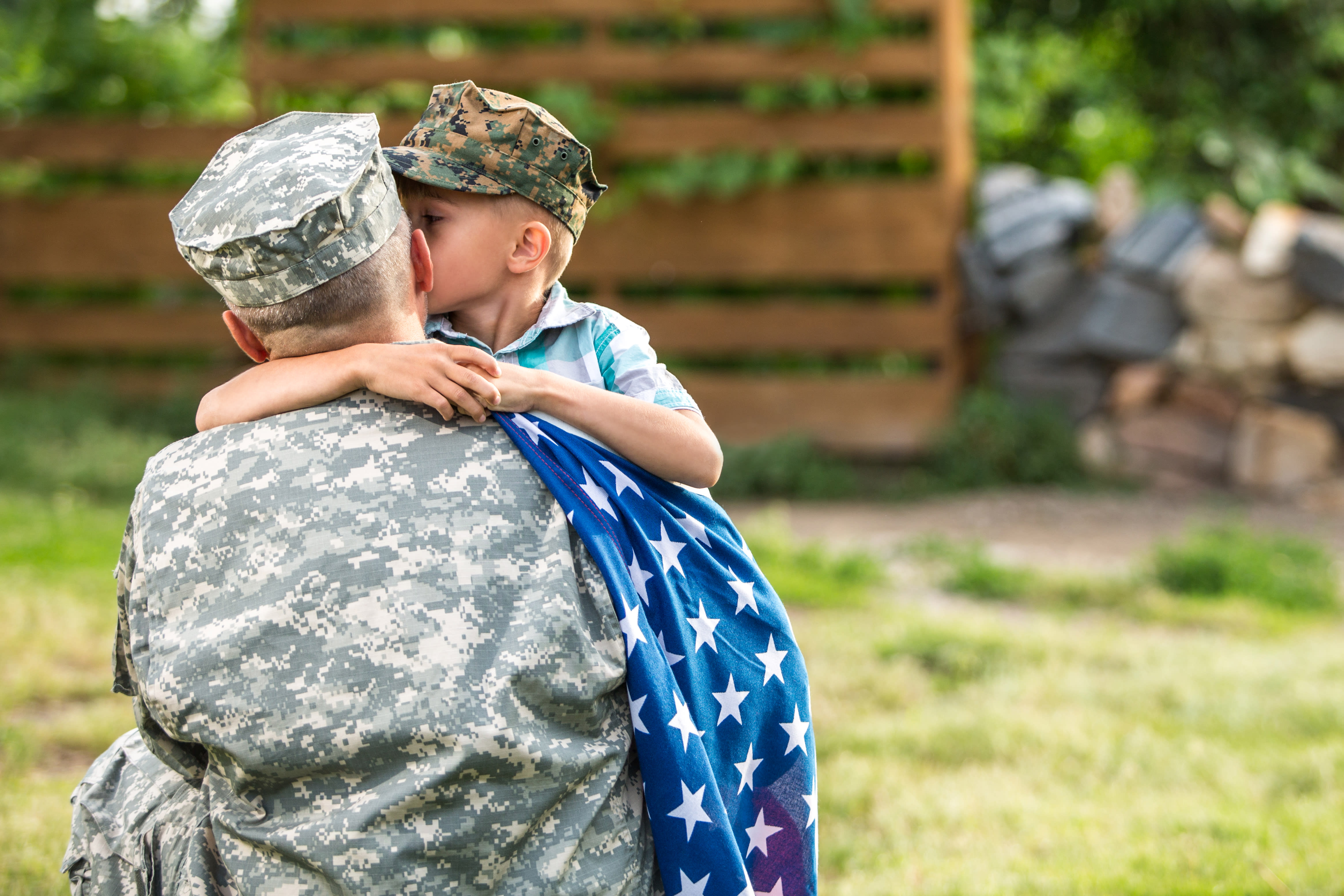 You've served your country. You've had a defined role and actionable goals. But now you're back home and asking yourself, "What now?" Many veterans are turning to entrepreneurship, taking advantage of veteran grants and loans to get started. If you're a veteran interested in starting your own business, there are many people and organizations eager and ready to help with educational support and financial resources.
According to the Small Business Association, there are more than 2.5 million U.S. businesses that are owned by veterans, making up about 9 percent of all businesses in the U.S. These businesses employ 5.8 million employees and pay more than $210 billion in payroll annually.
As a veteran, there's a good chance you'll make a great business owner! That's because vets tend to possess the skills required to lead and manage a growing business — skills such as leadership, discipline, perspective, communication and the ability to turn problems into opportunities. But getting started without any help can be difficult, if not impossible. Fortunately, there are many resources available to help you get off the ground and launch your new business — be it a new company you are starting from scratch or an established franchise.
Business Funding for Veterans
As a veteran, you have access to funds that are not available to civilian business owners. Below we will offer different grant and loan options for vets as well as discuss additional resources that can be helpful as you search for funding.
Business Grants for Veterans
Starting your own business can be expensive! Grants are a great way to fund your business. A grant is a sum of money given, usually from the government, that helps provide a public service, stimulate the economy, or benefit the general public. Oftentimes, grants come with specific stipulations as to how the grant money can be spent. The primary difference between a grant and a loan is that grants do not have to be paid back, while loans do.
1. StreetShares Foundation
The StreetShares Foundation Veteran Small Business Award offers veteran business owners up to $15,000 in grant funding. Eight to 12 semi-finalists are selected and three winners are ultimately chosen ($4,000 for third place, $6,000 for second place, $15,000 for first place).
2. National Association of the Self Employed (NASE)
The National Association of the Self-Employed Grant Growth Program awards monthly grants in the amount of $4,000. You must be a NASE member to apply but you do not have to be a veteran.
3. LendingTree
The LendingTree Small Business Grant is a yearly business grant worth up to $50,000 that is awarded to passionate entrepreneurs with a growth mindset. You do not have to be a veteran to apply for this grant.
4. Hivers and Strivers
Hivers and Strivers, while not a grant, is an angel fund investment firm started by veterans, for veterans. They offer funding for startup companies founded and run by graduates of the U.S. Military Academies and typically invest between $250,000 and $1,000,000 each round.
Business Loans for Veterans
A loan, as defined by Investopedia, is money, property or other material goods that is given to another party in exchange for future repayment of the loan value amount along with interest or other finance charges. A loan may be for a specific, one-time amount or may be available as an open-ended line of credit up to a specified limit or ceiling amount. As a thanks for your service, many lenders offer veterans lower interest rates on small business loans.
View the Top-Rated Franchise Brands for Veterans
1. Veterans Advantage Guaranteed Loans
The SBA has paired with the Department of Veterans Affairs to offer SBA-guaranteed loans. These loans offer incentives such as competitive rates, counseling/education, and lower down payments for veterans.
2. Community Credit Unions and Local Banks
Local credit unions and banks are also a good place to look for small business loans with favorable rates. Not only do these community financial centers tend to offer lower interest rates they may also offer additional discounts or incentives for vets.
3. Military Reservist Economy Injury Disaster Loan Program
This loan is intended for current business owners who employ active-duty personnel. If your business has an essential employee, who is called for active duty, you may qualify for this loan. The SBA states that the funds are used to "provide the amount of working capital needed by a small business to pay its necessary obligations as they mature until operations return to normal after the essential employee is released from active military duty".
4. StreetShares
StreetShares was founded by two veterans who wanted to help small business owners and American vets grow their small businesses. They offer a "suite of specialty finance products to the small business and veteran markets including business loans, lines of credit, and account receivables financing for the government contract community."
See the Top Franchises for Veterans
Additional Financing Resources for Veterans
In addition to the grants and loans listed above, there are many organizations that offer support and assistance to vets looking for small business loans, grants or general financial education.
1. Small Business Association (SBA)
The SBA is the go-to resource for entrepreneurs and small business owners. They offer free business counseling and can help connect you with lenders and funding programs. You'll also find tons of articles and resources on planning, launching, growing and managing your new business.
Boots to Business (B2B) is an entrepreneurial education and training program offered by the U.S. Small Business Administration (SBA) as part of the Department of Defense's Transition Assistance Program (TAP). B2B provides participants with an overview of business ownership and is open to transitioning service members (including National Guard and Reserve) and their spouses.
2. The Veteran Business Outreach Center
Veteran Business Outreach Center, or VBOC, is a resource, partially funded by the U.S. Small Business Association, that provides veterans, as well as active duty service members and their families, with counseling, training, technical and financial skill development, comprehensive business assessments, mentoring and more. The VBOC facilitates the Boots to Business program delivered by the SBA.
3. The Institute for Veterans and Military Families
The Institute for Veterans and Military Families offers entrepreneurship training for veterans that have served post 9/11 and have a service-related injury.
4. Grants.gov
Grants.gov offers a database of the current and past grants available through the US government.
5. Grant Watch
Grantwatch.com is a database that provides information on grants offered by local municipalities, foundations, corporations and more.
6. Local Veterans Affairs Office
The VA directory can help you find a Veterans Affairs office near you that can assist you in finding grants and programs you may qualify for.
7. State Grant Websites
State grant websites can help you find grants only available to residents of that state. Because of this, there is usually less competition for state grants.
9. Local Chamber of Commerce, Innovation Centers and Business Centers
The Local Chamber of Commerce, Innovation Centers and Business Centers can be great resources to utilize when searching for local and national grants.
10. The Veteran Entrepreneur Portal
The Veteran Entrepreneur Portal helps link veterans with free resources such as financing options, corporate partnerships and staffing programs. The VEP also lists franchise opportunities for veterans.
Franchise Opportinities for Veterans
According to the Bureau of Labor Statistics, 32.1 percent of small businesses fail within the first two years. If these odds scare you, you may want to consider a franchise. Not only are franchises considered safer investments than startups many franchise brands offer discounts for veterans.
But what is a franchise exactly? A franchise is a legal and commercial relationship between the owner of a company (the franchisor) and an individual (the franchisee) who is starting a branch of that business using the business' trademark logos and business model. The franchisee sells the product or service that the franchisor supplies.
"Veterans are a great fit for owning a franchise business because of their strong operational experience," says Eric Stites, founder and CEO of Franchise Business Review, and a retired Navy veteran. "And franchising is also a great fit for veterans, with many franchise companies offering discounts and other financial incentives to vets. When you talk to franchise companies, be sure to ask about any incentives they may offer, and speak with veteran franchisees in their system about their experience operating the business."
While a business background can be useful in operating a franchise, it is certainly not necessary! One of the greatest benefits to buying a franchise is the tremendous support you'll receive from the franchisor — franchisors have a lot invested in their brand and want their owners to succeed. One of the common sayings in the franchise world is "in business for yourself, not by yourself."
Should You Buy a Franchise or Start a Business From Scratch?
Franchise Brand Discounts and Incentives for Veterans
According to Franchise Business Review data, one in eight franchises in America is owned by a veteran. Why do vets love franchises? Franchises allow you to be your own boss while following a proven business model. They can offer both freedom and support as you venture out on your own. Plus, many franchises, like the ones listed below, offer veterans discounts and incentives. It is important to note that the brands listed here are just a small sampling of the many franchises that offer incentives for vets. So, if you are interested in a specific brand not mentioned below, make sure to ask them about discounts for vets!
Learn more about financing your franchise and get free financing information.
Entrepreneurship can be a great option for veterans who are looking to take the next step in their lives and careers. If you are interested in pursuing small business ownership these aforementioned veteran grants, loans and resources should be of tremendous help as you make plans to open, manage and grow your business. And if franchising sounds like an appealing option, Franchise Business Review is an excellent source for unbiased franchisee feedback. You can see the top franchise brands of the year (as rated by franchisee satisfaction) here.