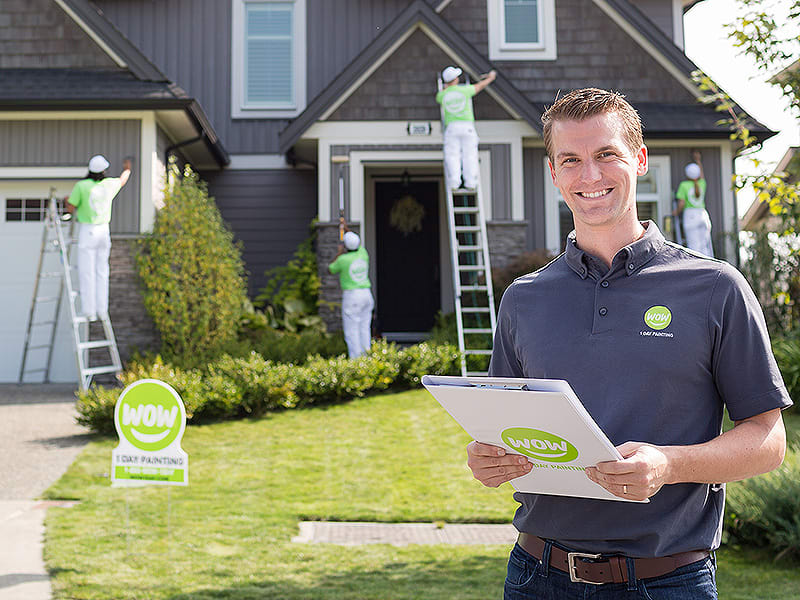 Discovering the Next Big Franchises
When most people think of franchising success stories, McDonald's is often held up as the gold standard. And while the McDonald's story is truly an amazing one, McDonald's was far from an overnight success.
The McDonald's brothers (Dick and Mack) started flipping burgers in their first restaurant in the early 1940's. A decade later, in 1953, they had perfected the business enough to start franchising. And by 1959, they opened their 100th location – thanks in big part to their now-famous partnership with Ray Kroc.
The Subway franchise story is similar. It took founder Fred Deluca a decade to get the business dialed-in, and the better part of another decade to grow the franchise business to over 100 locations. Many people think of these iconic brands as overnight franchising success stories, when in reality, they were 20 – 30 years in the making.
Contrast this with some of the newest "breakout" franchise brands of the past decade. Kona Ice is just one example. This "little" shaved ice franchise based in Florence, Kentucky was founded in 2007, started franchising a year later in 2008, and has grown to nearly 1,000 outlets in just ten years. Kona Ice is adding 100+ locations per year and shows no signs of slowing down.
Orangetheory Fitness is another breakout brand of the decade, growing to nearly 600 locations in just eight short years. Generally speaking, very fast growth doesn't always bode well for franchisees, but in the case of Orangetheory and Kona, they have built strong franchise operations teams to support extraordinary growth.
---
Highlighted Emerging Franchises:
No results for this search. Please refine your filters to find the franchises you are looking for.
---
The Franchise Tipping Point
There are several hundred new companies that start franchising every year. Many of their owners have probably had similar visions to those of Ray Kroc, hoping to build the next franchise empire. But the reality is few franchise companies ever make it really big. In fact, the majority of franchise opportunities available today are with companies that are under 100 locations. That said, you don't have to invest in a big franchise company in order to be successful as a franchise owner.
"Big isn't always better," says Eric Stites, CEO and Founder of Franchise Business Review. "Size certainly gives you scale, and other advantages like higher brand awareness and greater purchasing power. But just because a franchise company is large, it doesn't automatically mean that the franchisees are happy and successful."
The tipping point for new and emerging franchise companies tends be somewhere between 50 – 100 units/locations. This is where the company becomes royalty self-sufficient… in other words, prospering on royalty revenues paid by successful franchisees, rather than being dependant on franchise fees from the sale of new franchise locations.
Stites explains, "In those early days, when a franchise company's only significant revenue source is new franchise fees, they can make a lot of mistakes. The good franchise companies quickly reinvest franchise fee income into building the support structures necessary to grow."
In addition to Kona and Orangetheory, Franchise Business Review has been tracking several very strong franchise companies that have crossed the 100 unit mark over the last decade. These franchises include FirstLight Home Care, Mosquito Joe, Better Homes & Gardens Real Estate, Crunch Fitness, Pinot's Palette, CarePatrol, 101 Mobility, and Brightway Insurance.
Upstarts with Strong Promise
Looking at companies that just started franchising in the last few years, we found a handful that show a lot of promise. Senior Care Authority, who started franchising in 2014, has already grown to nearly 50 locations, and is outpacing many of their competitors in the home healthcare industry. Bloomin' Blinds is another 2014 franchise upstart with a lot of promise, poised to grab their share of the multi-billion dollar window treatment market.
---
Franchisee Satisfaction: Emerging Brands
Even though Emerging franchise systems can be considered riskier investments than more established systems, many franchise owners have found success with these newer brands by getting in on the ground floor. In fact, looking at franchisee satisfaction data* spanning a recent 18-month period, franchisees of Emerging brands showed a more positive sentiment in several key areas compared to all franchise owners we've surveyed.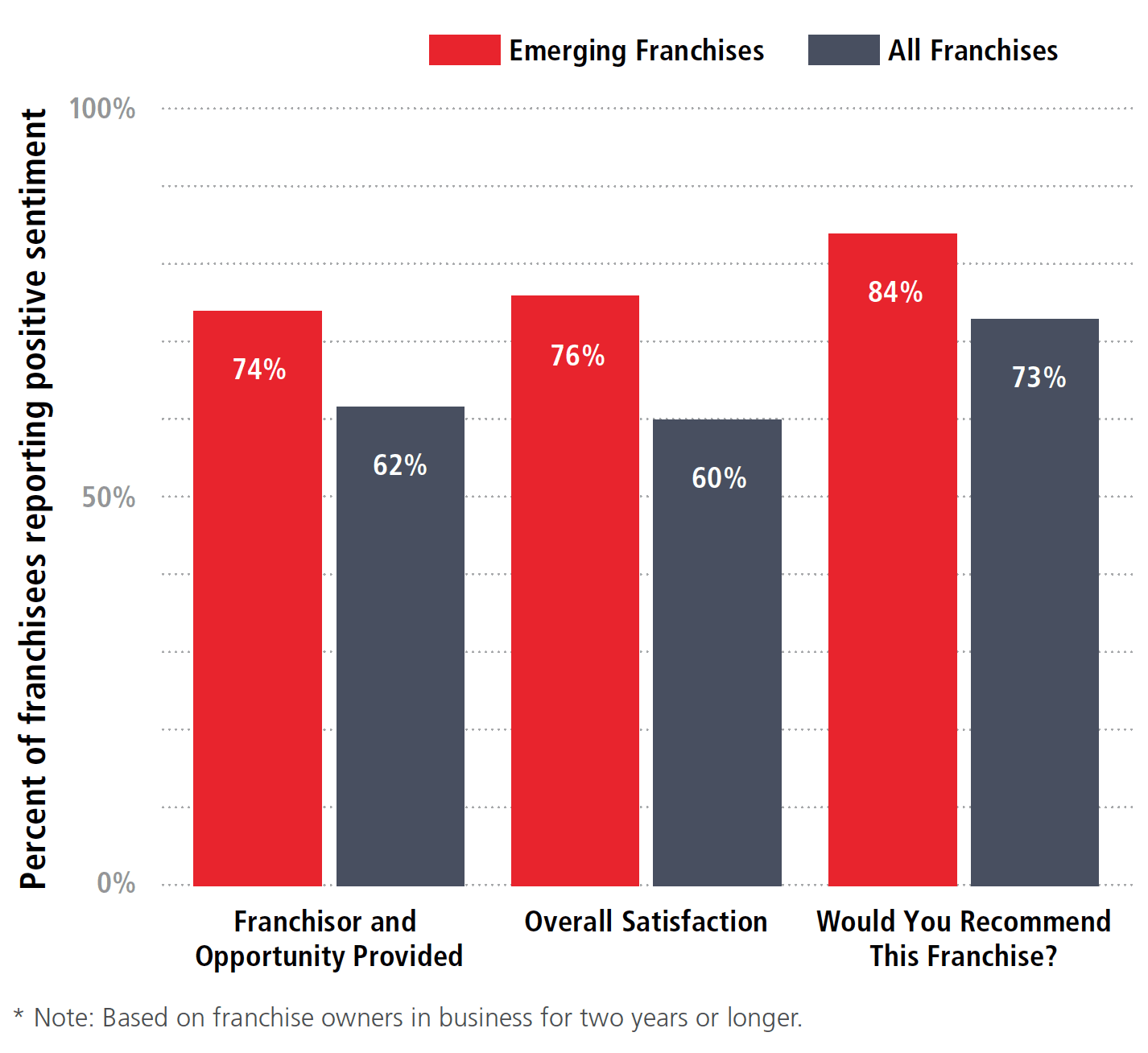 ---
Factors to Consider with Emerging Franchises
No matter what type of business you open—franchise or independent, up and coming or 50 years old—there's risk involved, but buying a franchise from an emerging brand can come with more risk if you don't do your homework.
Emerging franchises (and smaller brands) often come with a smaller corporate office and fewer resources, which can equate to less support for operators. Franchisees may struggle as the first in their market. With no prior brand recognition, it's completely up to them to market their business, gain brand recognition, and, for franchisees of new concepts, they constantly have to explain what it is they do.
On the other hand, franchisees new to a market have the opportunity to establish their reputation and image with no preconceived ideas of what they do or how they operate.
Franchisees and franchisors both told us there's more openness to franchisee input at a new brand, which might be an advantage for someone looking for the stability of franchising with the entrepreneurial feel of a start-up.
"There's a growing community of independent health and beauty professionals nationwide, and with MY SALON Suite, I'm meeting their demand for luxury, private working spaces," said Aaron Gillaspie, a multi-unit franchisee with MY SALON Suite, who started franchising in 2012. "I've opened multiple units throughout Houston and San Antonio with the corporate office's ongoing marketing support, educational opportunities, and ambitious culture. Their top notch amenities have proven to be exactly what stylists in my region are looking for."
Conducting thorough due diligence is important with any franchise opportunity, but it's even more important with a new brand. Unfortunately, it can also be more difficult to clearly assess the strength of the franchise system and support. You will need to work harder to learn all there is to know about the franchise company—looking closely at the individual backgrounds of the leadership and asking detailed questions about the strategic vision for today, tomorrow, and five years from now.
It takes a lot more than a healthy flagship store to be a successful franchise system, but we sometimes see new franchise companies that are based solely on that—the success of one or two stores. It's imperative that the franchise structure, training, systems, and leadership be set up to support growth. In the end, there are both pros and cons to buying an up-and-coming franchise brand—as there are with any type of business investment.
Investors need to find the franchise system that's built for growth—both of the franchisee and the corporate office—and the brand that best suits their needs and personality type.
Taking the Next Step
There are many great franchise opportunities available to investors today, and we pride ourselves in identifying the best of the best. If you are considering an emerging brand, it's important you look carefully at the franchise structure and leadership that's behind that brand. Do they have the corporate resources to properly support you? Does the leadership team have previous experience in the franchise industry? Does the concept itself have staying power?
Take your time and find the right franchise fit for you!
See Our Full List of Emerging Franchises