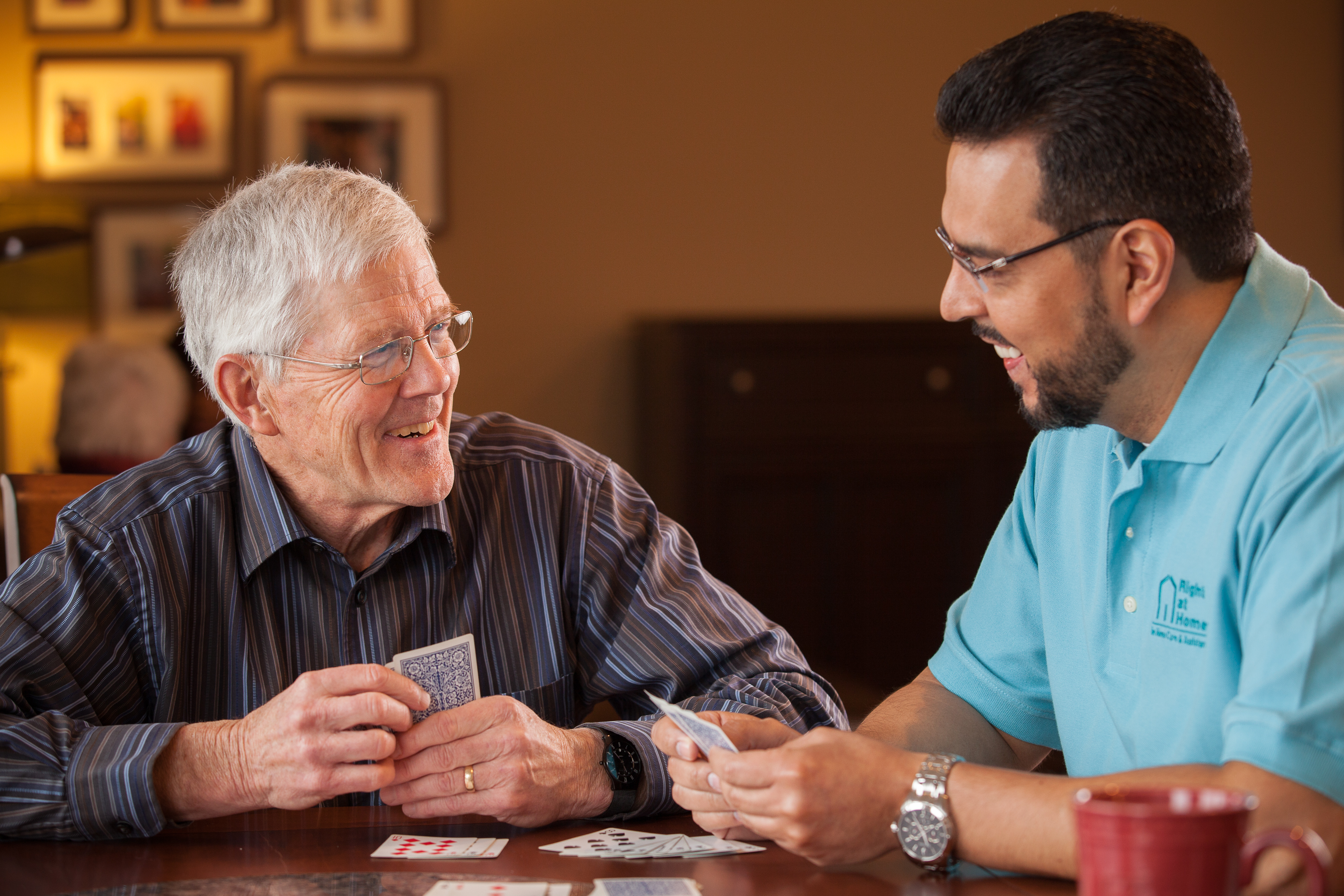 If you're looking to make a difference in the lives of others, an in-home care franchise can offer you the opportunity to enhance seniors' lives and create a good economic future for yourself. In fact, The Bureau of Labor and Statistics reports that home health care is one of the fastest growing segments within the health care industry. We looked into the opportunity to find fulfillment and create a successful business through a Right at Home franchise.
As an owner of a home care franchise, you are responsible for both finding clients and hiring caregivers to assist seniors or individuals with disabilities with activities of daily living—including bathing, dressing, eating, and light housekeeping activities. You also must adhere to state compliance guidelines and market your business in your community.
While the in-home care industry provides lucrative business opportunities, it's important to find the brand that best aligns to your values and offers the right amount of training and support, said Kerin Zuger, chief of strategic growth for Right at Home, the second largest provider of in-home health care in the world.
"We help navigate our clients through the aging journey and provide them with the resources and products to meet them where they are," she said. "For our team, we make sure they are well trained and provide support, great communications, and all of the benefits that come with being part of a franchise network."
Although there are many in-home care brands to choose from, not all are created equal. Here are the top 5 reasons investors looking to join an in-home care franchise should consider Right at Home.
1. Right at Home was founded by a hospital administrator and continues to define what it means to offer in-home care.
Right at Home didn't start as a franchise business. Founder Allen Hager launched the company more than 25 years ago after he noticed a major disconnect in the health care continuum. The former hospital administrator noticed that seniors would often leave the hospital, only to return to the emergency room, and then get re-admitted soon afterward. That's when he got the idea to open an in-home care business to bridge the gap.
But before he even considered opening the doors to his first in-home care business, Hager tested his concept by talking to families to better understand the different kinds of challenges they faced and what kinds of care would be most helpful to them. He also became a certified nursing assistant to experience first-hand the needs of seniors and others who needed professional assistance. He perfected Right at Home's in-home care model before he began franchising it five years later. His knowledge of health care and understanding of what matters most to families still prevails today.
Right at Home continues to follow Hager's vision in 2021—which includes putting people first and looking at data, franchisee, client, and caregiver feedback to enhance services for seniors, Zuger said.
"We have developed a suite of national partnerships that offer our clients and caregivers what they need, when they need it," she said. "These have included new technology partners, fitness programs, meal delivery services, home repair, lawn maintenance programs, therapy services, and many more."
Right at Home last year formed three national partnerships with top national acute health care companies, including Amedisys, Kindred Healthcare, and Encompass. Working in partnership with these acute care providers, Right at Home is now able to seamlessly serve clients when they no longer need medical care, but still need in-home care support.
Understanding that the isolation borne by the pandemic caused a rise in anxiety and depression, Right at Home partnered with Forefront Telecare to offer virtual talk therapy for seniors. The company also formed a partnership with Eat Fit Go meal delivery services to bring clients healthy, proportioned meals. Finally, a recent partnership forged with TruBlue Total House Care gives Right at Home clients easy access to mowing, yardwork, and handyman services.
2. Right at Home taps into technology to continually improve health care and business operations.
By investing in the right technology over the years, Right at Home has been able to improve the lives of its owners, caregivers, and clients alike. The company two years ago created a proprietary platform called Right Focus, a central place owners can visit to obtain data on their business performance to help make future decisions. Prior to Right Focus, owners collected data from more than one platform.
"This talks to all of those places and pulls it into one central place for our owners," Zuger said.
By logging onto Right at Home University, owners can access an online training program designed for key staff and caregivers. The platform gives franchisees the freedom and flexibility to develop and tailor their own training classes, which are often introductions and orientations to their specific offices. Individual owners can also bundle their classes as they see fit to develop career paths for caregivers. The courses available on the Right at Home University platform are updated monthly to ensure compliance with state licensure, Zuger said.
Finally, Right at Home created the Hub for owners to access business tools such as contacts, news and internal communications, competitor insights, and marketing materials to help them position and operate their business.
The company continues to look at new ways to harness technology to improve operations and better connect its network. The coronavirus pandemic forced Right at Home to quickly boost communications, update virtual training resources, and ensure its software and equipment could meet increased demands.
"All of this was great at the beginning of 2020, but a global pandemic forced us to take a look at all of the ways we could improve," Zuger said. "We are at the top of our game when it comes to improved systems, and both new and existing owners alike will reap the benefits."
3. Right at Home continues to experience consistent year-over-year growth.
Although the company has been in business for more than 25 years, Right at Home shows no sign of slowing down. Between 2011 and 2018, Right at Home nearly doubled its North American locations from 241 to 471 and grew its international locations from 2 to 100. At the same time, its net billings increased from $202,804,737 to $481,781,397, according to Item 19 of its Franchise Disclosure Document. Its most recent figures for 2019 report that 476 Right at home locations achieved net billings of $511,208,232 systemwide.
Individual owners continue to realize successful returns as well. Right at Home locations opened one year or more ending in 2019 had median net billings of $1,028,843. Half of those offices met or exceeded the median revenue amount, according to the FDD.
The challenges posed by the pandemic didn't keep Right at Home from achieving its revenue goals last year, either. The company ended 2020 with positive year-over-year growth, and finished just shy of its franchise sales expectations, according to Jen Chaney, vice president of franchise development for Right at Home.
"We were on track to have our best numbers ever in the history before COVID hit," she said. "Some businesses were absolutely crippled by COVID-19, but we didn't have a single person not buy (a franchise) because of COVID. We were open and upfront about the challenges we were facing, and prospective buyers felt good about the resources we were providing."
4. Right at Home puts people first.
Whether it's offering owners' tools to meet compliance guidelines, providing caregivers with training to help mitigate the spread of infection, or matching seniors with the caregivers who relate to them best – Right at Home puts the people in its organization first.
Right at Home sprang into action when the pandemic crippled businesses across the country and particularly posed a threat to the world's most vulnerable citizens—its seniors. Even though the national government had trouble obtaining personal protective gear for health care workers, Right at Home independently negotiated with brokers for hard-to-obtain masks, gowns, and other PPE on behalf of its franchisee network. The corporate office had never envisioned it would be in the PPE business; but without it, franchisees would not be able to safely do their jobs, Zuger said.
"We spent over a million dollars securing and shipping PPE to all of our franchise locations. We also worked with a local vendor to develop an e-commerce site, allowing franchise owners to order any additional supplies they needed to stay safe and continue to provide the care our clients needed," she said.
During the pandemic, Right at Home did all that it could to connect franchisees to just-in-time information that would keep staff, caregivers, and clients as safe as possible. To streamline information for owners, the corporate office created a COVID task force—composed of executives and team leaders from each department.
"It was the best way to gather information, create plans, and then cascade those plans to team members and franchisees," Zuger said.
The corporate office also created resources focused on infection prevention and employment. With its franchisees, it also held weekly Town Hall meetings weekly to ensure that each owner had the latest information related to COVID regulations, infection control, and safety. Regional teams also met weekly with their coaches to discuss how the coronavirus was impacting business in each of their areas.
At the same time, the company still follows Hager's credo when it comes to putting people first—which means providing great care to seniors and their families. Not only does the company believe in training staff well, but it also believes in recognizing them, too. Each year, caregivers are nominated for the National Caregiver of the Year award by franchisees throughout the network and are selected by an independent group of professionals in the health care industry based on the following criteria: character, client impact, brand ambassadorship, team spirit and professional development. In addition to honoring a caregiver on a national scale, Right at Home also recognizes four caregivers at the regional level for their outstanding commitment to their clients.
At the same time, the Right at Home corporate team regularly reviews the caregiver recruitment experience, collecting data related to how franchisees can improve the hiring process  — from interview to follow up—to create the best hiring experience possible for candidates.
5. Right at Home Recognizes Aging as a Challenging and Dynamic Journey.
Looking forward, Right at Home expects the in-home care business to boom—and transform–as Baby Boomers get older. The number of people over age 60 is set to triple to 2 billion by 2050, according to UN estimates. Furthermore, as seniors age in their homes, they often don't have relatives nearby to care for them. On average, aging parents live just over 282 miles away from their nearest child, according to AARP. These trends all show that in-home care will play an important role in the lives of the elderly.
As seniors age, their needs change as well. The coronavirus shed a light on the growing number of seniors who experienced isolation and depression as a result of having no contact with others. Families for the first time began seriously looking at in-home care as the best option for their loved ones, Zuger said.
"The silver lining to this is that it highlighted the need for in-home care.  Hospitals said they couldn't take patients and beds were only available for acute care patients—and seniors had no other place to go but home," Zuger said. "But still, they needed oversight. It was an opportunity for the world to understand  that people need this type of service."
As seniors live longer, they will likely face more complex health care issues. For this reason, Right at Home recently hired clinical staff at its corporate headquarters to help guide decision making, training, and emergency preparedness as the network continues to grow. Some of its locations also offer skilled nursing and hospice support.
Telehealth—for both mental health and medication compliance—is also now available to seniors and can make a big impact on their wellbeing, Zuger said. Right at Home plans to leverage technological advances to improve the health and quality of life of its clients.
"We can help facilitate that. It is our job and responsibility to have those resources and tools and to offer them up," she said. "That's what navigating and being alongside the client aging journey is all about."
Is a Right at Home Franchise Right for You?
Most Right at Home franchise owners report strong satisfaction with both the corporate leadership and the overall franchise system. Owners rated their satisfaction in these categories as "Very Good," and ranked financial opportunity and general satisfaction high as well. Right at Home was also recently named one of Franchise Business Review's Top Senior Care Franchises.
If you want to join a franchise that puts people first and continues to experience year-over-year growth, here are some financial requirements you'll need to meet, according to the company's most recent Franchise Disclosure Document.
Total startup investment: $74,750 – $144,780, including franchise fee.
Franchise fee: $49,500 or $44,550 for honorably discharged veterans
Minimum liquid assets to be considered for a franchise: $150,000
Continuing royalties: 5% of net billings.
Marketing fees: 1% to 2% of net billings for local marketing (2% of net billings on the first $1 million. This contribution percent declines to 1% after the first million in billings).
Initial training includes 10 days at Right at Home's headquarters in Omaha, Nebraska. At the training, franchisees learn about the administrative and operational aspects of the business, as well as specific sales and marketing techniques for an in-home care and assistance franchise.
Right at Home discloses historical sales and gross margin performance of their current franchisees in Item 19 of their Franchise Disclosure Document (FDD). Average net billings for 2019 were $1,354,566 for all their locations open for at least one year, while locations open for over five years averaged $1,527,141.
There are currently open territories in 45 states.
Owning an in-home care business is not only rewarding but could also be the next step on your career ladder. To learn more and receive a free Right at Home franchise kit, call 866-350-9770 or visit RightAtHomeFranchise.com.