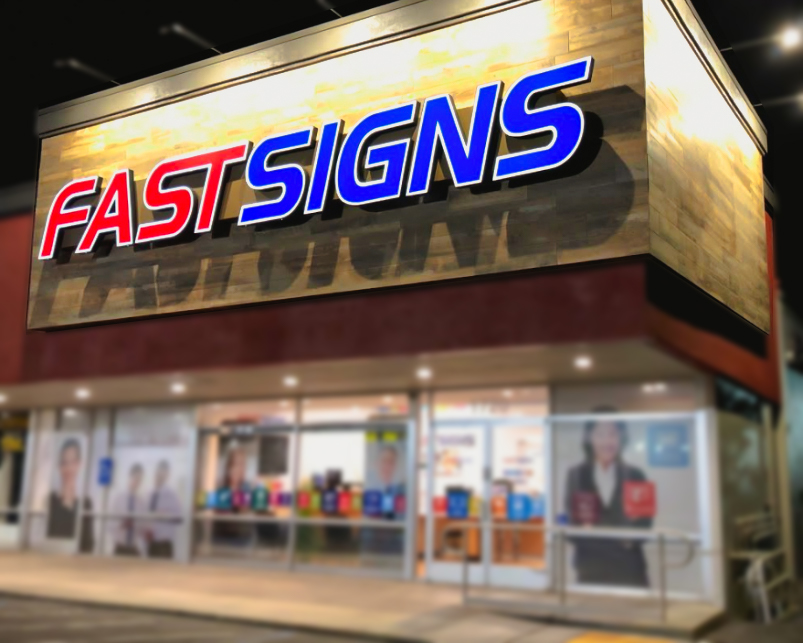 Opening a new business is scary enough. Imagine doing it at the start of the COVID-19 pandemic that crippled the economy and crushed many small businesses this past year.
That's exactly what Lance Puccio and his father Larry faced in March 2020 when they took the plunge into franchising ownership and opened their FASTSIGNS® store in White Hall, West Virginia.
"Yeah, we opened during a pretty crazy time, possibly the worst time to open a business," Lance, 25, reflected recently. "But as it turned out, it actually worked out pretty well for us. In a weird way the pandemic kind of benefitted us. It gave us more time to get situated with our new business and figure things out."
Fortunately, the Puccios had a strong global brand behind them. Their FASTSIGNS business proved "pandemic-resilient" in 2020 and as close to "recession-proof" as a business can be in 2021, thanks in large part to the support and guidance they received from the corporate office. Despite a challenging first three months to their new business when they were forced to close their doors because of state-mandated restrictions, the Puccios overcame every obstacle and saw their business grow this past year.
From March 1, 2020, when their official store opening took place, to Feb. 28, 2021, Lance reports total sales for their West Virginia store was just under $420,000. This year they're projecting to raise sales to around $600,000.
"We're crazy busy," said Lance at the end of June. "We're not complaining though. We love the support FASTSIGNS offers and are very pleased with the decision to open our own sign shop."
It has certainly been a productive and historic year for FASTSIGNS International Inc., the franchisor of FASTSIGNS. The leading sign graphics and visual communications franchise company celebrated its 35th anniversary in 2020. And in March of this year, following the acquisition of computer and technology-based service provider NerdsToGo®, the parent company announced the formation of Propelled Brands as the new corporate umbrella under which both brands will operate.
"Our growth and momentum is a true testament to our superior staff, hardworking franchisees, and the rising demand for business services," said Mark Jameson, Chief Support and Development officer at Propelled Brands. "We continue to seek ways to increase our franchisees' profitability and provide the tools and resources they need to thrive."
FASTSIGNS has been a mainstay for years on Franchise Business Review's annual list of Top 200 Franchises and in 2020 was named to FBR's list of Best Franchises for Second Careers. FASTSIGNS has helped countless owners of print shops, photography studios, camera stores and embroidery shops with their brand recognition. Franchisees receive ongoing training and support to stay ahead of the competition and exceed the needs of their local business community. Both the co-brand franchise opportunity and conversion can be started with only $15,000 down on the initial franchise fee. (More on startup costs below).
The worldwide franchisor of over 750 independently owned and operated sign shops in nine countries, FASTSIGNS provides comprehensive signage and graphic solutions to help businesses of all sizes and across all industries attract attention, communicate their message, promote their products, help visitors find their way and extend their branding across all their customer touchpoints. It's no wonder FASTSIGNS has taken the lead in the $29 billion signage and graphic industry.
This past year has certainly been a whirlwind for the Puccios. It started in February 2020 with the Puccios attending extensive FASTSIGNS training at the company's headquarters in Dallas, Texas. In mid-February last year, they got their store put together and then worked with a FASTSIGNS business consultant for another week to go over all the steps of opening their West Virginia shop and finalizing their center's decor.
A week later, the COVID-19 pandemic forced the Puccios to shut their doors. But as Lance recalls that never stopped them from producing signs.
"We were able to take orders from emails, phone calls and do mostly curbside pickup for signage," the FASTSIGNS operator explained. "We also devoted a lot of time to networking in the community, just getting the word out about our new business."
Location is critical for any franchising business, especially for a walk-in retail operation like FASTSIGNS. But the company made sure the Puccios were well situated, with their new center located in the first mall built in the state. Middletown Mall in White Hall, West Virginia is currently undergoing a total renovation, from an old-fashioned indoor mall to a modern shopping center with outside and inside storefronts and common areas. FASTSIGNS helped expedite the leasing process for their store, explained Lance.
"We couldn't ask for a better location," said Lance, who manages the day-to-day operations of the store while his father works his contacts in the community to drum up new business. "Our territory gives us access to clients in a lot of large markets, including nearby Fairmont and Morgantown, home of West Virginia University."
Asked what attracted him and his father to FASTSIGNS, Lance Puccio, who prior to buying his franchise worked in accounting at an energy company, said it was the overall support and direction that FASTSIGNS provides its franchisees.
"One of the things that was so interesting to us and really caught our attention was the support that the franchise gives the franchisees. FASTSIGNS has a great number of people sitting at the corporate office waiting to answer your phone call, and they get back to you right away and help you work through different processes," Lance said. "We brainstormed with them on getting our pricing right and adding new items into our POS system."
"They were just really there at our beckon call, which was really a huge asset to us," Lance said.
"When the pandemic began to impact our industry, we worked to ensure that FASTSIGNS centers across the U.S. could continue to operate. Our support team was readily available to help our franchisees navigate challenges, so they knew we were by their side every step of the way," Jameson added.
Lance's advice for anyone considering a career in franchising? "For us it was just a matter of stepping outside our comfort zone. Yes, it was a little scary and overwhelming at first, but once we got going and built up our business, it all started to fall into place."
For those interested in buying a FASTSIGNS business, these are the financial requirements:
$80,000 minimum available capital
$300,000 minimum net worth
A good credit rating
The company reports that the average investment for a franchise is between $233,550 and $307,308, which includes a $49,750 franchising fee. With more than $21 million set aside for financing, FASTSIGNS offers all franchisees powerful financing options.
FASTSIGNS' ability to adapt to market conditions has positioned the company to conquer the sign and graphics industry for decades to come. The company's franchisees average $729,098 in revenue annually, with top quartile centers earning 28.3 percent in discretionary profit.