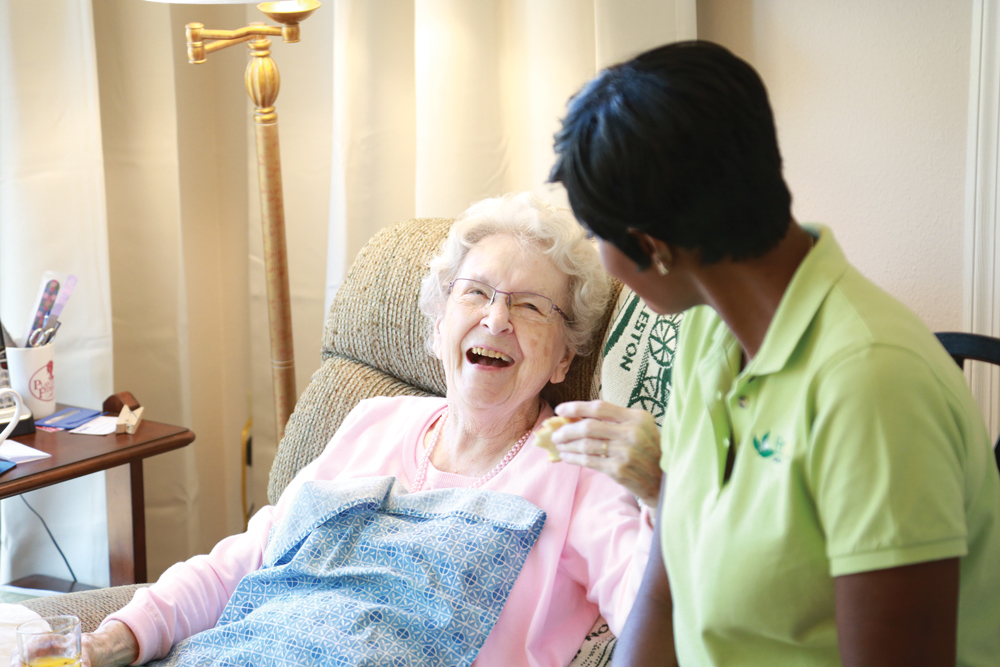 Earning income and making a difference through a FirstLight Home Care franchise
Investing in a senior care franchise not only allows you to help the most vulnerable people in your community, but it can prove to be just as rewarding financially. Each day, more than 10,000 people turn 65. In fact, by 2034, the U.S. Census Bureau predicts that there will be more adults over age 65 in the United States than there will be children under 18. As seniors age, they need more help with daily activities such as housekeeping, dressing, and shopping. At the same time, AARP estimates that 61% of family caregivers work outside the home, leaving a significant gap in senior care. Today, elder care services are valued at an estimated $88.5 billion, and the market is expected to continue to grow. "This is a financially rewarding sector in which business owners can feel good about making a positive impact in the lives of others," said Kimbrough Taylor, executive director of marketing for FirstLight Home Care.
"It's personally enriching to know that you're not only making a difference in the life of the person you're caring for, but you are also providing a huge service to that individual's family," Taylor said. "You're allowing a daughter to be a daughter again, not a caregiver."
Headquartered in Cincinnati, FirstLight Home Care provides seniors, veterans, people recovering from illnesses, and adults with disabilities with a variety of in-home support services. The company includes nearly 200 franchise locations throughout the United States and continues to expand. "With more seniors receiving access to in-home services through private-pay, Medicare Advantage plans, and veteran's benefits, families now have an easier time accessing care for their loved ones," Taylor said.
"Not only is the aging population growing every day, but the number of those who can afford and are interested in in-home care continues to grow, too," he said.
What Do Senior Care Franchises Do?
Senior care franchises hire caregivers to provide non-medical care to clients living in their own homes. While some franchises offer skilled nursing, most offer services that fall under companion or personal care. Trained caregivers help with meal preparation, laundry, and light housekeeping to give family caregivers time off. Or, if seniors need a higher level of personal care, caregivers could assist them with bathing, eating, and toileting. Some elder care franchises, such as FirstLight Home Care, also offer support for individuals living with dementia and Alzheimer's disease. Their caregivers receive special training to address the unique needs of individuals with memory care challenges. "Whether a loved one needs occasional companionship or 24-hour care, FirstLight can match a compassionate caregiver to that person," Taylor said.
Can a Senior Care Franchise Make A Lot of Money?
Baby Boomers are getting older, and seniors overwhelmingly prefer to live in their own homes, boosting the demand for elder care services across the country. The government has also recognized how critical senior care services are to keeping the elderly healthy, happy, and out of the hospital, and have passed legislation favorable to the industry. At the same time, investing in the right elderly care franchise can boost your bottom line.
For example, FirstLight has grown from 157 franchises in 2018 to 190 locations in 2020. The company expects to add locations in 2022 and beyond in both urban and rural areas.
FirstLight franchises that have been open for at least 16 months earned average gross revenues of more than $1 million.
Senior care franchises do not incur high overhead costs. While FirstLight owners do operate out of offices, they do not need to carry inventory or incur overhead.
In-home care franchises bill by caregiver hours; that is, they hire staff to provide services only for the hours of care they provide.
In some cases, individual franchise owners realize a profit quickly. Eric Friedrich, who opened FirstLight Home Care of Southeast Georgia in 2014, broke even on his investment in as little as three months.
"It took a lot of cold calling and marketing—and I'm not a salesperson—but I did it," Friedrich said.
Getting Down to Business with Elder Care Services: Eric Friedrich's Story
When Friedrich was leaving the Air Force after serving more than 7 years as an intelligence officer, he was looking to move back to his hometown of St. Simons, Georgia. He knew if he wanted to build his post-military career, he'd have to move to Washington D.C. or Baltimore. A business major in college, Friedrich decided he'd rather create his own opportunities back home. After researching franchising, he began zeroing in on available franchise opportunities.
"I had never started a business before, and franchising lays the business model out for you," he said. "I didn't want to make financial mistakes and I knew a franchise would have had the time to develop the systems I would need. It was a good route for me to take."
Although Friedrich doesn't have a health care background, he forged relationships that would prove to help him grow his FirstLight location. His father was a physician who knew medical professionals in his community. He also had relationships with friends and family in the area who had parents or grandparents who needed senior care. While Friedrich was still serving in the Air Force, he began interviewing with in-home care franchises. Most did not want to speak with him until he had completed his military career. FirstLight was different, he said.
"FirstLight is super military friendly. They were accommodating to my unique situation, and all rallied around me," he said. "That's what ultimately brought me to FirstLight."
Friedrich attributes his early success to marketing and cold calling referral sources before he officially opened his doors. That way, when his FirstLight senior care franchise was officially licensed and ready to serve clients, he was able to hit the ground running.
The FirstLight's home office ensures new franchise owners start out on the right foot, he said. Each franchisee attends a one-week "Flight School," where they work with a launch specialist and learn the basics about the in-home elder care services business. Once Flight School is complete, owners then work with dedicated business development directors who help launch, grow, and scale your business.
"We look at things on an hours-per-week basis," Taylor said. "We know what a typical business that is breaking even is averaging in terms of hours of care per week."
In addition to a business development director, FirstLight owners get support from the home office team. Together, both the home office and owners set goals based on services offered and market size. They also network with other franchises in their region with whom they take part in monthly calls.
"The data and support provided by FirstLight are invaluable," Friedrich said. Noting that he particularly benefits from FirstLight's Peer Performance Group, in which owners in various regions form groups and take a deep dive into one another's financials each quarter.
"A lot of times, we think we know what we're making, what our margins are, and all of our numbers," he said. "Being a part of a group, we're able to break those down to keep on track financially and share best practices regularly."
Today, Friedrich runs a thriving senior care business that grew quickly and provides anywhere from 1,200 to 1,400 hours of care each week to seniors. Best of all, his decision to own a FirstLight franchise allows him the freedom to keep serving his country, in addition to serving his community.
"I'm able to continue my Air Force Reserve duty two months a year," he said. "If I wasn't a business owner, I might not still be able to live that part of my life."
Do You Have What It Takes to Run a Senior Care Franchise?
FirstLight continues to receive high scores from its owners. In a recent survey, 93% of franchisees surveyed said they would recommend FirstLight to others. The company scores particularly high in the Core Values and Leadership categories, which speaks to the relationships and culture of the system. Part of the Franchise Business Review Hall of Fame for 10 years, FirstLight is listed on the Top 200 Franchises of 2022.
While you don't need health care experience to own a FirstLight franchise, you must meet some financial requirements. These include:
Net worth of $250,000
$100,000 cash on hand
A $49,500 franchise fee, with discounts for veterans
An initial investment of $113,000 to $197,000 (including franchise fee)
You can also expect to pay monthly royalties on your gross net revenue, including:
5% royalty
2% royalty on local marketing, advertising, and promotions
1% royalty to a national advertising fund
Owners are also responsible for obtaining state licensure to operate an in-home care business.
FirstLight has open territories throughout the United States and is interested in talking to qualified candidates of all backgrounds who are looking to join a business with heart.