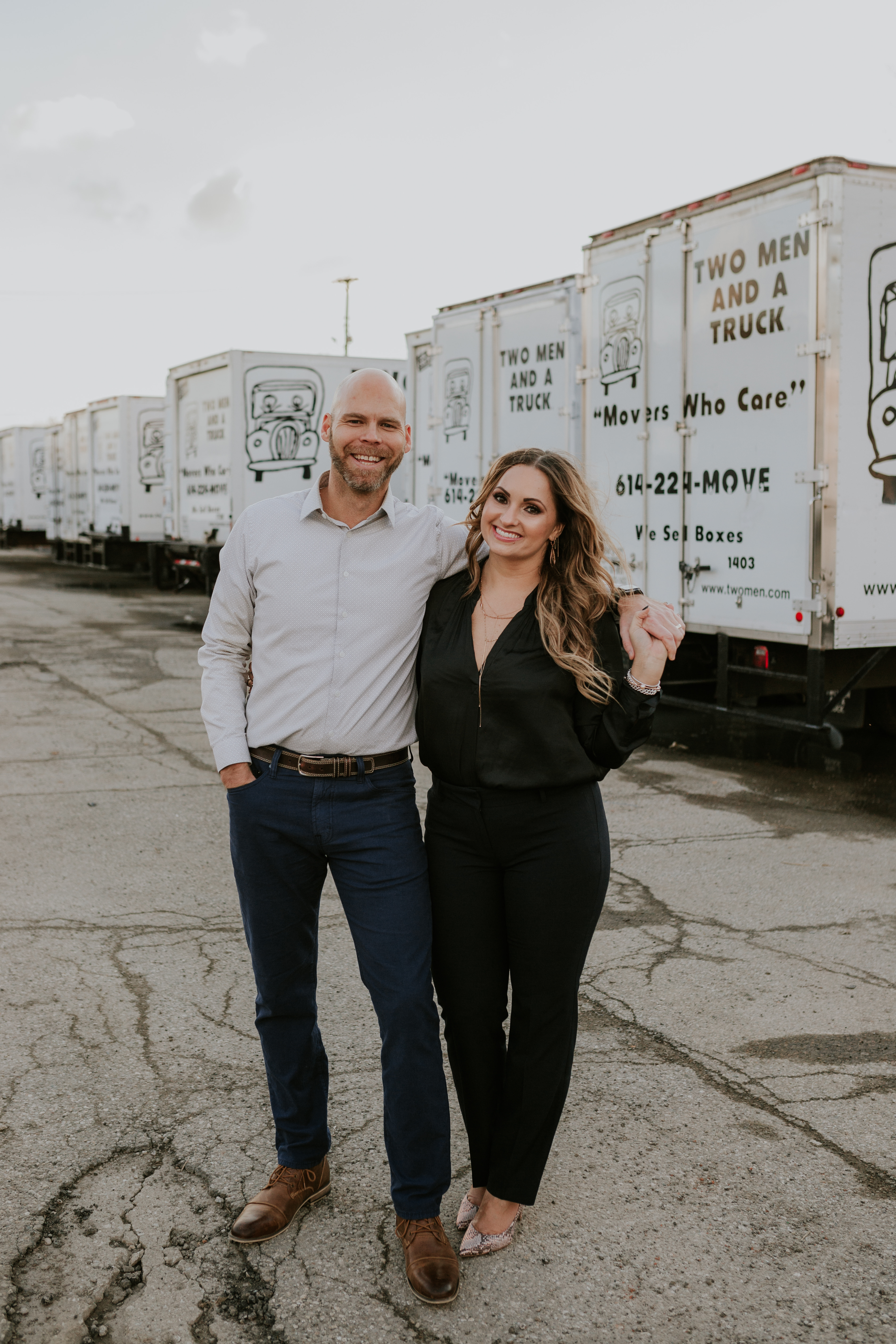 Name: Justin & Stephanie Clarey
Location: Two Men And a Truck of Columbus, Ohio
Franchise Owners Since: December 2019
---
What was it about the TWO MEN AND A TRUCK franchise model and/or leadership that led you to purchase it?
We really wanted to own a business that shared our core values and principles regarding the employees and the customers. Not only did we find that Two Men And A Truck shared those values, it also has a great brand that is widely recognized for its service and care. The leadership provides a clear vision and is very transparent, which gives us comfort as business owners in where our business is going and how we can continue to be successful.
What type of business experience, education, and/or skills did you have prior to becoming a franchisee that you have found particularly helpful?
Stephanie started with Two Men And A Truck after college and gained experience in HR and marketing before taking over as senior sales manager. After seven years of management/operations experience at a vehicle graphics company, I came on board at Two Men And A Truck as senior operations manager. It was important to confirm our ability to work side by side and use our experience to collaborate in all aspects of the business so that we could run the company as a team and use our strengths to lead our company in the right direction.
What do you like most about your job?
We love our people and it is exciting to have a company that provides opportunities for people to grow within the company and in life. We are all about moving people forward in every sense of the word. We love being able to work together! We both bring our perspectives or ideas to the business which makes us better leaders. Having our goals in life and goals in our career align as well as having the same passions, makes our relationship that much stronger.
What advice do you have for prospective franchise buyers? What do you wish you had known prior to going into franchising?
Talk with other business owners in the franchise system. Find out what they like, what they would change, what are the challenges they face and what makes their business successful. We were fortunate to purchase the franchise from existing owners and structure our transition to provide plenty of time to learn and grow as future owners while making a smooth transition for the current employees. We had great mentors who modeled the Two Men And A Truck core values of moving people forward and really worked to make sure we were ready for day one of ownership.
Learn more about franchise opportunities with Two Men And A Truck.