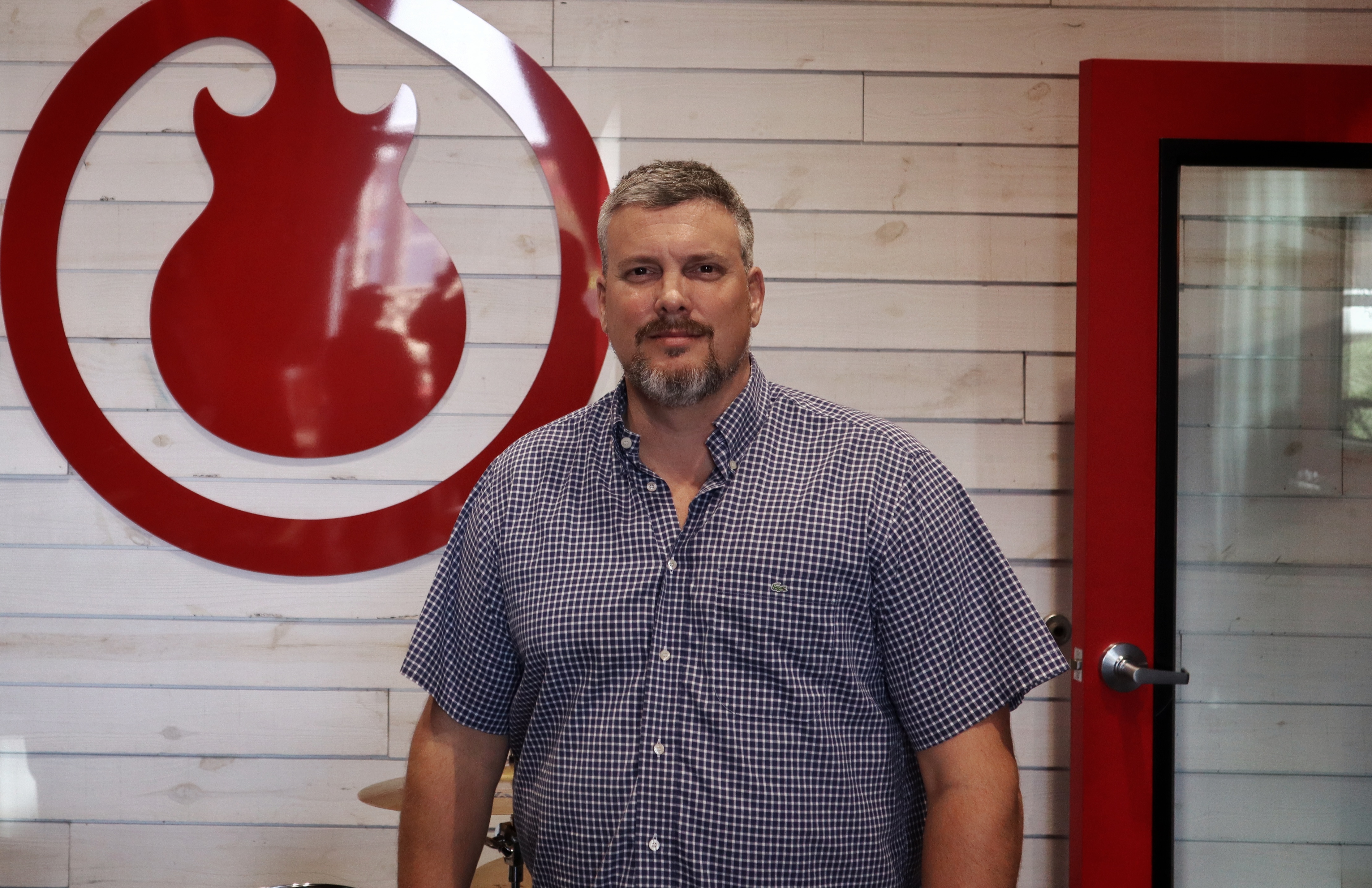 Mark Sheffield was nominated by the School of Rock franchise leadership team in the Freshmen category for a 2021 Franchise Rock Star Award. He was chosen by Franchise Business Review from among 200 nominations for his outstanding achievements as a School of Rock franchise owner in Chula Vista, CA.
What advice do you have for someone considering investing in a franchise?
Find the gap in your community and fill it. Do your homework on franchises and pick one that you feel clicks with you and fill that gap. Have a good viable vision that the franchise and other people can buy into. Try to separate your enthusiasm from the reality of the financials.  Have a backup plan for when things go wrong.  Add 20 percent to your estimates. Surround yourself with and reward great people. Do everything with enthusiasm, smile often and try to provide the best ever product and/or service.
What is one of the biggest mistakes you made when you were first starting your business? What was your biggest takeaway from it?
I underestimated the cost and amount of time required for the buildout of our amazing music school. But my bank didn't. So, the delta of the buildout was covered by the SBA loan.
Is there a book or podcast you've read/listened to that has helped you in starting or building your business?
I attended several entrepreneur classes/programs offered by both the Navy and Cal State.
What are you most proud of when it comes to your career in franchising?
I'm most proud of the impact our school is having on my community and my children. Kids have something amazing to do giving them skill sets for life. Musicians have good jobs at an amazing location. Local restaurants are now providing live music.
What was your career path before you entered franchising?
Retired in 2019 as a 22-year U.S. Navy Officer.
What was the turning point in your life or career that led you to franchising?
I retired from the Navy and wanted to do something for and in the community without working for another business or government organization…  Because I had no business experience, franchising was the first and easiest answer.
What unexpected opportunities or challenges have you encountered since starting your business?
Truthfully, I haven't had too many challenges (other than COVID 19!) and the opportunities were for the most part "expected".  It goes back to having that viable and shared vision.
How has becoming your own boss changed your life?
I love having employees. I adore it. Also, after I micromanaged the first year, I started distributing the work to other employees, and paid them more…  And now, with 2-4 hours of work a day, I am not only the boss, but I get to be "super dad" as well.
What are the biggest work-related challenges you faced during the pandemic? What have you done to address them?
When the pandemic struck, I prioritized my customers and my employees above the bills.  Consequently, after working with the companies, I have been paying back what the company owed…  Also, the efforts by our government to assist have been an AMAZING help.
As a business owner, what has been the biggest challenge you've had to overcome?
The California tax structure?  Just kidding (sort of). COVID is high on the list, but truthfully, School of Rock corporate has been of incredible assistance… most challenges easily addressed or foreseen.
What do you like most about your franchise organization?
I love the shared vision with corporate and other franchises. I like that what we do brings goodness to people's lives and makes the world a better place.
For more information on School of Rock, call (866) 254-7567 or visit franchising.schoolofrock.com. You can also email [email protected].