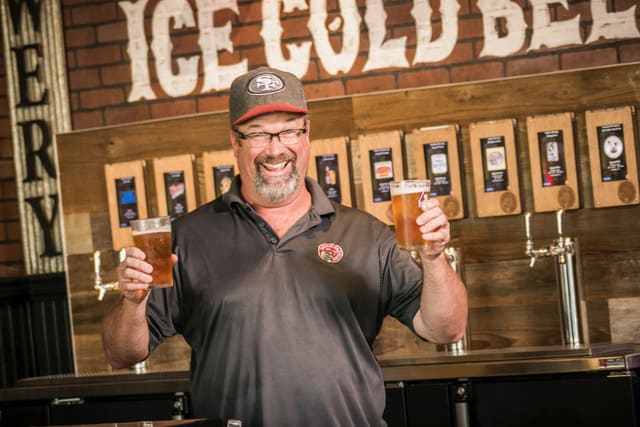 Love pizza? Love working in the food and beverage business but sick of working for someone else? If you have dreams of opening your own pizza shop but you are hesitant about going it alone, you may want to consider franchising. Franchising allows you to run your own company but with the support and guidance of the franchisor — and your fellow franchisees.
Best Pizza Franchises as Rated by Franchisee Satisfaction
At Franchise Business Review, we survey thousands of franchisees across hundreds of brands to find out which franchises are the best based 100 percent on franchisee satisfaction. Our most recent research looked at the top-rated food franchises and revealed that many pizza franchises are not only popular with those looking to operate their own shop, they also tend to have high ratings when it comes to franchisee satisfaction. Here are this year's award winning pizza franchise opportunities.
1. LaRosa's Pizzeria
Crediting their start with the entrepreneurial spirit of Buddy LaRosa, LaRosa's Pizzeria has grown from their first location in Cincinnati to franchises across Ohio, Kentucky, Indiana and Tennessee. LaRosa's has been deemed the 14th-largest pizza chain in the U.S., with over 64 locations and boasting $138 million in revenue in 2017.
If you decide to purchase a LaRosa's PIzzeria, LaRosa's New Store Opening Team will help you and your staff to get your location up and running. They even stay for two weeks upon opening to ensure your pizzeria is operating to perfection!
Cash Required: $500,000
Initial Investment: $800,000
These costs do not include the cost of real estate.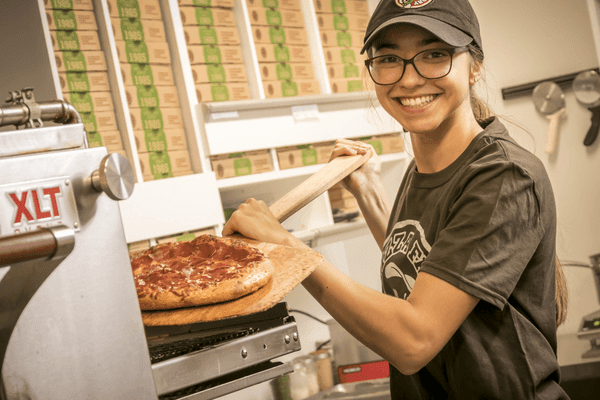 Based in California, this family-friendly restaurant tends to make their customers feel like they're in their hometown pizzeria. They first began franchising in 1986 and have grown to over 100 locations across the western United States, with a few locations in China. As the official pizza of the San Jose Sharks, Pizza Factory has been growing steadily as the 41st largest chain in the U.S. Fun Fact: Most of the Pizza Factory franchises are in towns with a population of less than 25,000.
"What drew me to Pizza Factory was the amazing food and how the restaurant was involved with the community and schools," Ernest Amorim told Franchise Business Review. "At the time I purchased the franchise, Pizza Factory wasn't growing as much as they are today. With the new current leadership in place, I feel confident in the direct we're headed."
PIzza Factory looks for franchisees that are hard working, excited to be a part of a team, and ready to become their home town's pizzeria. They welcome multi-unit restaurant franchises. Ready to join one of the top pizza franchises? You can learn more about becoming your community's new favorite pizza restaurant here.
Cash Required: $90,000
Initial Investment: $372,000
3. Hungry Howie's Pizza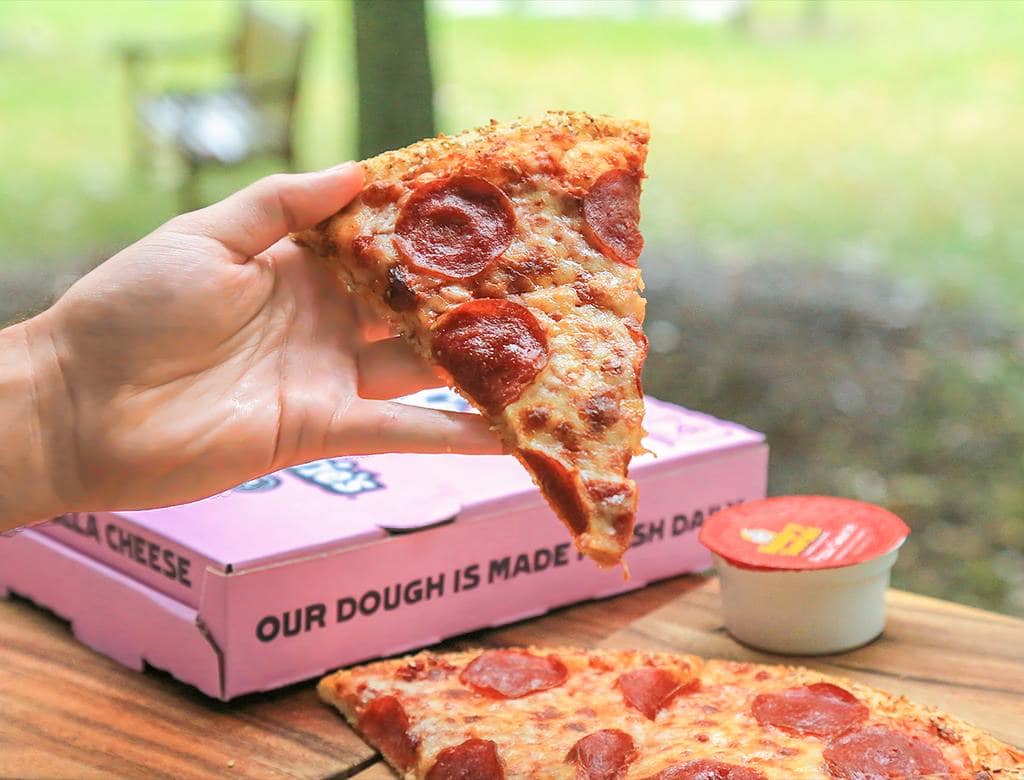 In 1973, Jim Hearn converted an old burger shop into what would become Hungry Howie's Pizzeria. One of his delivery men eventually became his partner and they opened their first franchise together only a decade later. Today, after 43 years in business and six consecutive years of same store sales growth, Hungry Howie's Pizza has over 550 stores in 21 states — and they're still growing!
"I had always loved Hungry Howie's food and the flavored crust was something that set it apart from the competition, so it was a bit of a no brainer," said Kevin Hershock, who owns five Hungry Howie's pizza franchises. "I could open stores in Michigan with a company that was on the rise, had a system that I believed in, and didn't cost an arm and a leg to get a store open. The opportunity for expansion was important to me."
Hungry Howie's PIzza offers franchisees a month of classroom and on-the-job training at their Michigan headquarters, as well as ongoing training throughout the length of the franchise agreement. You can learn more about Hungry Howie's Pizza here.
Cash Required: $100,00
Initial Investment: $228,300
4. DoubleDave's Pizzaworks Systems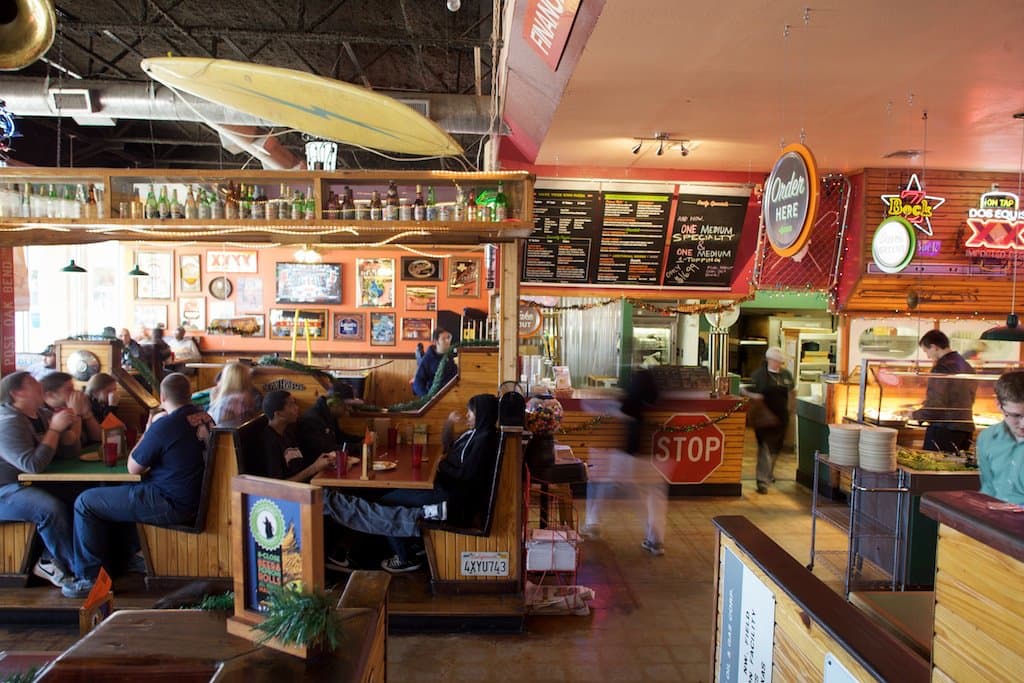 DoubleDave's puts a personal touch on their food — they hand toss their dough, twice a day, cut vegetables by hand, and make all their sauce from scratch. They are the creators of the Peproni Roll and home of the Philly Cheesesteak Stromboli. Not only does DoubleDave's cook up delicious pizza with to-die-for crust, they are active in their local communities, supporting local school teams, participating in lunch programs, and donating to local charities.
When you open a DoubleDave's franchise, you're assigned a "Pro" who will become your most valued asset, next to your own staff. You can lean on this Pro for support and guidance as you launch and grow your business. Will you be the one to introduce DoubleDave's Peproni Rolls to your neighborhood?
Cash Required: $250,000
Initial Investment: $115,500
5. Donatos Pizza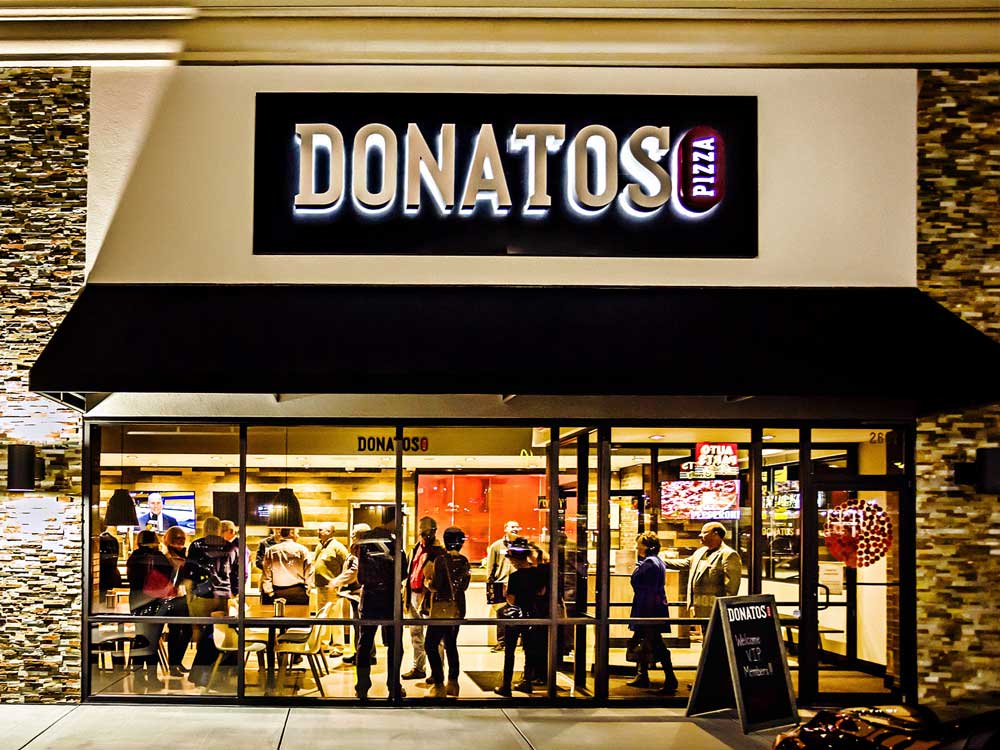 At just 19-years-old, in 1963, Jim Grote opened the first Donatos Pizza, franchising the brand in 1991. Eight years later, Grote sold the Donato's Franchise to McDonalds, eventually reacquiring it in 2003.
Today, Donatos has over 160 restaurants and boasts average net sales over $1 million per year. Donatos uses their 54 company-owned restaurants as testing grounds for new processes and menu items before they are launched with their Franchise Partners (they manage over 15 million transactions per year at the company owned level).
Cash Required: $200,000
Initial Investment: $375,000
6. Toppers Pizza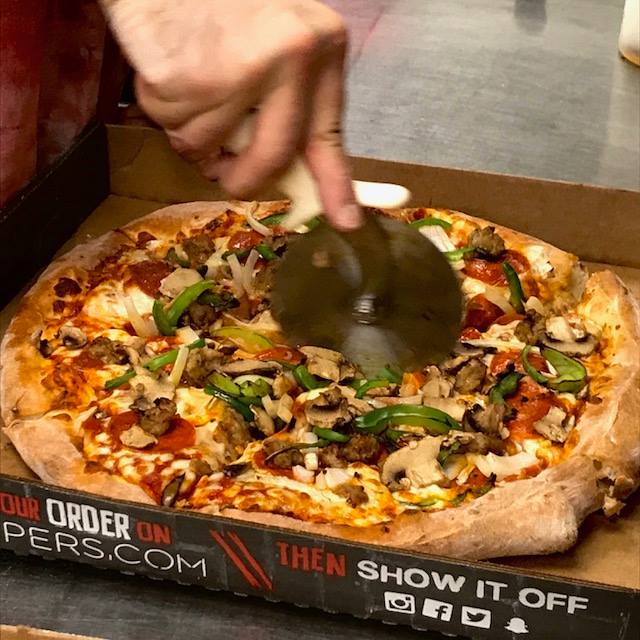 Toppers keeps their customers happy with late hours, fast delivery, and their ambition to be the best pizza company in the world. Their founder, Scott Gittrich, started in the pizza business as a delivery driver for Domino's Pizza. After years of saving, Gittrich secured a loan and opened the first Toppers Pizza restaurant in 1991. Today, Toppers has over 80 locations across 15 states and is growing.
If you consider yourself high energy and ambitious, buying a Toppers Pizza franchise might be right for you!
Cash Required: $150,000
Initial Investment: $291,666
Ready to Buy a Pizza Franchise?
Food and beverage franchises offer an exciting opportunity for business owners who don't mind making a bigger financial investment, working long hours, and managing a large and diverse workforce. Food operators remain some of the most passionate in all of franchising, and while the investment is higher, so is the potential for return.
As a prospective franchisee it is important to do your homework and compare opportunities side-by-side — looking at both well-known brands, as well as smaller, lesser-known companies. Every food franchise has its own culture, and as a prospective franchisee you should carefully consider how that culture fits with your own business goals before committing to a brand.
As you learn more about the many pizza franchise opportunities available, you can depend on FBR to be a trusted source of unbiased market research. In addition to the top pizza franchises we also rate the food franchise brands across all categories. You can see this year's complete list of Top-Rated Food Franchises here.