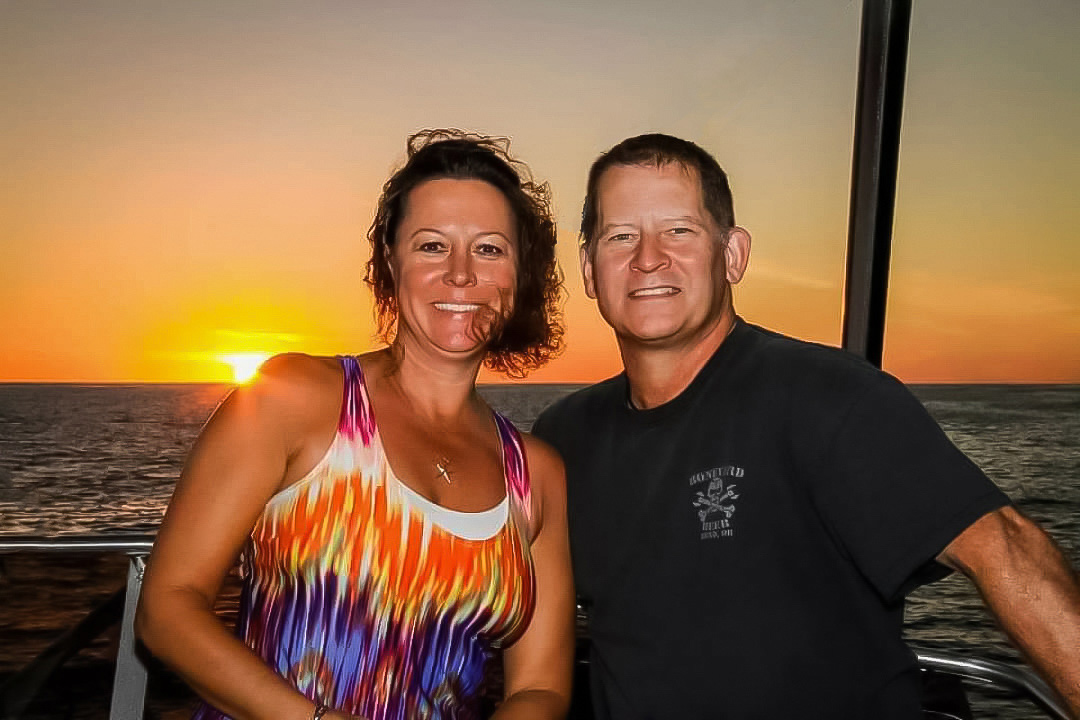 Set Sail on a New Career with Cruise Planners
While some people choose work that simply pays the bills, others won't settle for anything less than their dream job. There's good reason to find a job you love: not only do you spend much of your life at work, but studies show that if you're passionate about the work you are doing, you'll do a better job and have a more fulfilling life too.
In a recent Indeed survey, 60% of employers said that they believe a lack of passion for their work is a reason some employees don't perform well in their roles. That same survey revealed that 76% of employers don't believe that passion can be learned. In other words, if you are looking to step into a new career, it makes sense to discover what inspires you, and how your own strengths and talents can support your passion.
One of the ways you might land a job you love is to tap into what you enjoy doing when you aren't at work, which is how these two Cruise Planners franchise owners turned their love for world travel into full-time careers.
Trading Law Enforcement for Travel
Debra Thune spent 21 years in law enforcement before she embarked on a career as a travel advisor. Today, Thune and her husband, Tony, are part of a network of more than 2,500 people working from home as franchise owners of Cruise Planners. Named one of the top 200 franchise opportunities for 2020 by Franchise Business Review and the No. 1 travel franchise to own by Entrepreneur magazine, Cruise Planners is a home-based travel business offering cruises, guided land tours, and all-inclusive resort vacations to customers throughout the United States. Its nationwide network of travel agents enjoy open territories and can sell travel to anyone in the United States.
With a solid background in customer service and plenty of trips under their belt, the Thunes decided to turn their careers in a different direction after retiring in the spring of 2019.
"We had been traveling extensively to relieve stress," Thune said. "That travel turned into a passion."
Over the years, the couple has visited 51 countries together and collectively sailed on 26 different cruises with some of the hottest cruise lines. From taking part in an African safari to sailing on a 45-day cruise from Australia to Hong Kong, the Thunes already had firsthand knowledge to guide even the most experienced travelers when they joined Cruise Planners.
They first learned about Cruise Planners when they attended a conference in March 2019, where they noticed several representatives wearing green T-shirts. After several positive conversations with the Cruise Planners team, Thune said she and Tony were encouraged to "jump ship" and join the franchise. After completing training in May, the couple opened for business on June 1, 2019, and knew they had found the right company with whom to climb aboard.
"We had this knowledge base of travel and we wanted to figure out how we could share it with friends and family and have the greatest effect," Thune said. "Cruise Planners gave us the tools to do that."
Although they started their Oregon-based Cruise Planners franchise with modest goals, their enthusiasm for helping design vacations of a lifetime has propelled them to become one of the top 50 producers in the franchise. The Thunes quickly grew their client base from 2 to more than 650 in less than two years. In fact, they've been so busy, they've recently added associates to help them assist clients and grow their business.
"In 2019, I set a goal to make the Top 50 in 5 years—I did that in 9 months. That is incomprehensible to me. But that's an example of how there are no limits on what you can do with this business," Thune said. "For us, this is all about our passion to help people build their own travel dreams—beyond our own personal goals as small business owners."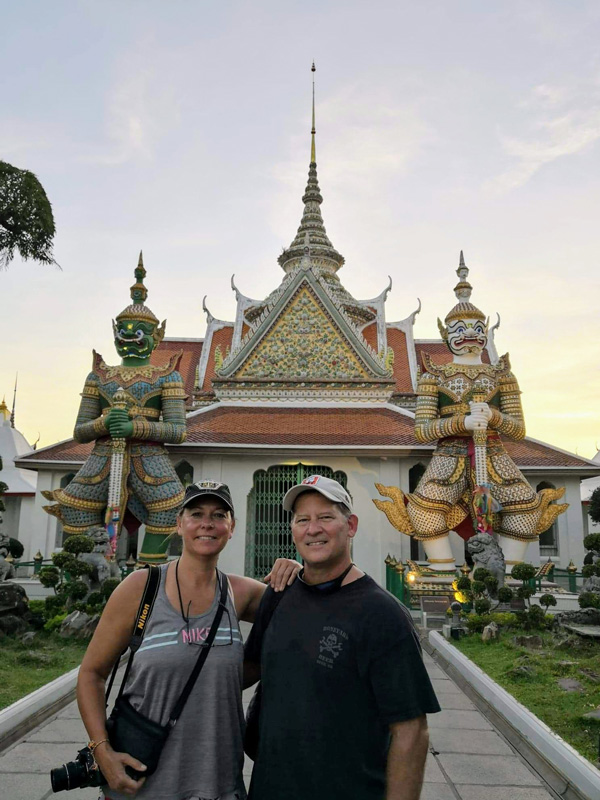 Why Passion is Key During Rough Times at Sea
When COVID-19 hit last spring, the Thunes found themselves stuck on a cruise ship off of the coast of Africa for 17 days. They sprung into action to provide stranded travelers with up-to-date information about the pandemic and the cruise line. Their connection to Cruise Planners allowed them to tap into a vast corporate knowledge base to fill in some of the information gaps travelers were experiencing on the ship.
"It actually turned out to be an amazing business opportunity. When people are stuck on a ship with nothing to do, they book cruises," Thune said. "We were not marketing ourselves as agents, but our clients who were on the cruise with us started telling other people (on the ship) about us."
Although cruises to Antarctica and Tahiti planned for 2021 have been rescheduled to 2022, the Thunes predict a pent-up demand for travel on the horizon. Throughout the COVID-19 crisis, travelers have truly come to appreciate the value of travel agents and realize how critical it is to have an advisor who can help you before, during, and after a trip, Thune said. For example, individuals without agents often had to wait anywhere from 3 to 4 hours on hold to get in touch with a travel vendor; whereas Thune and her team were able to get questions answered from Cruise Planners or vendors related to cancellations and refunds.
"As a franchise owner, anything we needed was available through the Home Office. We also could rely on a huge network of owners and associates available to help us," she said.
It's important for travel agents to not only love to travel and share tips, but also to enjoy making dreams come true for others. Thune's love of people—both clients and the friends she's made traveling across the globe—keeps her motivated to guide clients and sell vacations each day. Because passion is key to being a successful travel advisor, Thune only hires people who exhibit the same dedication to the business that she and her husband have. One of her new associates will be specializing in food tours, while another is interested in taking people on photography expeditions around the world—niches that speak directly to their personal interests.
"We are so blessed and grateful that this opportunity crossed our paths. We did not know business would be booming during this time and we thoroughly look forward to the future," Thune said. "Whatever your passion is in this world, you can absolutely relate it to travel without question."
Get Paid To Do What You Love–With Who You Love
Carolyn Leibowitz was literally discovered on a cruise ship back in the 1990s, and since then, her passion for cruising and travel has never wavered. Her singing voice and stage presence initially attracted the attention of a hostess on a Royal Caribbean International cruise ship, who invited her to work for the cruise line as an entertainer.
Later on, she met her husband, Les, on the Royal Caribbean Majesty of the Seas. The two of them worked in shoreside operations in New York City together before Leibowitz began working for a travel agent, and then as a Cruise Planners travel advisor.
Since 2006, she's owned her own Cruise Planners franchise in Palm City, Florida—where she's a top producer and a member of the franchise's Millionaire's Club. Her job has allowed her to put her two kids through college and enjoy many great vacations along the way. In the past year, Les joined Leibowitz full-time, along with their three associates. The team is already planning a reunion cruise in October 2021 to include more than 500 Royal Caribbean friends and colleagues on the Royal Caribbean Navigator.
"Les is totally into it," Leibowitz said. "He's found his happy place. He sees how much I love cruising and how well I've done with the business, and his passion has exploded along with it. He's excited to be a partner with me and take this into our Baby Boomer years."
Cruise Planners is more than just a job to Leibowitz—it's a calling. She enjoys bringing joy to people through planning their vacations and cruises. She actively promotes the Cruise Planners brand and even takes part in podcasts with former Royal Caribbean colleagues.
"For me, all of the pieces of the puzzle have come together," Leibowitz said. "I went on cruise, sang, got hired, met a passenger who is now my husband, and run our own business where we sell cruises—and now my husband works with me. When I look back at my life's journey, this is what I was meant to do."
Be Willing to Embrace Unchartered Waters
No matter how passionate they are about their jobs, entrepreneurs do encounter rough patches and risks, but the rewards on the other side are worth it, Leibowitz said.
"So many people do a job, just to do a job—and don't realize what they really yearn for is to be an entrepreneur," she said. "The opportunity to work when you want to – from all over the world—are among the biggest perks of being a Cruise Planners travel advisor."
Even though the pandemic brings a degree of uncertainty to what travel might look like in 2021, those dedicated to growing their own businesses will have time to develop their client base in the coming year. Many travelers now realize that if they had booked through a travel advisor, their experiences traveling in 2020 would have been so much easier. While many people use the internet to research cruise lines and itineraries, when they are actually ready to book—they call a trusted travel advisor, Leibowitz said.
"This is a time more than ever that people need us. It should drive people to start their (travel) businesses sooner, rather than later," she said. "I remember when I bought my franchise, I kept going back and forth. Then I realized that if I didn't at least try it, I won't ever know what I could do."
Like Thune, Leibowitz only takes on associates who exhibit enthusiasm for travel,  different cultures, and excellent customer service. Associates must be excited to be out there selling themselves, as well as the travel packages Cruise Planners provides, she said. Leibowitz believes that you can truly land your dream job when you are passionate about your work.
"If you have that star quality, it shines out in anything you do," she said.
Interested in Finding a Job You Love with Cruise Planners?
Starting a travel agency with Cruise Planners is easy for most people. Cruise Planners is a low-cost franchise allowing franchise owners to work full- or part-time from a home-based office.
With an initial franchise fee of just $10,995 for new agents (reduced to $6,995 for a limited time), Cruise Planners is among the lowest cost franchises to own. (For intermediate and seasoned agents, the initial franchise fee drops to $3,995 or $695, respectively.)
New, U.S. veteran agents pay a franchise fee of $7,995, according to the brand's 2020 Franchise Disclosure Document and receive a number of additional benefits, including a marketing credit, customized marketing pieces, fee training for a co-owner or associate, and more
The total initial investment ranges between $2,295 and $23,655, inclusive of the initial franchise fee, training fees, administrative fees, insurance, and permits.
All agents pay a royalty of between 1 to 3% of gross commissionable sales, depending on the commission rates paid by travel suppliers.
As a franchisee, you receive 6 days of comprehensive in-person training at STAR University. You also work with a dedicated business development coach who helps you launch your home-based business and set goals. Cruise Planners provides owners with its own proprietary technology tools designed to help you book travel, promote your business, and drive sales. Plus, as a home-based travel business, your overhead costs stay low.
You don't have to start out as a travel expert, either; you just have to share a passion for travel and a desire to bring excellent customer service to clients planning land and sea vacations. If you have an entrepreneurial spirit and are ready to pursue a career that lets you explore the world, Cruise Planners could be the dream job you've been looking for.
For more information about franchising with Cruise Planners, you may call (888) 582-2150 or visit cruiseplannersfranchise.com.