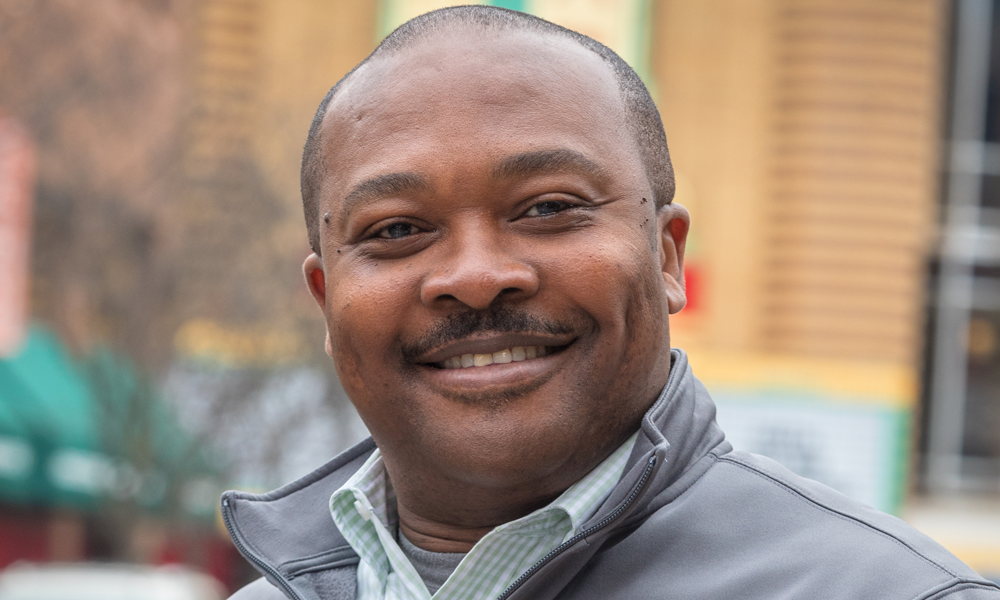 Eze Akabogu owns and operates eight Town Money Saver franchises across Michigan. He is a respected leader in both the company and his community, and says that he wakes up with joy every morning at the thought of going to work for a company he loves and clients he loves to serve. He is a true American dreamer.
"As an immigrant to this country, Eze has achieved what most people would consider the 'American Dream': a good income in a successful career doing something he enjoys. He has taken every opportunity and made a life for himself and his family. He finds the positives in everything he does and lifts the spirits of every person he talks to." – Bill Zirzow, president and CEO, Town Money Saver
What advice do you have for someone considering investing in a franchise?
If you are interested in a franchise, first make sure that the franchise is the right fit for you. I say if you do what you are passionate about, you will succeed. That way getting up in the morning to go to work will be a joy. I can't stress this enough –– find a franchise that is the right fit for you.
Honestly, ask yourself the why, what, and how questions. Why do you want/need a particular franchise? What are your goals and expectations? And how do you think you can be successful with the franchise in question?
Always do independent research about the company. Do your very best to understand the corporate culture of the organization: the ethics and leadership, the support system, and company franchise system are all very imperative.
I also would offer that the amount of money a prospective franchisee will make should not be the first line of questioning because, ultimately, with the right systems in place, your success will depend on you and your abilities. Believe me, the money will come when you put people first.
What are you most proud of when it comes to your career in franchising?
First and foremost, I love what I do. Waking up in the morning is a joy in anticipation to go to work. I truly enjoy serving my clients' needs unconditionally. I also strongly believe in the Town Money Saver system and products. I like to approach things with prospects by being a consultant –– not a salesman –– and that makes a big difference.
What was your career path before you entered franchising?
Before I got into franchising, I attended the University of Kansas and graduated with Bachelor of Science degree. Following that, I attended medical school in Ohio at Medical College of Ohio, which is now the University of Toledo School of Medicine. Within two years of my medical education, I lost my father. So I went home to Africa for his funeral, and I returned to school with lost time and lack of enthusiasm. I decided to drop out of medical school to pursue a different career, which landed me in advertising.
It is very difficult for people to understand, but this was one of the best decisions I ever made with the exception of getting married to my lovely wife.
For that experience, I always advocate for people to do what you are!
As a business owner, what has been the biggest challenge you've had to overcome?
I would have to say that my biggest challenge as a business owner is collecting outstanding bills. The issue manifested when I took a month vacation (too much time off, I must admit), and a few of the accounts became delinquent.
To resolve this issue, I started billing clients separately for 25 percent of their outstanding bill to bring their account to balance. For the client, it was more manageable than paying the whole outstanding amount due. Going forward, I train my new clients to prepay before the ad goes to print. And for my next vacation, I will be billing two months ahead. That may be an answer to that dilemma.
What do you like most about your franchise organization?
– Excellent system
– Knowledgeable staff
– Family-oriented company culture
– A balanced life
I chose Town Money saver because I wanted a company that was a great fit with my personality – one that would make it possible to spend time with family and still run a successful business. I wanted to do something that allows me to be the author of my destiny. Most importantly, I needed a company with a great leader; with a vision to innovate; to be humble and to listen; to be honest and to tell you things you may not want to hear; and to coach and to inspire you to harness your talent.
I saw the aforementioned qualities in Town Money Saver, and after my interview with Bill Zirzow, the president of the company, I realized that I met the leader I was looking for. I was inspired, confident with my decision, and I was ready to go. The rest was success.
For more information on Town Money Saver franchise opportunities, please visit their website: https://tmsfranchising.com/