Youth sports have always been popular. But over the last few decades the industry has grown substantially, now worth roughly $15 billion. For entrepreneurs looking to tap into this lucrative and growing space, franchising offers an appealing avenue. As the youth sports space has grown, dozens of new youth sports franchise concepts have emerged.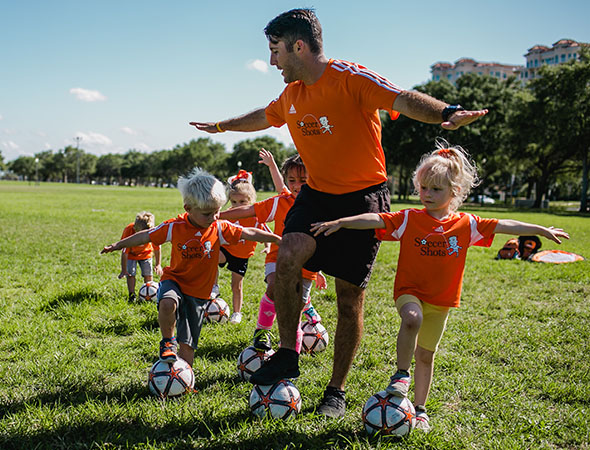 Youth sports franchise opportunities are appealing to many would be franchisees due to the fact that they typically require low capital investment and can be run out of a home office. Plus, many franchisees site the immense satisfaction they receive from helping children as a major benefit. "I love to hear that a child is excited to go to school so they can be part of the team that day. I love hearing from a parent how a child starting eating broccoli because their coach encouraged it," said Sonja Brummer who owns four Amazing Athletes franchises within San Diego County, CA with her husband, Randy. "I love how we feel like celebrities when we go into the schools because the children are so excited to see us. The giant smiles on their faces prove it."
Franchise concepts in the space include everything from general exercise programs for babies and toddlers, to specific sports training including soccer, golf, tennis, and swimming. And then there are the just plain fun concepts like trampoline parks!
While there are tons of options in the youth sports space, not all franchises are created equal, which is why it's important to talk to current franchisees about their experience owning and operating said brand. To help you expedite this process, Franchise Business Review surveys hundreds of franchisees, every year, from dozens of youth sports franchise brands. FBR then rates the top brands in the category based solely on franchisee satisfaction.
If you're eager to jump into the youth sports space, here are 11 great options. While there are more youth sports franchise brands available, in addition to the ones listed below, the brands we feature are the brands that rated highest amongst franchisees and made this year's FBR top franchise list.
Top-Rated Youth Sports Franchise Brands:
Soccer Shots burst onto the franchise scene in 2005 and has quickly grown to over 200 territories nationally – taking youth soccer training to whole new level. With the highest franchisee satisfaction in the category, Soccer Shots offers a relatively low overall startup costs, and a solid return on your investment. According to their Franchise Disclosure Document (FDD), average owner income is over $90,000 which is well above average for child fitness industry. LEARN MORE. Startup investment: $36,000 – $42,000
TGA Premier Sports offers three related but separate franchise opportunities – TGA Premier Junior Golf, TGA Premier Youth Tennis, and TGA Premier Sports, which offers sports instructional programs in flag football, floor hockey, lacrosse, and even cheerleading. Investment starts at: $16,300
One of the more unique concepts on our list, APEX Fun Run organizes fundraising events for schools, while teaching students about health, fitness, and leadership. APEX started franchising in 2012 and now has nearly 100 locations throughout the U.S., with plans to open approximately 30 more in the next year. Investment starts at: $106,000.  
KidsPark promises to keep children "running, jumping, and wiggling" with their custom activity programs. Their centers offer drop-in child care, preschool programs, and private parties for children ages 2 – 12 years old. KidsPark has 18 locations across 9 states. Investment starts at: $185,000
Amazing Athletes brings the fun directly to kids with their mobile business focused on educational sports and fitness programs for children ages 2 – 6 years old. Classes are offered at schools, community centers, churches, and daycare centers. LEARN MORE. Investment starts at: $25,000
With the lowest startup costs on our list, Baby Boot Camp offers fitness programs specifically targeted at new moms and pregnant women. Many of their franchisees are new moms themselves, that enjoy the lifestyle flexibility that a Baby Boot Camp franchise affords. Investment starts at: $4,570
For the serious franchise investor, Goldfish Swim School offers a compelling business opportunity. While their overall startup costs can exceed $2M, their average swim school produces impressive annual revenue of nearly $1.7M. Investment starts at: $1,335,283
Franchising since 1992, The Little Gym is the most mature brand on our list with over 200 locations nationwide. The Little Gym offers classes, parties, and camps for kids ages 4 months to 12 years old. Investment starts at: $185,750
One of the newest franchise opportunities on our top franchise list this year, Rockin' Jump started franchising just five years ago and has quickly grown to nearly 50 locations. Opening one of their trampoline parks requires some significant capital, but the financial performance of their facilities is quite impressive. Investment starts at: $1,404,000
One of two swim schools on our list this year, British Swim School keeps their investment costs low by leasing pool space rather than owning a facility. For entrepreneurs looking to get into the swim training business without a significant investment of capital, British Swim School may be a good fit. Investment starts at: $92,200
If you're looking for a home-based business that charges no royalty fees and offers flexibility and fun by combining photography and sports, TSS Photography might be for you! Investment: $20,400
Other youth sports franchise brands that did not make FBR's best brands list but that should be mentioned, so that you can get a full picture of the space, include brands such as i9 Sports, One Sports Nation, Prime Time Athletics, Hi-Five Sports, Parisi Speed School, Red Line Athletics, Big Air Trampoline Park, and National Youth Sports.
Do Your Homework Before Buying a Youth Sports Franchise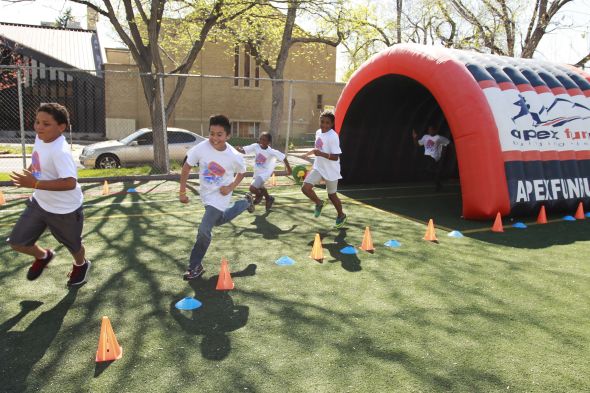 Regardless of which franchise business you choose to invest in, be sure to do your homework. Talk to franchisees and ask them the hard questions. Are they getting the support they need from corporate? Does their business model provide a competitive advantage? Are they optimistic about their growth and the future growth of the brand?
At the end of the day, your success in franchising will ultimately be up to you. Owning any business requires a lot of hard work, and while franchising offers a proven model and support, it's not a "silver bullet." Find a business that gets you excited to go to work everyday – and then work hard to make that business successful.
Trey Alexander, who owns a Soccer Shots franchise in Raleigh-Durham, offered this advice, "When you are exploring the business and what it takes to be successful, truly think if you can really see yourself doing this. Talk to as many people in the system as will talk with you. Ask them what questions you should be asking and what challenges they face. Then, if at all possible, go and find out about those challenges before you sign."
If a youth sports franchise sounds exciting and like a good fit for you, then we encourage you to reach out to learn more about the brands you are interested in by clicking on their links above! You'll get information on investment requirements and you'll be able to easily request a full franchising information packet directly from the brand(s) you are interested in. If you need extra guidance as you continue along your franchising journey, FBR offers free consulting services.