Sponsored Content Provided by Sport Clips Haircuts
If you're looking for a smart investment in a recession-resistant industry, you may want to consider hair care. The hair care industry is estimated to be worth $75 billion and is growing by 8 percent a year. Not only that but the hair care industry is a great option for entrepreneurs who are looking for a semi-absentee manager model.
While there are several business models and target audience options within the hair care space — from high-end women's salons to quick children's cuts to discount models and more, men's hair care may be especially appealing to those looking for a stable cash business with minimal inventory requirements and simple to execute operations.
Why Men's Hair Care?
In addition to the reasons listed above, men's hair care offers several attractive qualities for aspiring entrepreneurs, including:
It is the most efficient segment of the hair care industry
It requires less inventory than concepts geared toward women
Color, treatments or other chemical services are not needed
The concept is not technology dependent, meaning it is not subject to obsolescence
Operations are simple and easy to execute
Men's cuts are far less complex than women's, which means training staff is easier
Since men typically return every 3-4 weeks (vs 6-8 for women) there is an attractive recurring revenue stream
Spotlight on Sport Clips Haircuts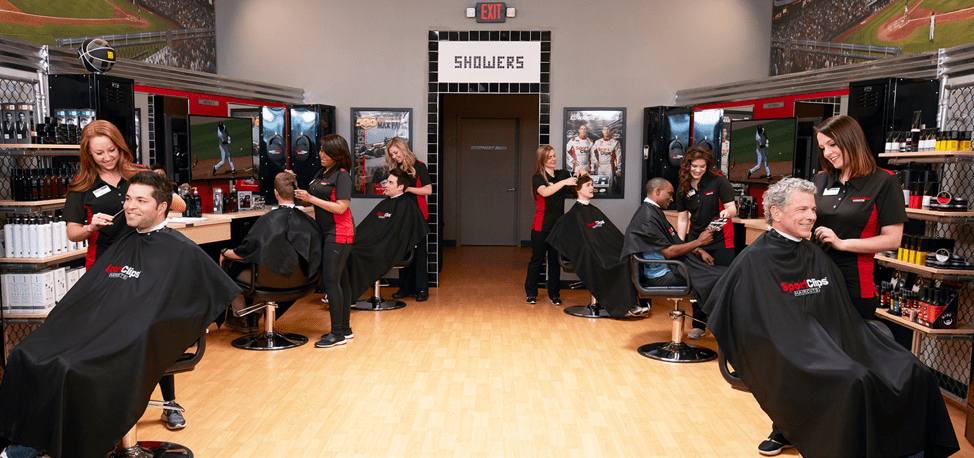 If you're interested in a hair care franchise there are several options to consider. However, if you are looking for a top-rated, men's focused concept, you may want to consider Sport Clips! This year, Sport Clips was named to Franchise Business Review's Top Franchises of 2018 and Top Franchises for Veterans.
Sport Clips was launched in the early 1990s, when the number of barber shops began to decline and many men who were uncomfortable with a traditional salon environment or a "family haircutter" began to feel left behind. Sport Clips founder and CEO, Gordon Logan, felt there had to be a better way, that there was a huge opportunity to create a concept designed especially for men and boys and delivering a great haircut experience.
Recognizing the huge potential, and relative lack of competition, in the men's and boys' haircut market, he wanted to create a place where guys could take care of one of life's necessities—a haircut—and say, "This is my kind of place; I feel comfortable here," when they walked in the door.
Assembling a group of passionate industry professionals, Logan and his team worked together to develop the unique Sport Clips Haircuts concept we know today. While the Sport Clips' logo and store design have been enhanced since the first location opened in Austin, Texas, in 1993, Logan's goal and Sport Clips' mission of providing a Championship Haircut Experience for men and boys in an exciting sports environment remain the same.
Over the last five years, Sports Clips has more than doubled in size going from 835 stores to close to 1,800 stores open today. Impressively, Sports Clip has a 97.6 percent "franchise continuity rate," which is unheard of in the industry. This year Sport Clips celebrates its 25th year in business and is the dominant men's and boys' haircut franchise in North America.
Ten Reasons to Consider a Sports Clips Franchise
Flexibility
The semi-absentee/manager-run business model allows you as a franchisee to work on your business, not in your business. The transitional business model puts you on the path to exit your day job once maturity in your stores is achieved. And, no hair care experience is needed!
Freedom
As a Sport Clips franchisee, you can enjoy greater freedom and reach your personal and financial goals growing a business on your terms.
A Firm Foundation
Sport Clips delivers stability with a 97.6 percent continuity rate and is ideal for diversifying current businesses, investments and/or your retirement strategy.
A Proven Concept
With 25 years in business, Sport Clips has perfected their business model so it is now extremely simple and easy to execute for new franchisees. When you launch your Sports Clips franchise you'll gain access to checklists and processes that are easy to follow and you'll be provided with training, online resources and a support team that can assist you should you have questions along the way.
Recession Resistant
Regardless of the economy, there is a constant and consistent demand for quality hair care services at reasonable prices. In good times and bad, hair still grows.
A Niche Market
Sport Clips caters to the men and boys' segment, a very large niche within the larger haircutting market. This niche market allows the Sport Clips franchise to hone in on exactly what their target market wants — a relaxing haircut experience in a fun atmosphere where sports are streaming on TV from opening to close.
Multi-Unit, Scalable Opportunity
Typically, entrepreneurs interested in a Sport Clips franchise are looking for an investment business they can own on the side and grow over time. As history has illustrated, once a franchisee has grown their portfolio to three or more stores, they are usually able to transition out of their full-time career, replace their corporate income and enjoy a flexible lifestyle.
Traffic. Revenue. Stability
Sport Clips offers a stable, cash business opportunity with minimal inventory and no receivables. Recurring revenue and in demand services help franchisees continue to grow. Franchisees also experience high loyalty and stability with clients returning every 3-4 weeks. (Unlike a restaurant franchise, for instance, you don't have to worry about food margins, spoilage, health inspectors, and commodity pricing that impact bottom lines).
Brand Recognition
Sport Clips offers strong national brand recognition with experienced leadership, support and solid core values: "Do what's right. Do your best. Treat others the way they want to be treated."
Commitment to Franchisee Satisfaction
When surveyed by Franchise Business Review, Sport Clips' franchisees rated their personal enjoyment as a Sport Clips owner at 4.2 out of 5. The Sport Clips' support team takes their franchisees satisfaction and success very seriously and are always looking for new ways to support them. Sport Clips strives to ensure their franchisees have access to all the resources they need to be successful as franchise owners. This means providing comprehensive marketing support, tools and resources. They also offer quarterly leaderships meetings in local markets, keeping franchisees up-to-date on industry news and Sport Clips' developments and providing the management team with training opportunities.
Ready to own your own Sport Clips?! You can learn more about the opportunity and request additional information here.