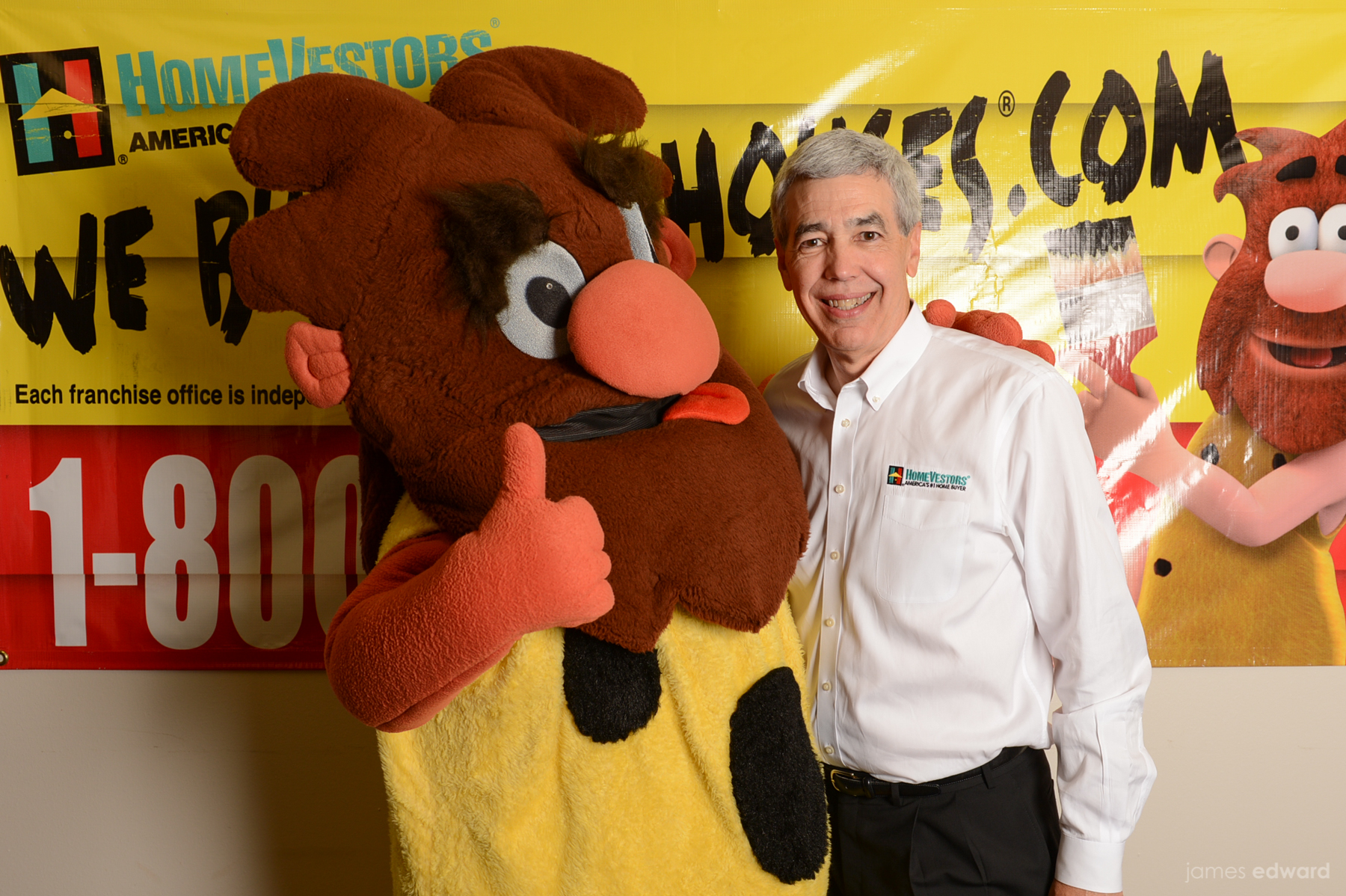 CEO of HomeVestors, David Hicks, sits down with FBR's CEO, Eric Stites, to talk about the path to becoming the man who buys ugly houses, and a what it is like to be a franchisor.
Listen to the full conversation here or read the transcript below.
---
Eric: Many of you may have driven down the highway before and seen a bright yellow sign that says, "We Buy Ugly Houses." I'm talking today with the gentlemen that's behind that brand, David Hicks, the CEO HomeVestors. Welcome, David.
David Hicks: Thank you, Eric. Thank you for having me on the show.
Eric: I want to dive into this a little bit, David. I guess, most agencies and PR companies out there would probably advise clients from using a term like "ugly" in all your branding. [laughs] Can you tell us a little bit about how that whole slogan developed and how you became known as the "We Buy Ugly Houses" company?
David: In fact, it was the genius of Ken D'Angelo, the start of it. All the advertising people told him that negative advertising doesn't work. "Don't use ugly." They say, "Don't use We Buy Ugly Houses." But he had this inclination it would work. He started to test it by putting it on the billboards that we buy ugly houses. Sure enough, the phone started ringing. What happened, for the amount of money spent on that trademark…It is a trademark of HomeVestors. In fact, we have 22 trademarks around ugly houses.Ken D'Angelo created an industry but for sure, a company, around this slogan that We Buy Ugly Houses. People resonate when they have an ugly house or an ugly situation, a house that needs repair, they identify with it and they call. Or they go online and fill out the web forms. It has just grown from there.
Eric: It's amazing. Probably, more people know you for the webuyuglyhouses.com or the We Buy Ugly Houses company versus the HomeVestors name, correct?
David: That's exactly right. You say you're with HomeVestors, they kind of look at you. You say, "We Buy Ugly Houses, you've probably seen the billboards." I don't care where they are. People say, "Oh, yeah. I know that." Of course, adding in a mascot, UG, makes it more distinctive. For the amount of money spent, it is probably the best known brand anywhere. It creates a lot of leads for our franchises.
Eric: I bet. Yeah, UG is probably just as recognizable as the GEICO lizard or something like that.
David: I think so. Maybe second to the cow.
Eric: Obviously, lots of people that are thinking about getting into the franchise world listen to our podcast here and spend a lot of time reading things on Franchise Business Review. Tell us a little bit about how the business actually works and how that marketing drives into your business model.
David: I'll tell you what, franchise is aimed by the one say system. A franchise is a good model to follow with that. Our franchise, we have over 2,000 franchises in over 160 cities all over the country. Our system is one that's proven to work. The franchise, just like any franchise, when they come in, they get all the systems in place to go help them build a business. We attract, Eric, a lot of corporate refugees, people that are used to working in a big corporation, a big company and have all the systems. They want the systems and support that they can get with a big company. They're also tired of working for somebody else and they want their own business. That's what a franchise gives you. It gives you the ability to have your own company, your own business, but yet have a brand and a system behind you and the support of a big company. I think that's what our franchisees like most about us.
Eric: Somebody looking to invest in HomeVestors, they don't need any previous real estate business or related experience?
David: No, not at all. In fact, we prefer them not to have it. If you take 80 percent of our award winners, they've never bought a house besides the house they live in before they joined. Those who do have experiences, yes, they can do good. Sometimes, they have some preconceived notions. We almost prefer them not have experience. Then they can come in and simply follow what we show him what to do. They can do well.
Eric: Again, that's the beauty of franchising. A lot of people don't realize that. They're like, "Oh, I don't want go into that industry. I can't go into that industry because I don't have that experience." Like yourselves, most franchisors are actually looking for people that don't have specific industry experience, that they can teach them their processes and their systems and the way they do things.
David: That's exactly right. The reality is, what you need to have is the desire to go learn the real estate business, the real estate investment business, and be coachable, be teachable. Of course, you need to have a little bit of resources. If you have that, we can give you all the rest of it.
Eric: With all the different franchisees that are operating in your system, what really makes someone stand out? When you think about your top performers, what are ideal skill sets for a franchise owner?
David: A great question. I'll tell you what people say, "What kind of people join you?" We have anywhere from 24 year olds up to in the 70's when they join us. It's all followers, and sexes and everything. What really drives them apart, the people that seem to do well with us have the personalities. They're not farmers, they're more hunters. They like the ability to go out and go after a challenge. They like to have their hands on business, that they can do themselves. If they want a business they just invest in and don't have a part in, that's probably not us. The ones that want to be a part of something and want to be a part of a team, they do well with us. We have the ability, they can not only join a team and add counsel but they can develop their own team. If they like that, they can do well with us.
Eric: One question I always ask our guests is, HomeVestors has been on our awards list for high franchisee satisfaction for years and years. What do you think it is within your system and your franchise team that really helps keep your franchisees engaged and satisfied?
David: Great question. I think one of it is that we have a lot…People in our system like helping other people. They want to help others. Both our employees and our development agents, they are the ones that coach the new franchisees, even down to the franchisers. A lot of systems, a lot of businesses, they are real competitive with each other. Ours aren't that way. You're going to find, when you join our system, everybody wants you to succeed. Because of that they'll give you all the information you need. They'll help you succeed. We create that culture. Probably, a big part of it is a culture that everybody around you is pulling for you and will do everything they can to help you succeed.
Eric: David, I'm assuming that you've seen some pretty ugly houses in your time. [laughs] I'm curious, what is the ugliest house you've ever seen? [laughs]
David: I'll tell you what, every year, we have a fun contest our franchisees love. It's the Ugliest House of the Year contest, where they nominate which of their houses are the ugliest ones. Then the franchisers all vote which one is the ugliest house. It's quite a fun thing to see that. There are some ugly ones.
Eric: [laughs]
David: At least, some hoarder houses to…One, I remember that they had a whole bunch of monkeys in it, that were pet monkeys.
Eric: Oh, my gosh.
David: One of them had a bunch of bats in the attic. There are all sorts of it. That's once in a while. The normal house we buy are houses that omebody's had for 30 or 40 or 50 years. As the people age, they haven't been able to keep it up. It's just normal repairs. That's the majority. But we get some ugly ones.
Eric: I bet. I bet. David, Before I let you go, any advice for people that are out there looking for franchise opportunities, what questions they should ask franchisors or any other tips you have?
David: I always tell people, there are several questions you want to ask yourself when you're looking at an opportunity, when you're looking at us or somebody else. The first one you ask yourself is, could I see myself doing this? If you don't, you probably don't want to do it. If you don't think it's something you would enjoy doing, don't get started. Life's too short to do something you don't have fun doing. The second thing is, do I think I could do it? Do I have the skills? Am I willing to be coachable? Am I willing to go do this thing? That's probably the second one. The third one on top of that is, can I do it better with this company than I can on my own? I tell them, "Can you do better with HomeVestors than you could do on your own? If you can't, you shouldn't do it." Most of our franchisers answer to that is, yes. We lose very few franchisers who have been with us because they know when they start getting those leads through our advertising, even if they have the skill of buying houses, they have a hard time generating the leads like our advertising marketing does. We tend to attract people that want to be a part of a team. We keep them, because they have fun and they do well with us.
Eric: I don't want to take up much more of your time today. I know, David, you're a busy guy and I'll let you go. It's a great slogan, We Buy Ugly Houses. Obviously, you've got quite a beautiful business. I congratulate you and I wish you the best and success in the future.
David: Thank you. Thank you, Eric. Thank you for all that the Franchise Business Review does with us. We love y'all. We love the work you do, the surveying of our franchise and helping us improve. That's part of one of our real things we want to do. Every year, we want to get better than the year before. Thank you for that.
Eric: Absolutely, thank you. Thanks for your business. Have a great day.
Woman Presenter: That's it for this edition of FBR Viewpoints. For more information on today's top franchise opportunities, please visit franchisebusinessreview.com.