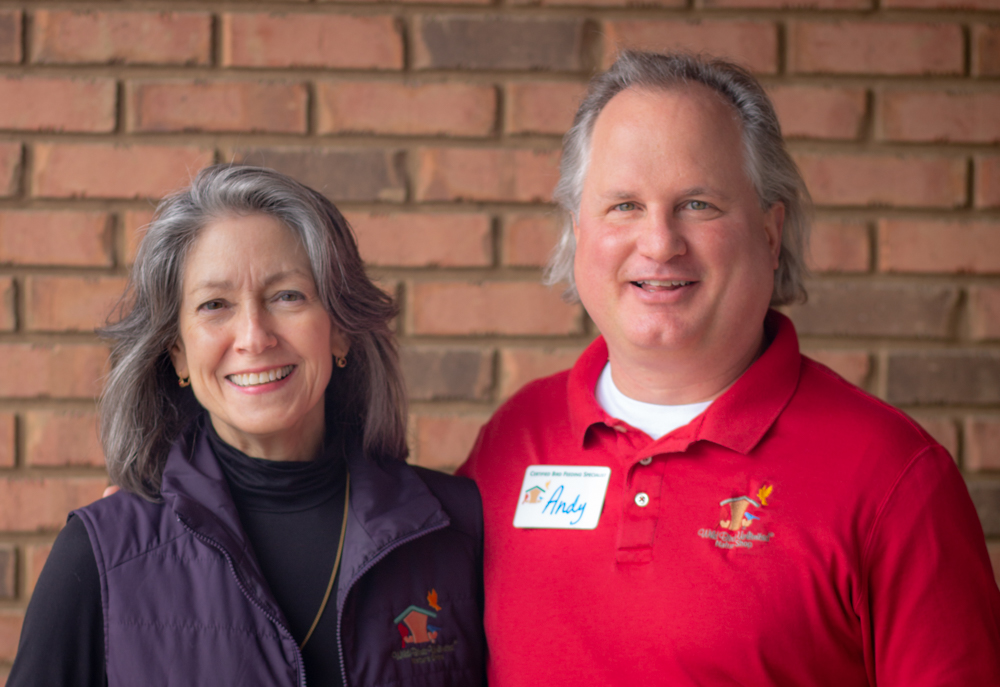 Andy Scholl and Jacqueline Venchi opened their first Wild Birds Unlimited franchise in 2010, and ever since, they have been committed to spreading the Joy of Bird Feeding to their customers. This year they were named as Franchisee Rock Stars!
"Andy and Jacqueline have consistently embraced the Wild Birds Unlimited Mission, Vision and Values. They have proven to be thoughtful, professional leaders for the group and have developed a strategy that allows the group to not only have their own voice, but work together collaboratively." – Paul Picket, CDO, Wild Birds Unlimited
What advice do you have for someone considering investing in a franchise?
Choose a field for which you have passion because you will be working hard, and choose a franchise that has a proven track record of support and supplying the tools to help you succeed. Meet with the team at the franchise. Do you like them? Do they care about their jobs and each other? Do you agree with their vision and values? And if you can, work for a while at one of the stores.
What are you most proud of when it comes to your career in franchising?
Jaqueline: I am most proud of the relationships we have built with our staff, our customers, and the other store owners. We don't live and work in a vacuum. Just as we are connected to nature, we are connected to everyone else in our community, which is a large and growing family. People who care about the birds and nature are wonderful people to know and spend time with.
Andy: I'm most proud of the fact that we're thriving, have brought lots of joy into many people's lives, and that we've created a safe place and a warm destination for many lovely people to come into and spend their time, and their money with us. I'm also proud of how talented and creative my wife is, and how she has been the core of the (for the) energy that's brought us much of the success that we enjoy today. We are also very proud of our employees and their ongoing dedication, friendship, and support they give us.
What was your career path before you entered franchising?
Jacqueline: Life experiences with people was really my career path. I traveled a lot, lived in Mexico, worked for a holistic veterinarian, did restaurant work (even helped to open a restaurant in Curacao), was a massage therapist, and then worked for 10 years with our store's previous owners. Andy came from a live television and communications, interactive distance learning, and technical sales background. I was fortunate to travel to many interesting places around the world and in the United States, and enjoyed managing customer relationships. Being a franchisee in a retail setting has dovetailed nicely with my previous instructor, training, and sales experience.
As a business owner, what has been the biggest challenge you've had to overcome?
Our biggest and ongoing challenges have been developing management skills, finding work/life balance, and learning to ask for help. After purchasing a successful franchise location, we used an approach that the previous owner had used and had success with… it took a few years to realize that the retail world is a much different place than when we bought the store, and it took a determined business coach to really open my eyes to what we could become, and how to make growth and progress possible. In terms of marketing… my ongoing challenge is to delegate, ask for help, re-evaluate, and delegate some more.
What do you like most about your franchise organization?
There's a theme here – it's the people! The passion and joy that they bring to their jobs with their helpfulness and support, have become even more important to me as our business has grown and we open a second store. They offer us a large array of excellent resources, tools, and content to use, and are continuously creating more ways to help us grow our business and remain successful. But, most importantly to me, behind all the tools there is always a person to whom you can speak. I feel they really care. They're not only concerned with us making money, they also urge us to evaluate our life goals: personal, family and friends, spiritual, mental and physical among others. How great is that?
To learn more about Wild Birds Unlimited opportunities visit https://franchise.wbu.com/franchise-ownership/