Founded by Fred Thomas in 1975, Pinch A Penny Pool Patio Spa continues to make a splash over 45 years later. The pool supply retail and service franchise began with just one store in Florida, and today has grown to include 259 locations across the southeastern United States and Texas. With the pool industry worth an estimated $15 billion, and the average pool owner spending anywhere from $1,000 to $5,000 each year on cleaning and maintenance services depending on the circumstance, the company expects positive growth for years to come.
Pinch A Penny differentiates itself from competitors in its sector by reinforcing Thomas's commitment to superior customer service and expertise. Led by Fred's son, John Thomas since 1990, Pinch A Penny continues to take a family approach to attracting franchisees and customers. The brand prides itself on treating its franchisees like family and its franchisees treat their customers the same way, according to Michael Arrowsmith, chief development officer at Pinch A Penny. In fact, many franchise owners are families who hope to share their business success and create a legacy for the next generation.
"Pinch A Penny is the ideal franchise opportunity for families because we are a family-founded and family-run organization; that sense of family is the cornerstone of our brand and a focal point in everything we do. Our stores are run by the numerous families that make up our system, and we help families in the local communities that we serve to create the safest environments for their own family fun. Our family-centric culture and values are the lifeblood to our ongoing growth and success, and we feel proud to have had a hand in the formation of so many family businesses designed to be passed down to the next generation."
A Family Affair – Meet the Griffiths
Fred and TeeCee Griffiths took the plunge and invested in their first Pinch A Penny location in 2006, and then opened a second store in 2009. Their son, Patrick, a college student, had been working at a local Pinch A Penny in Central Florida while attending St. Leo University and enjoyed it so much that he convinced his parents to consider investing in one, according to TeeCee.
During that time, Fred was working as an executive at a corporate job in the Palm Coast of Florida that required international travel and TeeCee had recently left an administrative position at a Catholic school. With more time on her hands, she thought it would be a fun job that she and Patrick could run together. "It is fun but let me tell you – it's also very hard," she said.
The Griffiths owned a pool, but TeeCee said they were hardly experts at pool maintenance and restoration when they initially considered joining Pinch A Penny. Through the extensive month-long training that Pinch A Penny provides its franchisees, they were able to learn how to help customers maintain and improve their pool experience. The training allows franchisees to earn national certifications, as well as a diploma from the Pinch A Penny "Pool School of Graduates."
Today, the Griffiths' flagship store offers service, cleaning, and repairs in addition to retail products such as proprietary chemicals, pool supplies and accessories. Daughter, Megan, a former bank executive, operates the main store with Patrick and Fred. Another son, Scott, works mostly on the road and manages the staff who carry out pool repairs, cleaning, and resurfacing services, TeeCee said.
"Our family is outstanding—we get along even in difficult times, especially in the summer months. This year, the rush started in February and we've never looked back," she said. "If an employee calls out or moves on, we all jump in and pick up the slack—and it just works."
Despite an economy that was negatively affected by the pandemic in many sectors, Pinch A Penny has continued to thrive. With more people at home, many have invested in backyard improvements and recreation. Like many franchisees, the Griffiths experienced their highest revenues ever this year, TeeCee said.
"This is our best year ever. Every pool out there was purchased by someone. If they didn't have an in-ground pool, they bought a pool at Walmart or Target. As a result, they needed chlorine and supplies. People needed repairs and heaters or wanted their pools resurfaced," she said.
Pinch A Penny offers retail, maintenance and repair as the foundation of its business model, and then franchisees have the opportunity to expand their offerings by selling grills, outdoor furniture and other items inside their stores, as well as services like leak detection, pool renovations, power washing, landscape lighting, and more. The multiple revenue streams the brand offers through its robust mix allows owners to attract customers year round and ancillary services help them to grow their businesses in a more organic way, without them having to invest in other concepts. Since their Palm Coast location has opened, ancillary services have grown and continue to contribute to a healthy bottom line, TeeCee said.
"We live near a community that was built in the mid-70s and really took off in the late 80s-early 90s. Many of the people came from New York, New Jersey, or other places up north and decided that if they were coming to Florida, they wanted a pool," TeeCee said. "Everyone swims in Florida, and at some point, they need their pools resurfaced. Also, you do need a pool heater in the Palm Coast –we are not in Miami – when the water is cold you don't want to get into it."
Hardly a silent partner, TeeCee has been actively involved since day one and enjoys helping customers get the most out of their pools and backyards. She not only interacts with her customers but jokes that she will mop the floor and clean the bathrooms if needed. She credits the family's strong work ethic and dedication to service for its success and lauds the corporate office for its support, as well.
"I can pick up the phone and call (the corporate office) with a problem and they will help me. If they can't resolve it, they'll get me someone who can," she said. "I am really pleased we got into this business with them.
It's a good family business—they want what's best for you and will do whatever it takes to help you succeed.
From Customers to Owners – Meet the Lauersdorfs
Midwestern transplants Bill and Liane Lauersdorf were regular Pinch A Penny customers before they became Pinch A Penny owners. Bill had spent 40 years in corporate America as an executive in the manufacturing sector and had moved his business down to Clearwater, Florida. Liane had most recently been working as a Weight Watchers leader, running group meetings each week for clients. The couple had already worked together in corporate roles and were searching for the right family business opportunity to run as a team.
"We thought, what do we want to do? I did not want to mess around flipping hamburgers. We were at Pinch A Penny every week buying things for our pool. We saw the franchisees there and got insight," he said. "I had a lot of options to look at including consulting. But I didn't see any other franchises that looked as appealing."
The Lauersdorfs signed their franchise agreement in 2006, but didn't open their Odessa store until 2009, when they finally found the right location after years of searching. In 2009, they bought an existing store in New Port Richey, welcoming daughter Jennie Kaselak into the business. Today, son David Lauersdorf–who joined the business 6 years ago– manages all services, repairs, and pool cleanings, Bill said. They divide up the work and each have their niche.
"We still work 6 days a week and bring work home, but it's worth it for our family. We love our customers and love it when people are happy," Liane said.
A natural customer service professional, Liane manages water testing at the store and prides herself on remembering every customer's name. The Pinch A Penny corporate office has provided her with all of the training she needed to become an expert, she said. After a month of "pool school," and visiting stores on the weekends to complete her training, Liane obtained her pool operator license and learned from other owners along the way. Today, she also specializes in removing pool stains. Now the corporate office calls Liane if they have questions on stain removal, Bill said.
Although there are many moving parts to the business, Pinch A Penny provides the perfect family business model, said Liane. They've never felt alone in their journey, either. Pinch A Penny has supported them each step of the way – even sending out its two best managers to help open the Odessa store when Liane was sidelined in the hospital for three days following a surgery.
"We've talked to people who've bought franchises elsewhere and they say it's a nightmare – they take their money and it's gone. In our case, it's been a pleasure working with the corporate office—they are good people," Bill said.
Their businesses continue to grow as Pinch A Penny has diversified its offerings to include backyard enhancements such as landscape lighting and pressure washing. The building boom in the Odessa-Land O' Lakes area also signals ample future growth to come. In their region, more than 12,000 new residences are going up, many of them single-family homes, Bill said.
"With those houses come pools, and people don't want to clean those pools and they are going to need to maintain them," he said. "A lot of new houses also want landscape lighting around screen enclosures. We plan to stay focused on that niche – improving people's homes."
After 12 years, the Odessa store is expanding its footprint into an adjacent space. In total, both stores employ 22 staff members and include 13 vehicles that support pool cleanings and installations for both stores. Although the Lauersdorfs are technically retired, they don't plan to sit beside their own pool anytime soon. While they've laid the groundwork to allow for their children to continue their legacy as Pinch A Penny owners, they are simply having too much fun to relinquish ownership just yet.
"We enjoy what we do. We open our door and customers are ready to come in and sit down and talk," Liane said. "We know they all by name."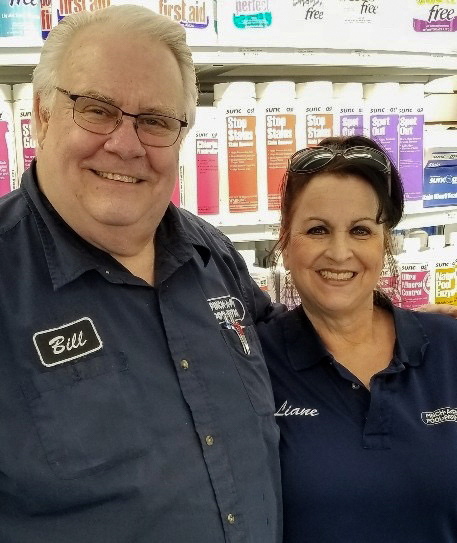 Are you Ready to Make Waves With Pinch A Penny?
Pinch A Penny continues to make waves in top industry rankings, including Franchise Business Review's Top Franchises for Women, Top Franchises for Veterans, and the Top 200 Franchises. Most of all, Pinch A Penny could be a lucrative and sustainable business opportunity for your family, named as one of the top 50 recession-proof franchises in our 2020 special report. According to its Franchise Disclosure Document, Pinch A Penny has industry-leading average unit volumes of $1.3 million.
While there is no assurance that your Pinch A Penny location will perform as well as these stores, the numbers are promising. In the year ending December 31, 2019, the brand had 253 stores, of which 248 had been open for a year. Of those stores open at least one year, 38% had annual gross sales that exceeded $1.3 million. (Please remember, results differ and these numbers reflect gross, rather than net, earnings.)
Even if Pinch A Penny seems like the right fit for you, it's just as important for the brand that you and your family fit into their corporate culture, too, Arrowsmith said. After your initial call, you will fill out a franchise form and then meet with a Pinch A Penny representative locally. Next, you attend a Discovery Day at corporate headquarters in Clearwater, Florida, tour the campus (which includes a chemical manufacturing plant and distribution facility), and meet the leadership team. Before you sign your franchise agreement, the corporate office works with you to develop a business plan. Only then, do you sign your agreement and secure a site. Prospective franchisees must also meet the minimum liquidity requirements of $150,000 cash and have a net worth of no less than $350,000
"The most important thing for us is: Do you have an attitude of service? Are you a giving person? Are you really trying to help people? Our business is built on trust," Arrowsmith said. "Once we get a franchisee in our system, we take care of them the way that we want them to take care of the customer. We take a family approach to our business and provide our franchisees with unparalleled support and ongoing training to ensure their success. While, of course, our franchisees have to do their part in building their business, we offer the structure and proven tools to help them from the beginning."
Investment Breakdown
Franchise fee: $50,000 (with 50% discount for veterans)
Initial investment: $289,375-$411,200
This covers build-out, real estate, vehicles, products, supplies and equipment. It also covers training, insurance, legal and government costs, and additional funds – as well as the franchise fee.
Royalties: 6%
Advertising fee: 4%
Understanding that for many prospective Pinch A Penny franchisees launching their Pinch A Penny franchise means leaving behind longstanding corporate careers and transitioning into owning their own business, Pinch A Penny offers qualified candidates competitive financing, designed to streamline your path to ownership and make the transition easier. The proprietary program covers up to 80% of project costs with a competitive rate, flexible payment terms and no SBA fees.
If you are ready to jump in, contact 844-740-5139 or visit https://pinchapennypoolfranchise.com/get-started/.