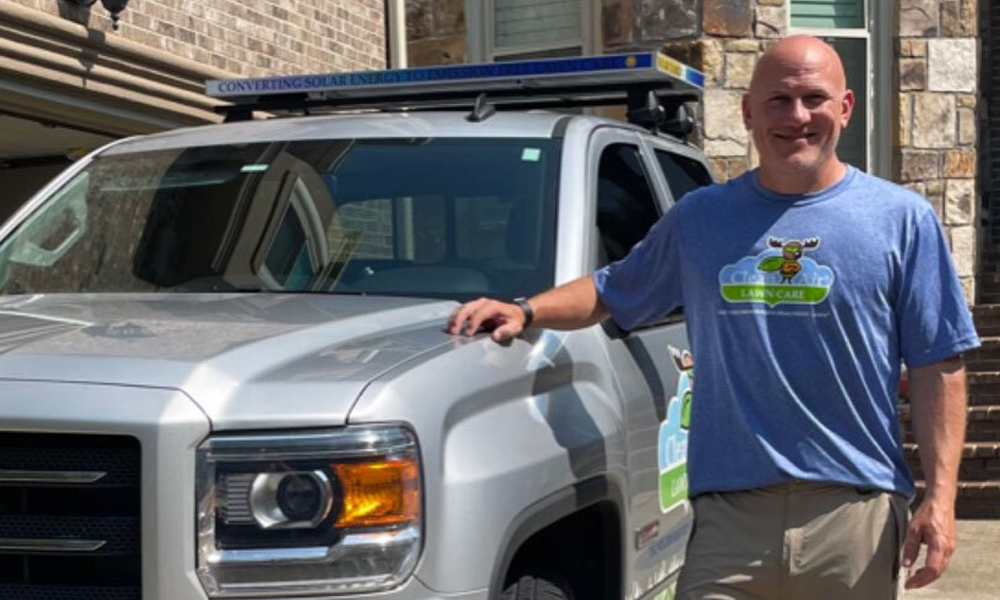 Meet Seth Wiersma, a multi-unit Clean Air Lawn Care franchise owner in the Atlanta Georgia suburbs of Marietta, Roswell and Sandy Springs. Seth opened his first unit in June of 2021. He and his four employees have remained extremely busy ever since. In this article, Seth shares his perspective on what it is like owning multiple Clean Air Lawn Care franchise locations and insights into how he got started.  Excerpts from the following interview with Wiersma are featured in FBR's latest Digital Guide issue.
Name: Seth Wiersma
Location: Atlanta, Georgia
Franchise owner since: 2021
---
What made you decide to transition into franchising with Clean Air Lawn Care?
I spent 20 years in sales, marketing, and consulting around data management in the legal industry. I also owned a small business closely aligned to that industry, while working at various organizations. It was a great space for me for most of that time, but the industry became increasingly commoditized and over time I became more and more disenchanted. I got tired of going to meetings about other meetings and having follow up meetings to those meetings. Short answer – I really needed a change.
How long did your franchise search take from start to signing? Can you walk us through your process?
I spent the better part of three months very closely evaluating my options. In retrospect, however, it was something rattling around in my head for a couple of years. When I started to take things seriously the process picked up speed. I even worked with a franchise consultant on a couple of the other options I was considering. I took the evaluation process all the way through to getting approved with two other franchise opportunities, but when it came time to put my money on the table, the answer was clear to me.
Was Clean Air Lawn Care the brand you started exploring initially or were there other brands you were interested in?
I evaluated several different franchise opportunities. I looked at various options including disaster recovery/mold remediation, roofing, Clean Air, and even a salon.
Did you have prior experience running a business? Did you leave a career to own your business?
I mentioned my time consulting and selling in the legal industry. Working with attorneys for 20 years hardened me. They are a tough client base.
I had a great business partner and an amazing operations team already in place when we started our complimentary business in that industry. We scanned and copied documents for law firms and consulted on best practices around data management. My partner and I were simultaneously working for another organization while running our business. It was a unique situation that worked out well for us. We sold it after 5 years and continued working with the folks who purchased us. In the end, I ventured off to a few other competitors in the industry and finally decided enough was enough.
What are you most proud of?
That sappy answer…my kids. My wife and I have 3 children and while challenging most of the time, they make us immensely proud day in and day out.
Professionally, I'd say I'm most proud of the early risks I took after college. I moved out to CA without a job and found my way. Then I packed up and left CA to move to GA without a job or really knowing anyone and discovered a great career, met my wife and started a family. Taking chances, trusting myself and working really hard have really paid off throughout my life. Never without challenges along the way, but the risks have been worth the rewards.
What convinced you that a Clean Air Lawn Care franchise was the right brand for you?
I always liked working in my yard. It became a hobby of sorts…almost therapeutic. I guess it started there in terms of my initial interest. I was really drawn to the eco-friendly approach. My father raised me to be very aware of our actions and impacts on the planet. After some light due diligence, I had a "quick call" with Kel for about 90 minutes. His message, sincerity and passion for his business resonated with me. I also spoke to a couple of the other owners, and they were very helpful and honest about their experiences and the potential they saw ahead.
Did you review the Franchisee Satisfaction Survey Results during the process? Did they have an impact on your decision?
I honestly don't remember. The process of making my final decision seems like a blur looking back on it. I'm sure I did and if there was anything negative, I'm sure I would have investigated it.
Do you currently participate in the Franchisee Satisfaction Surveys? Do you feel your feedback is heard?
Yes – I try to take part each time they are sent out. I think Clean Air does a nice job of incorporating our feedback and implementing changes accordingly. As a general rule, Clean Air has been very receptive to my feedback throughout my time here.
Looking back now, is there anything you would have done differently? Any lessons learned that you want to share?
I would have asked more questions and leaned on the forum more. The other owner's generosity and experiences around the country are invaluable. Lean on them. We have a great team scattered across the country.
Recruit, recruit, recruit. Figure out a way to keep a pipeline of contacts warm and ready. Labor is probably the hardest piece of this puzzle to manage. Do that well, and your life will be infinitely easier to manage. Also be thinking about scaling before you think you're ready. Space is very important to taking the next steps in this business.
Oh, and bid higher than you think you should early on with your estimates. The lure of getting customers is strong. Resist the urge to win a customer with price. You offer a premium service – price it accordingly! And cleanup jobs ALWAYS take longer than you think they will.
What was your biggest challenge when you think back to the first year or two in business?
Probably just the baptism by fire element of this business. All of the sudden I was mowing lawns for a living! It was immediate. There was no lifeline. Find help early. It was a lonely and overwhelming feeling for the first month or so until I found some help. It was also EXHAUSTING.
How have you connected with your local community? Have you joined any local groups or Chamber of Commerce organizations?
I need to do a better job in this area. I've signed up for a few groups and simply haven't participated or done anything with them. It's on my white board for this year to get more engaged in these types of things. It will help with our brand for sure.
Any other insights you can share with us?
Treat your employees fairly. Give them visibility into the business. I try to involve them like shareholders. The more they know about the challenges, expenses, mistakes and successes, the more invested they become. Lead by example, set the tone and pace and they will follow. The ones that don't probably aren't the right fit and will cause you frustration and headaches down the road.
For more information on Clean Air Lawn Care franchise opportunities,

Call: (888) 969-3669