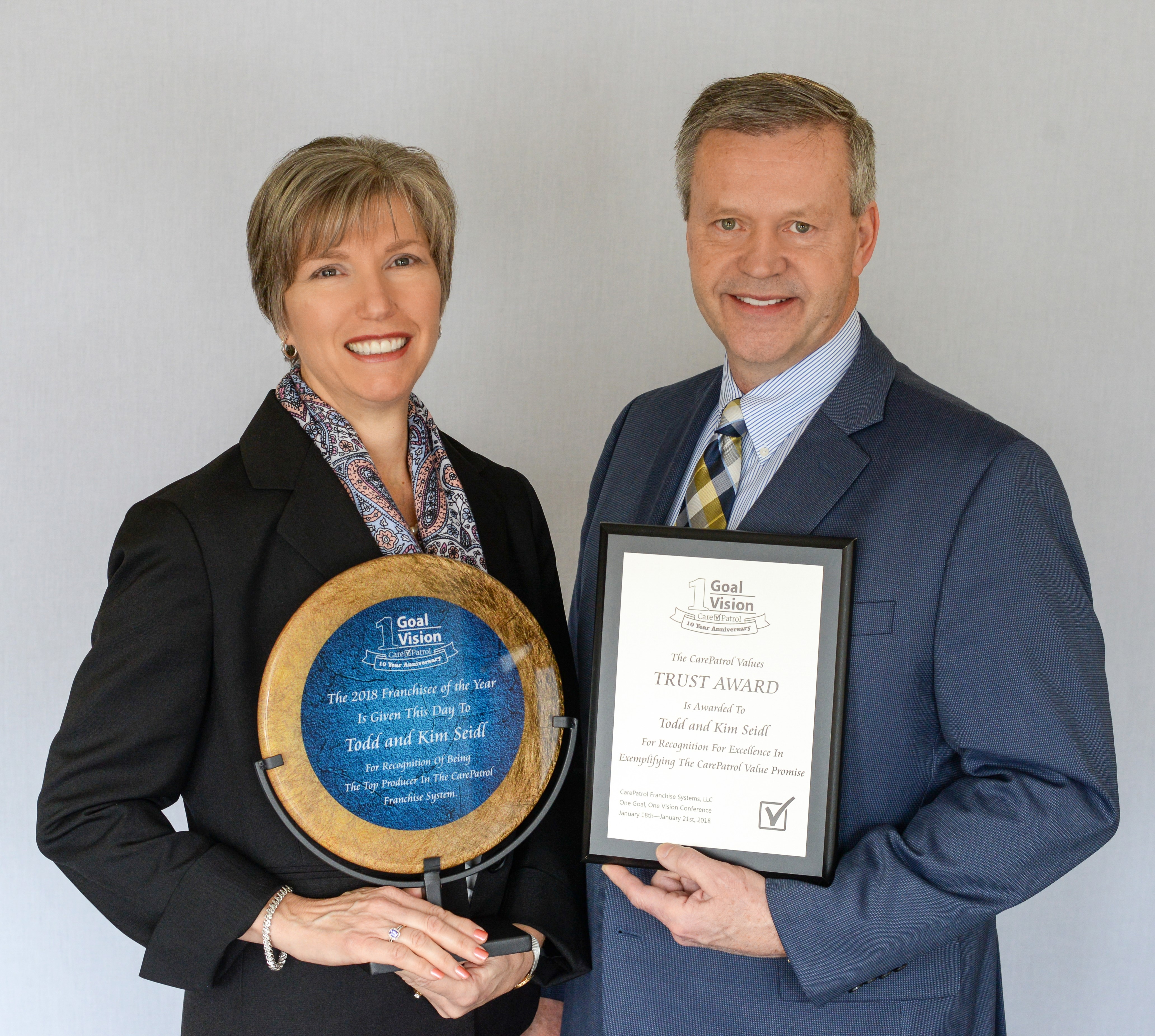 Todd and Kim Seidi, who own two CarePatrol franchises in Milwaukee, know that providing care for aging family members can be a stressful and trying endeavor. They aim to make it easier, by guiding families through the process.
When did you purchase your franchise?
We purchased a senior placement franchise in 2014 that was subsequently acquired by CarePatrol Franchise Systems.
What was it about the franchise model and or leadership that led you to purchase it?
During our first training class, we were welcomed by the Founder and CEO, Chuck Bongiovanni, with the statement, "The bad news is that you have been traded, but the good news is we won the Super Bowl last year!"  From that day on, we have seen how CarePatrol provides its franchisees with every tool necessary to successfully serve their clients. From the database software, to system wide collaboration and franchisee support, every tool is available for each office to excel in the CarePatrol business model.
What type of business experience, education, and/or skills did you have prior to becoming a franchisee that you have found particularly helpful?
As prior owners of a senior home care franchise, we often found ourselves in the role of Senior Placement Advisor when "home" was no longer the safest or most appropriate option. Our experience in home care was certainly helpful. However, our education and backgrounds in the hospitality industry has provided a foundation for serving and meeting the needs of others.
What things do you like most about your job?
There is a personal and professional feeling of accomplishment as we guide families through what can be a difficult season in a loved one's life.  To find the safest and most appropriate housing solution that will meet the long-term care needs of a senior is very rewarding.  With CarePatrol, we make a meaningful difference in the lives of seniors and their families every day.
How did you fund your franchise? Did you receive any discounts/incentives?
We funded our franchise without external discounts or incentives and with a long-term view as an investment in ourselves.  We saw CarePatrol as a business opportunity with excellent growth potential that would allow us to work together into our retirement years.
What advice do you have for prospective franchise buyers?
As an entrepreneur, your return will be in proportion to your own hard work and commitment to success. We owned several businesses before franchising and know if you don't work the business you can't pay the mortgage. There are always unanticipated financial expenses, so don't scrimp on spending for marketing and community relations. Every interaction in the marketplace is your one chance to make a first impression. Do your best to build your brand with honesty and integrity, and in doing so you also establish your own personal reputation and "street cred".  Picture what success will be and aggressively go after it, working a proven franchise business model and growing your business one day and one client at a time.
If you'd like to learn more about CarePatrol franchise opportunities visit https://carepatrolfranchise.com/.