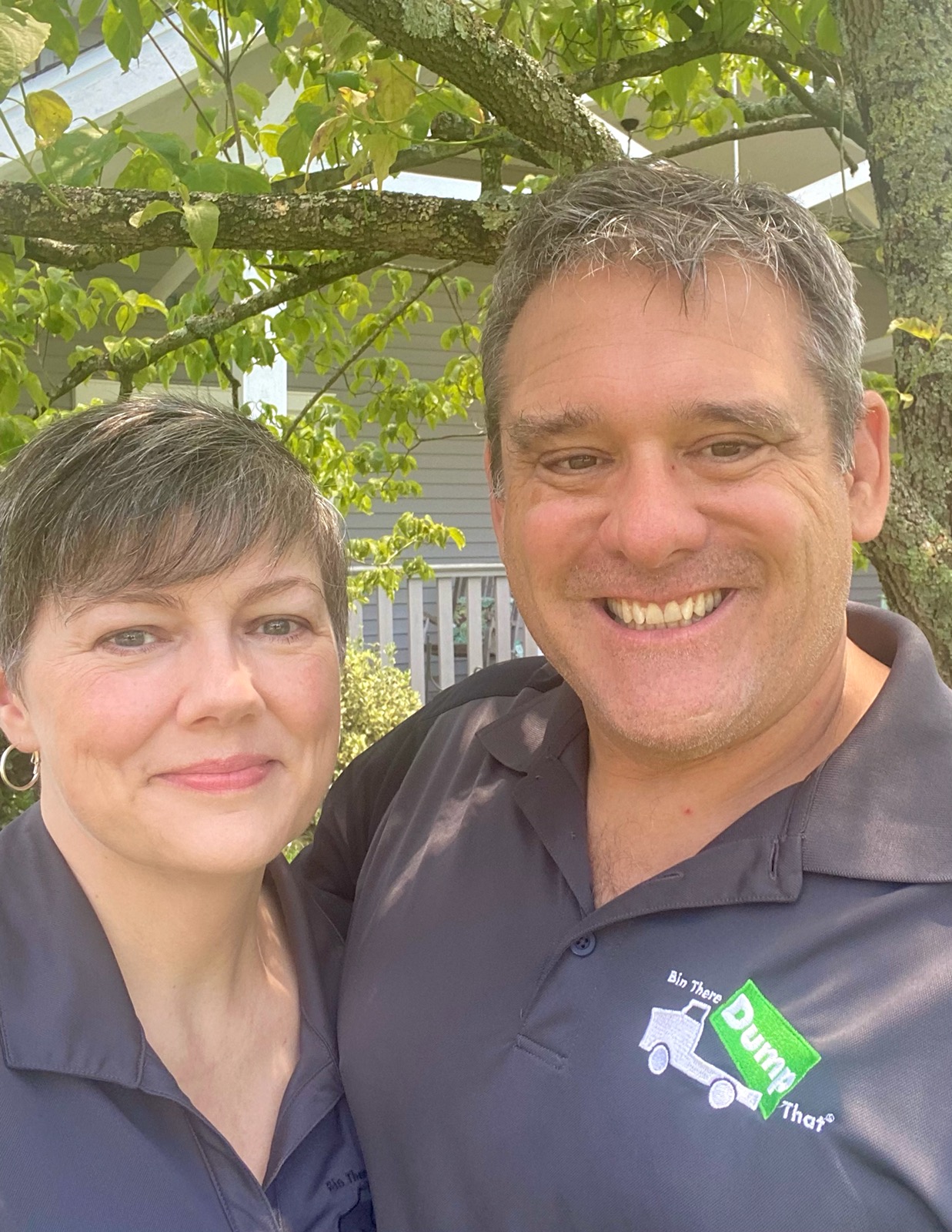 Brad and Amanda Spencer opened their Bin There Dump That franchise in Knoxville, Tennessee in the spring of 2019. Below is the Q-A interview they did with Franchise Business Review earlier this year.
FBR: What was it about the franchise model and/or leadership that led you to purchase it?
We used Bin There Dump That as homeowners and were pleased with their level of service. We'd considered opening our own business for some time and saw that they had franchise opportunities, so we researched the company and spoke with company representatives and liked what we discovered. We called as many franchisees as we could and all said positive but realistic and honest things about the brand and what it's like to operate a franchise.
FBR: What type of business experience, education, and/or skills did you have prior to becoming a franchisee that you have found particularly helpful?
Brad has an MBA and spent several years working as a factory representative for a major automotive manufacturer. Amanda's experience as a legal assistant is helpful in keeping things organized as office manager. Both Brad and Amanda have years of experience dealing with the public.
FBR: What do you like most about your job/owning a franchise?
Brad: "In my old position, I had targets to reach, but not always the tools needed to do so. Now? Win or lose, it's all up to me and I like that."
Amanda: "I like setting my own schedule. We work a tremendous number of hours, but there's some flexibility there."
FBR: How did you fund your franchise? Did you receive any discounts/incentives?
Loans and savings. No discounts or incentives.
FBR: What advice do you have for prospective franchise buyers? What do you wish you had known prior to going into franchising?
Make sure you're in a strong cash position. Have enough saved up that you don't struggle to pay bills during the first 18 months. Be flexible.You (and your family) should be prepared to eat, sleep, and breathe your business. Even when we're "off", we're often thinking and talking about it.
FBR: Anything else?
Good customer service is key. A man thanked me this week for just listening to him. Many customers are cleaning out after a major life change and some are hoarders. Everybody here tries to offer the best service they can and as a result all but two of our reviews are 5-star, and those two are 4-star.
For more information on Bin There Dump That franchise opportunities, call (905) 582-1234, or email [email protected]or visit bintheredumpthatfranchise.com