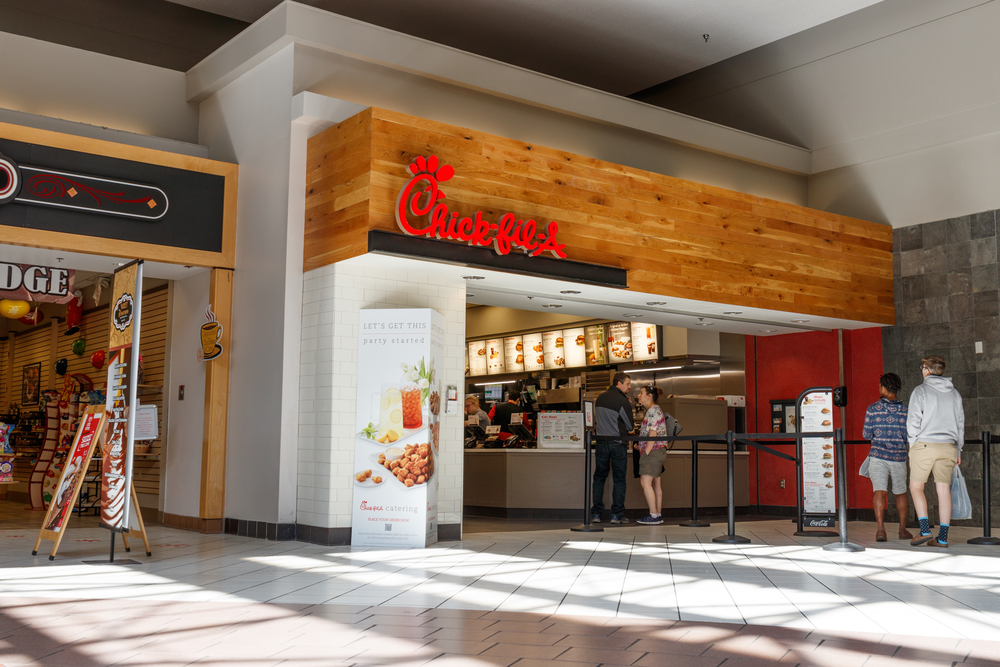 Chick-fil-A receives over 40,000 applicants each year. With a Chick-fil-A franchise fee of only $10,000; it initially seems like a great investment. But there are strict Chick-fil-A franchise requirements and a lengthy approval process which results in a less than one percent acceptance rate. The franchise fee is not the only cost involved. So, how much does it cost to open a Chick-fil-A franchise, and is it worth it in the long run? Here are some reasons why the franchise is such a hot commodity, and why it may be a less than favorable choice.
How Much Does it Cost to Open a Chick-fil-A Franchise?
Chick-fil-A has been rated for having the "best chicken sandwich" across several food blogs year after year. Where does the company rank in terms of value of investment and what are the Chick-fil-A franchise requirements? This is where things get a little fuzzy.
The initial franchise fee for a Chick-fil-A is only $10,000. This is relatively low, as the industry average is upwards of $40,000, for franchises such as Taco Bell and McDonald's. But when you compare Taco Bell or McDonalds to Chick-fil-A, you aren't comparing apples to apples. The Chick-fil-A franchise fee is so low because the company wants to maintain ownership of the franchise, and make all purchasing decisions (we will get into this more below). The initial investment is right within the industry average, and ranges from $265,000 to $2.2 million.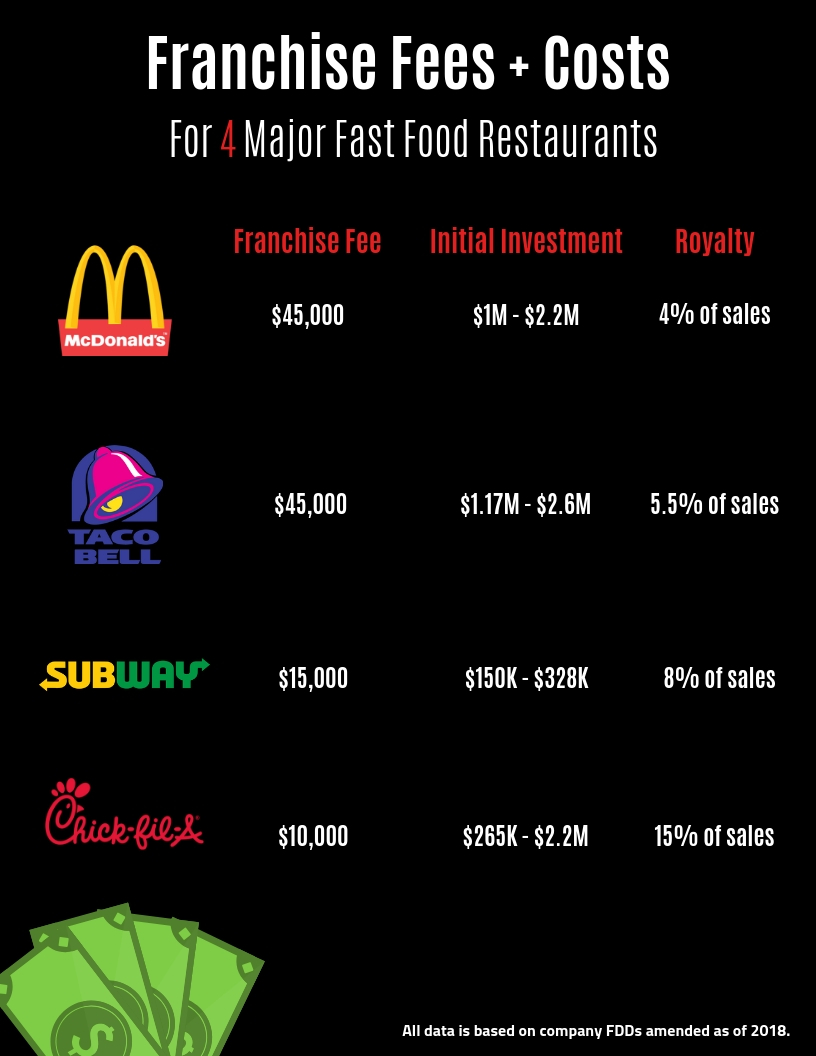 Here's how much the average Chick-fil-A makes
The average Chick-fil-A restaurant produces $5.3 million in gross annual sales. This is astonishing, seeing as close competitor Popeye's averages $1.5 million per franchise location, and quick-service restaurant (QSR) industry leader McDonald's averages $2.7 million. That said, gross sales and net operating income are two very different things, and the profit margins in the QSR sector are very, very slim – often in the 5 to 10 percent range for even the best operators. Franchise Business Review's latest research on food franchises found that the typical franchisee in the food and beverage segment will take home an average annual income of $120,000 – and our top-rated food franchises average 15 to 20 percent higher than that. While Chick-fil-A doesn't publish any operator earnings numbers, Franchise Business Review estimates that the average restaurant operator earns a very respectable income in the range of $150,000.
The franchisor does a lot of the work
If you are interested in a business that essentially runs itself, where you will have minimum involvement in background operations, Chick-fil-A is the one for you. The franchisor takes care of most of the dirty work: choosing a location, purchasing the real estate, funding construction, and purchasing the necessary equipment. The franchisor also covers oversight of accounting, service and customer relations, maintenance, and marketing.
Turnover is low
There is little risk, which is a dream come true for any business person. The retention rate for Chick-fil-A operators (franchisees) has sat at 96 percent for over 50 years. Many Chick-fil-A franchisees love what they do, and strive to ensure that their employees are happy, as well. Lynnae Schneller, who owns a location in Tacoma, Washington says that Chick-fil-A has,"Connected her family and community in a new way."
Chick-fil-A Food for Thought
There are many reasons a franchise may not be the right opportunity: you don't agree with their policies and morals, you dislike the product, and the list goes on. However, the information below could pose as serious barriers to prospective Chick-fil-A franchisees. Do not let it discourage you, though, as there are plenty of other options on the market today (as we discuss later in the article!).
No Chick-fil-A multi-unit franchises
While this can be the case with some franchises, most will offer the option to own several locations. Chick-fil-A does not, and only allows for a single unit per franchisee. This can mean less profits, as you are limited to only one location.
Chick-fil-A franchisees must be free of any other business ventures
The company wants their franchisees to be completely hands-on, and devoted solely to their Chick-fil-A franchise. In other words, if you are a serial entrepreneur: this is not the right franchise for you. They do not give a clear reason for this, but one could conclude that the company is not interested in creating conglomerates, and values quality over quantity.
Strong company values
Much has been written about the culture of a Chick-fil-A franchise. Having their restaurants closed on Sundays is just the beginning. The company has a long history based on conservative, religious values. Some people find this appealing and one of Chick-fil-A's greatest assets as a company. While others would rather be part of a more open, accepting culture. Company culture and values are clearly important to explore when considering any franchise investment.
A very selective process
It is no secret that a Chick-fil-A franchise is hard to obtain; not even the head of the Environmental Protection Agency, Scott Pruitt, could get one for his wife Marlyn. According to an article from The Washington Post, Chick-fil-A only accepts 100 to 115 franchisees from the 40,000 who apply every year. That means only 0.25 percent of applicants are chosen (your kids' chances of getting into Harvard are better!). Aside from this, they will not choose franchisees who:
Renting vs. owning a Chick-fil-A franchise
Chick-fil-A has one of the lowest investment requirements in the QSR sector, but that is because, as one of their operators, you don't actually own the business. In most cases, the land, the building, and the equipment are owned by Chick-fil-A corporate, which they lease to their operators. It's really more like renting vs. owning a home. At the end of your franchise agreement with Chick-fil-A, you don't own anything – which for many entrepreneurs, is a deal-breaker.
"Chick-fil-A is a very different franchise animal," says Franchise Business Review founder and CEO, Eric Stites. "Sure it's cheap to get in, but it's also nearly impossible, and you don't own the business, Chick-fil-A corporate does. For many people, the choice of going into business is about building long-term wealth through equity… building a valuable asset that you can ultimately sell or pass on to your family. That's not the case with the Chick-fil-A franchise opportunity."
If you have found that Chick-fil-A is not the right franchise opportunity for you, here are some good alternatives, which can be found on our Top Food Franchises list.
Alternatives to Buying a Chick-fil-A Franchise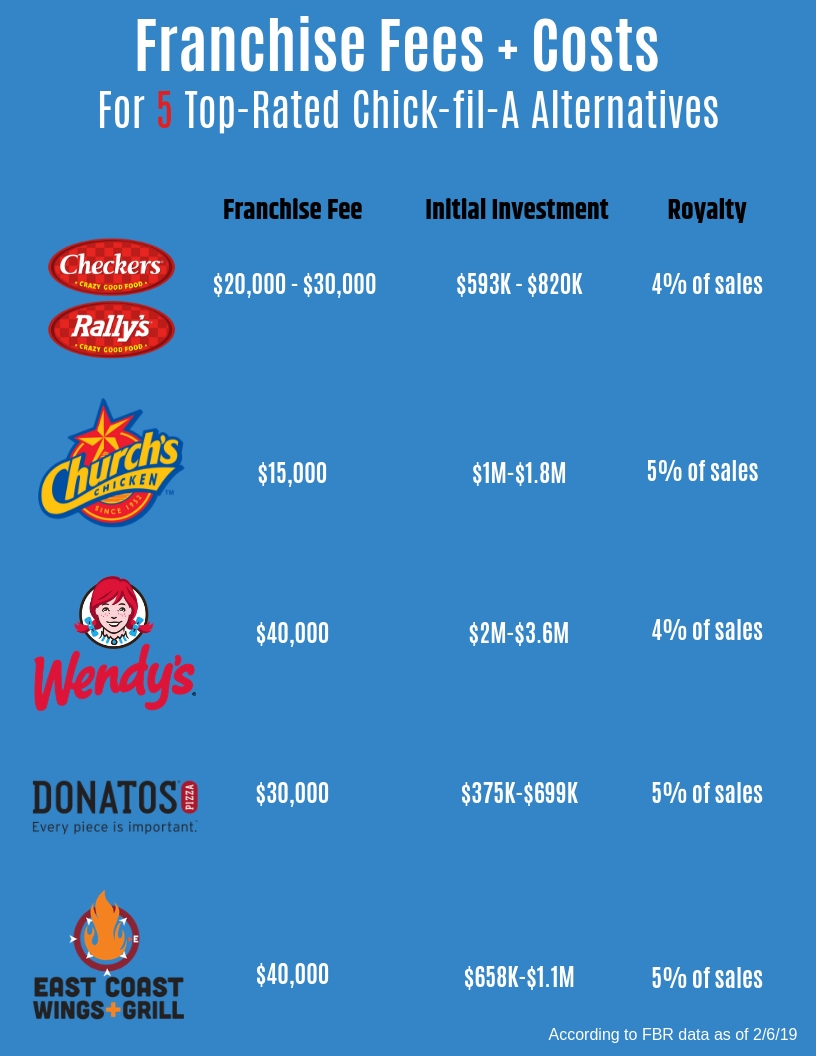 Named by Franchise Business Review as a Top Food Franchise for the past eight years, Checkers and Rally's has satisfied franchisees and unmatched support. The franchise fee is $30,000, and the initial investment is $593K-$820K. Their franchise disclosure document (FDD) outlines a 62.2 percent return on investment on average annual sales of $1,028,053, and veterans do not have to pay the franchise fee.
This fast-food chain has long been an American favorite, both for their food and their franchising opportunities. The fee to open a Wendy's franchise is $40,000 per unit (they call it a "Technical Assistance Fee"), with the opportunity to own more than one unit. The estimated total initial investment ranges from $2 million to $3.6 million, and annual sales per unit average $1,600,525 based on 2018 franchise disclosure figures. Aside from being profitable, the location possibilities are endless: airports, entertainment venues, and even hospitals.
Donatos Pizza is a force to be reckoned with, generating over $1 million in average net sales per year, with their top-performing restaurants doing over $2 million per year. They have 160 total franchised locations across the country and are continuing to grow! The initial investment for a Donatos franchise is anywhere from $375,000 to $699,900, and the franchise fee is average for the industry, at $30,000.
East Coast Wings and Grill is not a Quick Serve establishment. However, the investment is a bargain compared to others in the industry. The total initial investment for an East Coast Wings and Grill franchise is in the range of $658,875 to $1,133,502, which is rather low in comparison to similar restaurants (Buffalo Wild Wings, for example, has a minimum initial investment of $1,997,700). The franchise fee is $40,000, and the average net (per unit) sales as of 2017 were $1,573,714 with a 15 percent net operating margin.
The Bottom Line
The food and beverage franchise segment offers many viable options to prospective franchisees, many of which are profitable and manageable. Chick-fil-A is a highly sought-after franchise to own, and while it may be the right option for some, it is certainly not for everyone. We hope we have made your decision-making a bit easier, and if you want to learn more about the food and beverage segment, please check out our  list of Top Food Franchises.