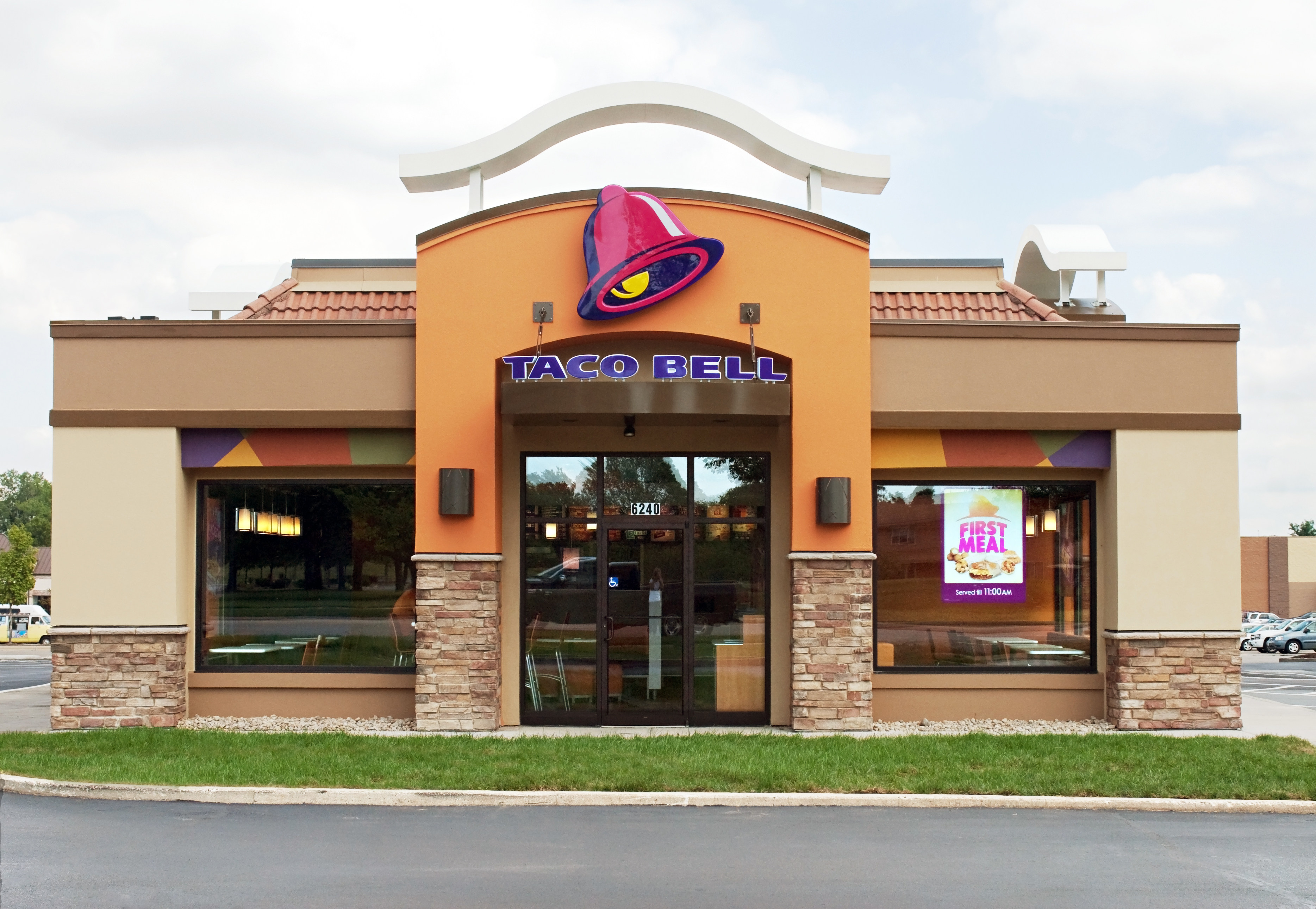 Taco Bell began — as most things do — as a dream. After serving as a cook for the U.S. Marines in World War II, founder Glen Bell returned to his hometown of San Bernadino, California and turned his passion for food into a career by opening a hot dog stand called Bell's Drive-In in 1948. After witnessing the overwhelming success of Mitla Café, a Mexican restaurant famous for its hard-shelled tacos, Bell sold Bell's Drive-In and opened a taco stand in 1951.
As the business grew, it underwent multiple name changes, including Taco-Tia and El Taco, before Bell settled on Taco Bell in 1962. What began as a roadside stand that sold tacos for 19 cents apiece has grown into a global phenomenon, with over 2 billion customers and 7,072 restaurants — 93% of which are owned and operated by independent franchisees.
Taco Bell Does Not Come Cheap
Despite being famous for its low-priced meals, opening a Taco Bell franchise costs a pretty penny, with the initial investment ranging anywhere from $1,179,525 to $2,851,775. This amount places Taco Bell in the neighborhood of other major franchises such as McDonald's, which requires an initial investment between $1,263,000 and $2,235,000, according to Franchise Disclosure Document (FDD) data for both companies.
Let's look at a break down of the cost to open and operate a Taco Bell Franchise:
Total Initial Investment: $1.2M–$2.8M
Franchise Fee: $25k–$45k
Grand Opening Expense: $5k
It's worth noting that Taco Bell's parent corporation, YUM! Brands, Inc., offers an optional lending assistance program for qualified minorities. For franchisees who qualify, YUM! will guarantee 25% of the principal of their franchised business loan, up to a maximum of $3,000,000 per loan or franchisee.
Franchise Fees & Costs
For Taco Bell
Competitors
| | | | |
| --- | --- | --- | --- |
| | Franchise Fee | Initial Investment | Royalty |
| Taco Bell | $25k–$45k | $1.2M–$2.8M | 5.5% of gross sales |
| McDonald's | $45k | $1.2M–$2.2M | 4% of gross sales |
| KFC | n/a | $1.4M–$2.8M | 4%–5% of gross revenue |
| Burger King | $15k–$50k | $1.9M–$3.3M | 4.5% of monthly gross sale |
| Wendy's | $40k | $2M–$3.7M | 4% of gross sales |
Here's Something to Taco 'Bout
Unfortunately, Taco Bell does not disclose future financial performance predictions or past financial performance of any company-owned or franchised unit.
That said, QSR reports that average annual sales per Taco Bell unit are $1.5 million. Just remember that sales do not equate to income. As a business owner, before you can "pay yourself," you often have to pay business taxes, debt repayments on loans, and reinvest in your business (that new piece of equipment you need, or the new signage you're required to buy, for example). While your business may grow to be quite profitable, your actual take-home income could be substantially lower.
There are, at present, four different Taco Bell concepts:
Traditional Units: Free-standing, permanent buildings that include a kitchen facility, counter, tables and seats for the customer and a drive-thru. These facilities offer the full Taco Bell menu.
In-Lines: Units with or without a drive-thru that include many of the same features as a Traditional Unit; In-Lines without a drive-thru are referred to as "End-Caps."
Power Pumpers: Buildings with many of the same features as a Traditional Unit that share a facility with a gas station and convenience store.
Taco Bell Express: Less elaborate facilities that offer a limited Taco Bell menu. Also known as a Custom Facade, Taco Bell Expresses include stand-alone facilities constructed within larger buildings.
Why Owning a Taco Bell Franchise Might Be Right for You…
With annual sales projected to reach $15 billion by 2022, Taco Bell is one of the leading fast food chains in the nation, overtaking Burger King as the fourth-largest domestic brand in the U.S. In fact, it was even voted Best Mexican Restaurant of 2018 by consumers in the Harris Poll 2018 EquiTrend "Brands of the Year" study. For franchisees interested in investing in a well-established, successful brand with proven longevity, a Taco Bell franchise could be the ideal option.
Instantly Recognizable: Over the years, Taco Bell has become a household name for its mouth-watering menu, affordable prices, strong social media presence, and iconic marketing campaigns. (Do "Yo Quiero Taco Bell," "It's Not Food, It's FourthMeal," or "Live Más" ring any bells?) Taco Bell continues to cement its status as one of the most popular and recognizable brands in the world — especially with Millennials — with savvy business partnerships, such as GrubHub, Lyft, and Forever 21.
Customers Galore: Taco Bell serves more than 40 million customers each week in the U.S. alone, with the average customer returning every 11 days. Based on statistics like these, Taco Bell franchisees can rest assured that there will always be a large customer base for their business — and YUM! Brands is constantly finding new ways to expand that base and ensure loyalty with clever social media marketing campaigns and in-app customer loyalty programs.
An Innovative Customer Experience: Taco Bell's mobile app is just one of the ways this quick-service giant is exploring the power of digital transformation. The company's "All Access" digital journey has disrupted the way the fast food industry does business with interactive customer experiences such as its award-winning self-service technology, digital menu boards, and advanced ordering capabilities.
Thorough Training: Once a franchisee's application has been accepted, they're required to undergo a comprehensive management training program, which is a minimum of seven weeks. Franchisees are also required to attend Taco Bell's Starting Bell brand immersion course at its Restaurant Support Center in Irvine, CA. This 3-day course is designed to help franchisees develop the knowledge and skills to successfully run their own Taco Bell franchise location. This course comes at the franchisee's expense, as they're required to shoulder the cost of airfare and accommodations while in California.
…And Why It Might Not
Although there are many benefits to investing in a Taco Bell franchise, owning a food franchise isn't right for everyone. Taco Bell, in particular, has some specific restrictions and requirements that might make it the wrong choice for would-be franchisees.
Previous Experience Preferred: The franchisor has an in-depth screening process for applicants, one that heavily favors those with prior restaurant management or franchise experience, which means a Taco Bell franchise might not be the best choice for first-time franchisees.
A Hands-On Approach: Taco Bell isn't a "set it and forget it"-style franchise. Instead, the franchisor expects the franchisee to be heavily involved in their facility's operations. According to the Taco Bell Franchise Disclosure Document, "Franchisees must devote their full time, best efforts and constant personal attention to the day-to-date operations of the unit." The franchisor also stipulates that the franchisee "must maintain their personal residence within a driving time of approximately one hour from the unit," which makes Taco Bell a poor choice for those who chafe at the idea of being kept on a short lease.
Appetizing Alternatives
No franchising investment decision should be made lightly. If you're considering purchasing a Taco Bell franchise, take a look at some of these alternatives from our FBR Top Food and Beverage Franchises list, first, to make an informed choice. The franchise opportunities listed below are all award-winning brands that have been rated highly by the franchisees that own them.
Although shaved ice is a bit of a departure from Mexican food, Kona Ice has been a top-ranked food franchise by Franchise Business Review for the past six years, and has held the top spot for the past three years. Kona Ice receives high marks for its low initial investment cost — $125k–$148k — low overhead, quick startup, extensive corporate support and marketing, and more. "I would have never imagined that I could practically pay off my entire year's royalty in one weekend," said one franchisee. "I never thought I'd be able to do this full time, but after just a year in the business, I was able to make Kona my full-time job."
Rated #1 by FBR for three years in a row
Low initial investment and overhead costs when compared to other food franchises
Extensive corporate support
Wendy's
Founded in 1969 and franchising since 1972, Wendy's has long been a favorite of fast food aficionados around the world. Although its initial investment cost is higher, Wendy's has similar brand name recognition as Taco Bell, is more flexible in terms of day-to-day responsibilities and operations, and rakes in an average $1,600,525 in annual sales, according to 2018 franchise disclosure figures, all of which make it a popular alternative.
Strong brand recognition
Flexible in terms of operations and day-to-day responsibilities
High annual sales
Culver's
Founded in Prairie du Sac, WI in 1984, Culver's — famous for its butter burgers and frozen custard — has been a Midwestern standby for the past 35 years. Culver's initial franchising attempt in 1988 was less than successful, which is why the business' franchising efforts didn't begin in earnest until 1990. Since then, though, business has been booming: The average Culver's generated approximately $2.2 million in sales per unit in 2017, placing it just behind McDonald's and securing its spot at #6 on Entrepreneur's 2019 Franchise 500 Ranking. Said one franchisee, "[Culver's] was the perfect fit for us. We opened our first restaurant and our second in 2014. This decision was the best one we could have made for us and our family."
Strong unit sales
Comprehensive training
Additional support from opening and franchise teams
Donatos Pizza
Donatos Pizza has become an incredibly popular franchising option in recent years for its cost/benefit balance. For the relatively low initial investment cost of $375k–$700k, franchisees stand to make over $1M in average net sales per year, with some top-performing units earning over $2M per year. If those potential earnings weren't appealing enough, Donatos also offers predictive intelligence capabilities for smarter delivery, flexible restaurant design options, a comprehensive training program, and more.
Attractive cost/benefit balance
Predictive intelligence capabilities for smarter delivery
Comprehensive training program
Since 1986, Checkers & Rally's has been serving mouth-watering American classics such as hot dogs, hamburgers, and milkshakes to millions of happy customers. In fact, Checkers & Rally's food is so good that one franchisee listed it as a highlight of working with the brand, saying, "What excites me about the brand is the food — the bold flavors." A Checkers & Rally's franchise comes at a relatively low initial investment cost of $96k–$1.5M with a significant return on investment (up to 62%, according to the brand's 2018 FDD report) and plenty of room to grow, with over seven years of consecutive of same-store sales growth and counting.
Franchise incentives for military veterans
High return on investment
Modular restaurant building for faster, more affordable development
Ready to Live Más?
A Taco Bell franchise has the potential to turn a serious profit, but with so many franchise opportunities from which to choose, there's no need to rush into anything. Before taking action, do your research: compare different franchising options, weigh franchising costs relative to profits, ask for feedback from current franchise owners, and be honest with yourself about how much you're able and willing to take on. A franchise of any kind requires a serious investment of both time and money, and the last place you'd want to find yourself is between a guac and a hard place.