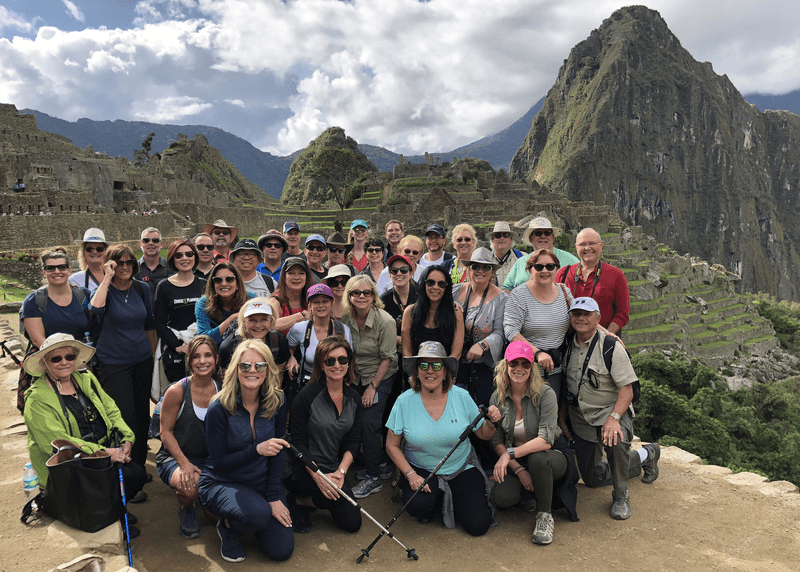 In the age of the internet, you might be wondering why anyone would ever use a travel agent. And you wouldn't be alone in your pondering. Michelle Fee, founder and CEO of Cruise Planners, gets this question a lot. Her response? "Why spend four weeks booking a four-day vacation when you could have someone who could do this all for you and advocate on your behalf, all at no cost to you? Our travel agents have access to information that travelers don't."
The cruising industry has seen growth each year for the last 30 years with double-digit growth during the last 10 years. Land-based vacations and all-inclusive resorts are at an all-time high with record-breaking volume. There is no question that the internet has provided more opportunities for direct-to-consumer sales, but it has also created an enormous opportunity for agents. That's because the internet got too big. If you Google "cruise vacation," you'll see there are more than 4,000,000 results. For consumers, this abundant choice can be completely overwhelming and has resulted in a boom for the travel agency space.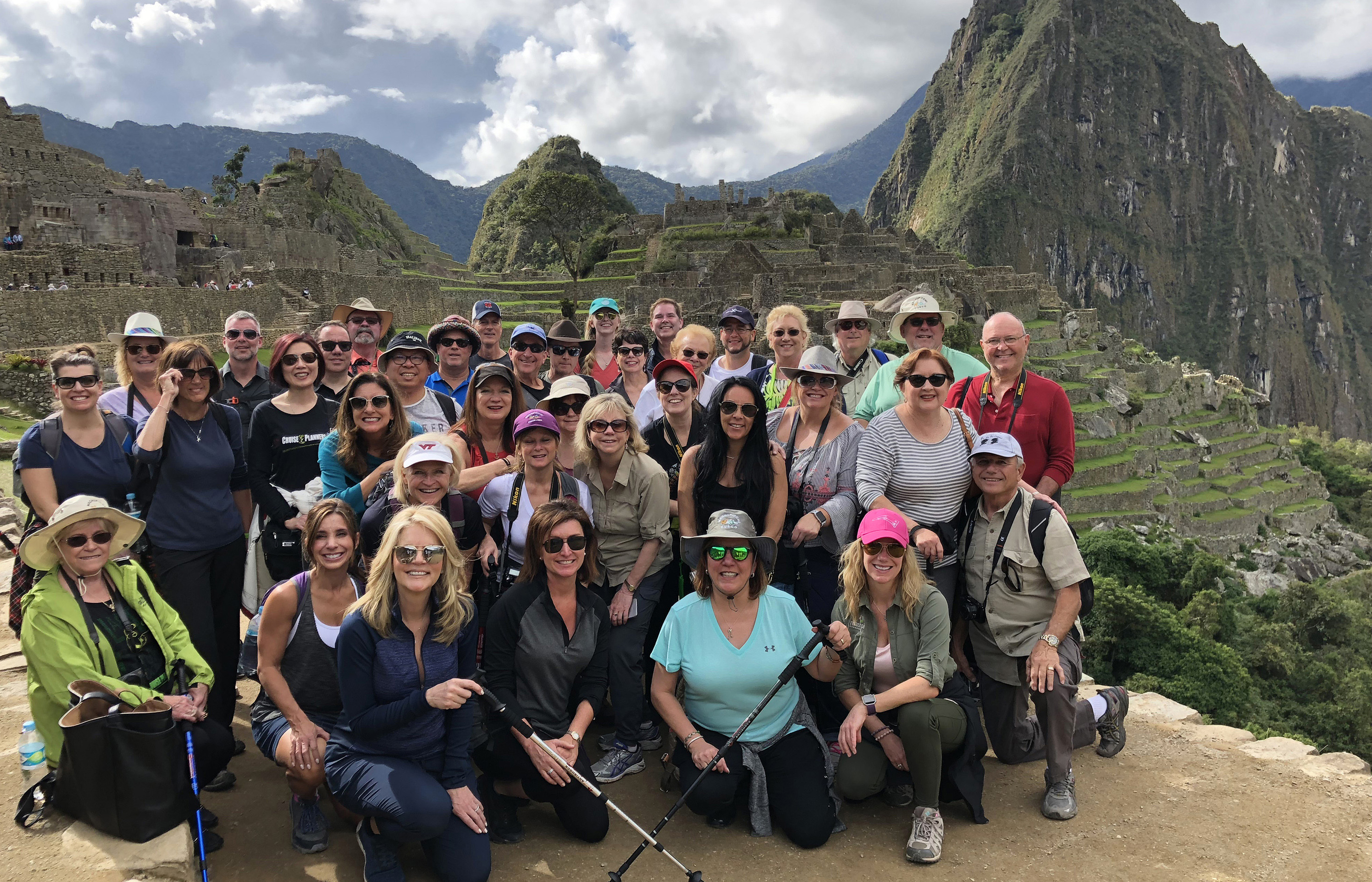 Michelle Fee at Machu Picchu with Cruise Planners top producing travel advisors and travel partners as part of the Elite Summit trip
The Birth of the Cruise Planners Franchise
When the internet was just in its infancy, Fee was the co-owner of a small "mom and mom" business in Coral Springs, Fla. As she witnessed the arrival of the internet she realized they needed to change the way they did business if they were going to survive. In 1994, Fee and her two business partners developed a business plan and incorporated. A year later, in 1995, they launched the first Cruise Planners new agent training class. By 2000, the trio identified the need to move away from the independent contractor model they had been relying on and began franchising.
"When I started the business, I was scared. I was putting my family on the line," says Fee. "I had to invest money into the business and I had two small children. But, I did it and never looked back."
One of the greatest benefits of the Cruise Planners business model is the ability it offers franchisees to work remotely — from home or anywhere in the world. But 25 years ago, working from home was not accepted like it is today. Initially, this was an obstacle for Fee. "It took a few years to get the concept widespread," she said. "Nobody worked from home 25 years ago. Today, it is totally different."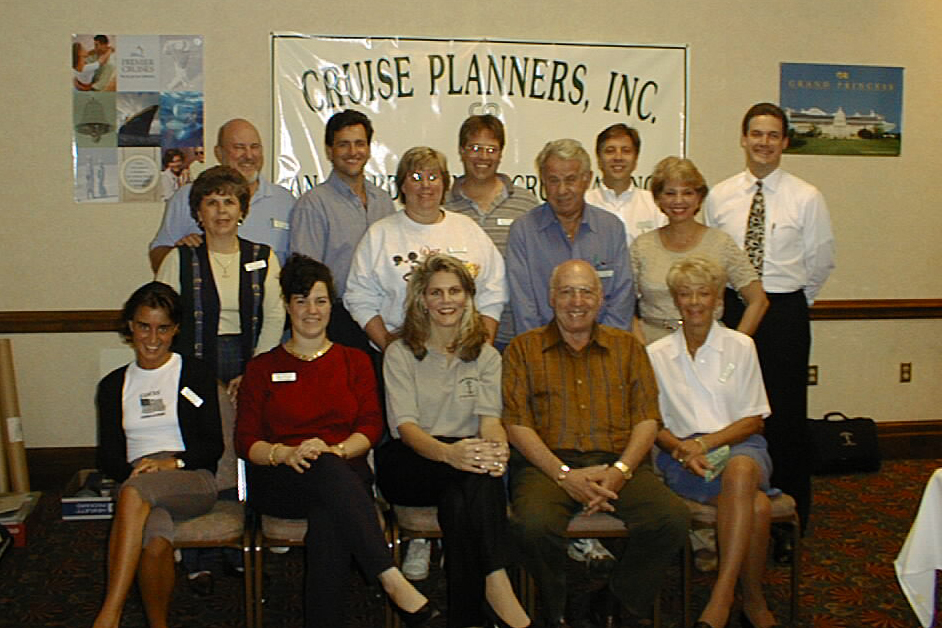 Michelle Fee with Cruise Planners travel advisors at one of the earliest Cruise Planners training classes
This forward-looking attitude and ability to adapt coupled with the belief that consistency is key has allowed Fee and her team to create a multi-million-dollar franchise system offering franchisees both an income stream and the freedom to create the life they desire.
"I'm really proud of what we built. Franchisees can take this business to whatever level they want to take it to," explained Fee. "Some are stay-at-home moms, others are retirees, and others have turned this franchise into something way more than I ever expected, making high into the six-figures."
Franchisees are offered the support of the corporate office as well as from the nationwide community of Cruise Planners franchisees. This support is one of the reasons so many are attracted to franchising. Similarly, Fee credits her ability to raise two young children and a new business, to her "village of support."
"I could not have done this without my parents," she remarked. "And my husband was extremely supportive. As a mother, you have this guilt — and you can never go back. I made sure that all my kids' important events were on my calendar. Today, I can look back knowing that I didn't miss a dance recital or a wrestling match; I didn't miss anything."
Over the past 25 years, Fee has built a business that offers other mothers and fathers the same opportunity she created for herself over two decades ago; allowing people the chance to run a business and be present for their families or pursue other interests that are not always possible while maintaining a traditional 9-5 job.
As Fee explained, "If you want to build your business to a certain level and stop because you want to go to kids sporting events you can; if you want to be the million-plus producer you can do that as well. People join for different reasons."
Not Your Traditional CEO
What might surprise you about Fee is that she doesn't have a college degree and she is not your typical CEO with a background in finance. Fee, a former travel agent, explained how having the same background as the agents who are selling Cruise Planners travel, has helped her understand their needs and challenges. Similarly, Fee can relate to new franchise owners who are launching their new businesses. "I know how to build a business from scratch and how to connect with the customer," she said.
Fee's non-traditional background underscores the fact that anyone, no matter their educational accolades or past work experience, can find success in franchising. In fact, Cruise Planner's top producing franchisee is a bookkeeper; the second highest producer is a computer programmer followed by an auto mechanic and a hairdresser.
"My school of hard knocks and what I've learned throughout this journey and this process is what I bring to the table — and I work the business every day," says Fees. "It's my life's work."
The Perks of Working in Travel
Of course, beyond the freedom and financial opportunity that Cruise Planners offers, there is the obvious benefit of working in travel. As Fee said, "Everybody loves travel! It's the one place people enjoy spending money."
Each year, Fee travels with Cruise Planners top producers. "This year we are going to Africa," she said with a bit of excitement in her voice. "It's my favorite place. We are going to go gorilla trekking!"
Thanks to her work, Fee has seen the world. She says she would go back to Europe any day but is looking forward to someday seeing Iceland, one of the few places she has yet to visit.
The Cruise Planners business model, their technology and their tools have all been deliberately designed for remote work; allowing franchise owners to travel the world and still maintain their business. "Our tools are designed so that travel agents can run their business off of any smart device, she explained." Cruise Planners relies heavily on technology to make work as efficient and as portable as possible. For instance, agents can use Alexa to look up clients' details or book or confirm travel while they are cooking dinner, driving or trekking through the jungles of Africa.
Fee's career in travel began over three decades ago and, although it is far from over, her most recent recognition seems fitting as she marks 25 years as founder and CEO of Cruise Planners. In 2015, Fee was honored to be chosen as the godmother of the river cruise, AmaSerena, which sails on the Danube River. "They flew me over to christen the ship, I said a the traditional blessing and broke a champagne bottle against the side of the ship," she said. "I am so blessed."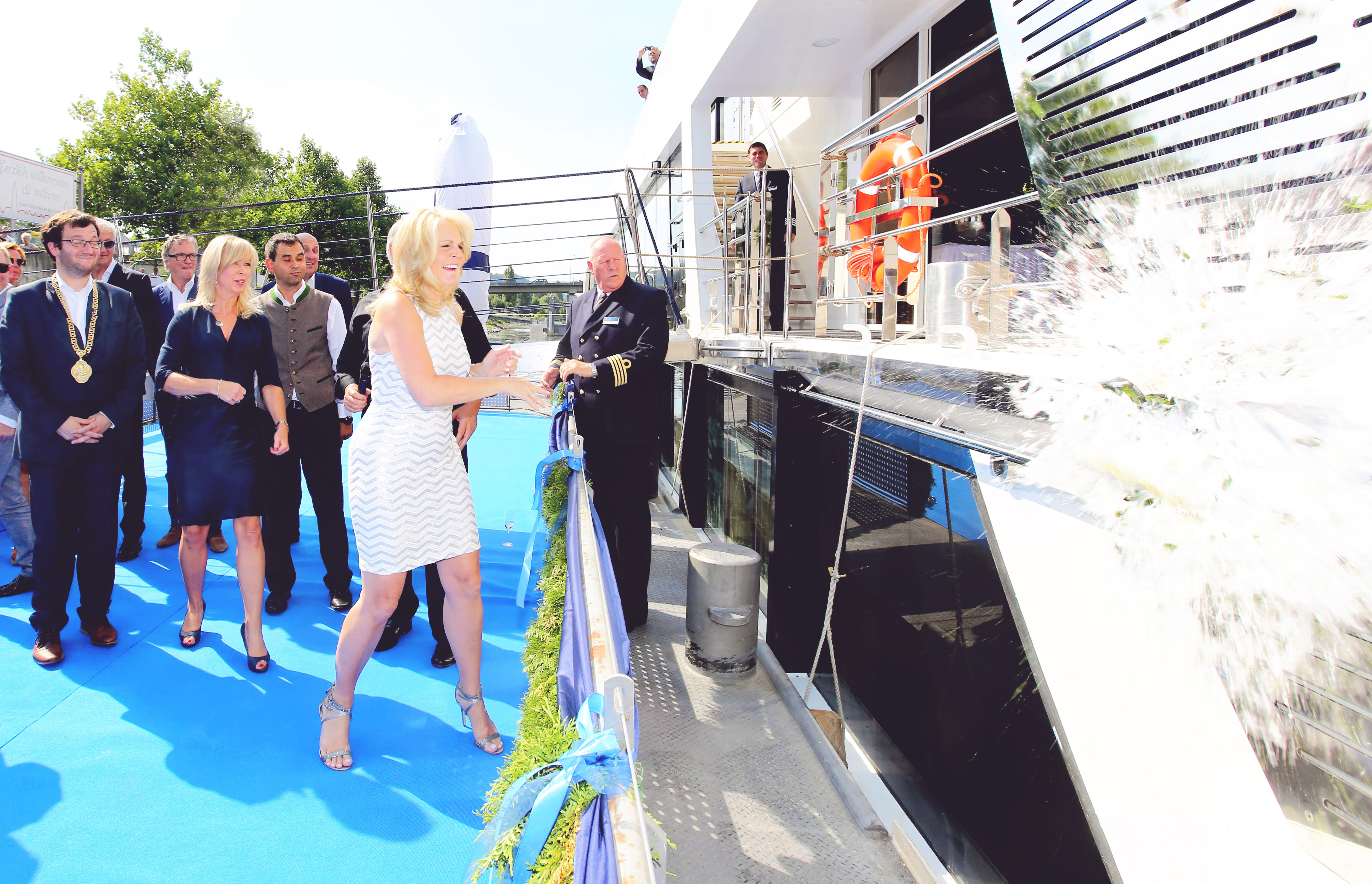 Michelle Fee christening the AmaSerena. Fee was chosen as the godmother of the river cruise ship in 2015
When asked where she sees herself in another 25 years, Fee laughed, "I'll be really old then! But I'll take it! I feel like we are at a peak and I've worked my whole life to get here. I'm having so much fun and can't wait to see where the next 25 years take our franchise owners."
If you would like to learn more about Cruise Planners franchise opportunities visit cruiseplannersfranchise.com.