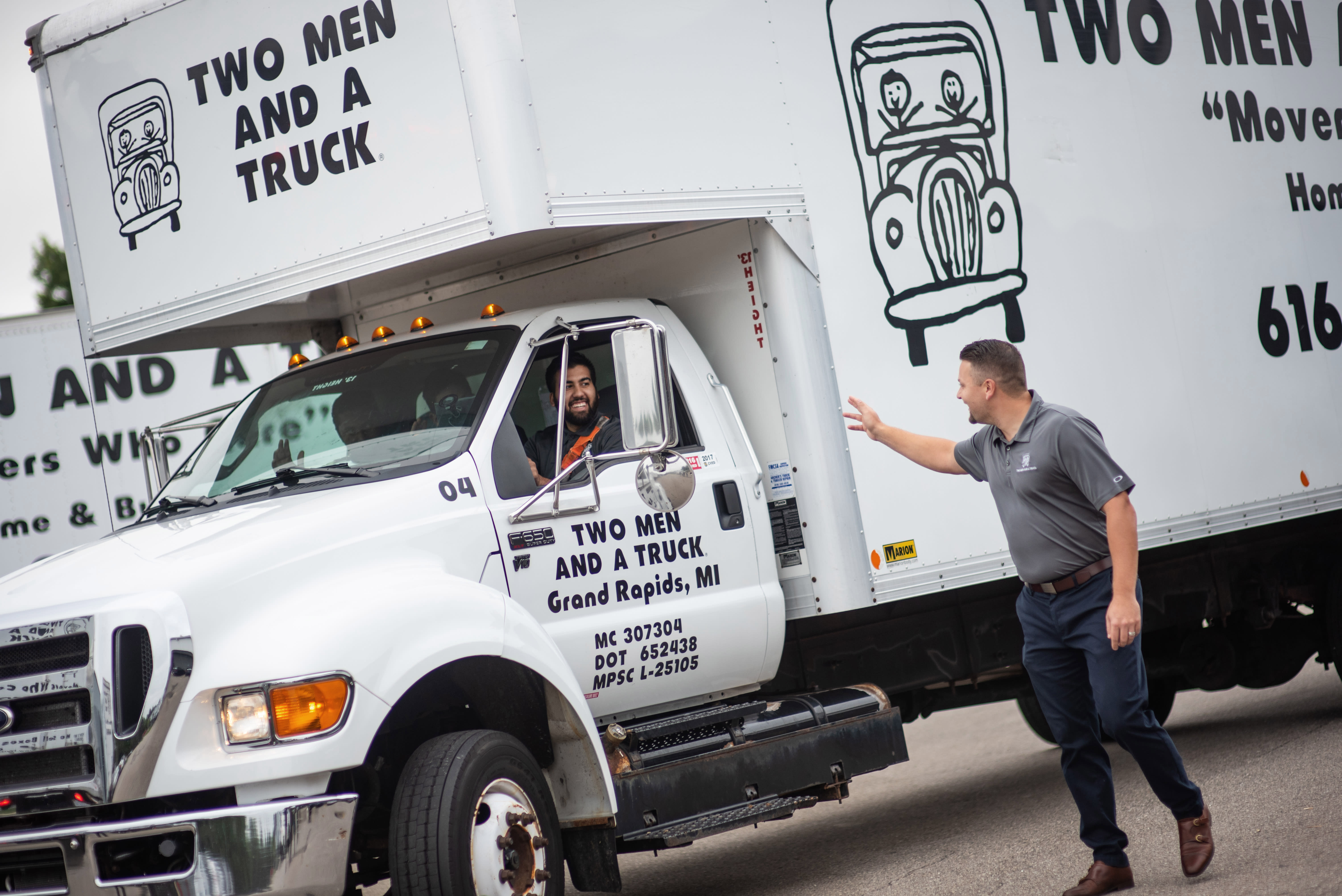 Chad Arnold understands firsthand what it's like to buy and grow a franchise during a recession.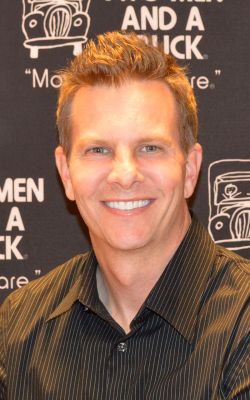 In 2000, at age 24, he invested in his first TWO MEN AND A TRUCK® franchise in Michigan. After spending 8 months in a general manager role, he took out a Small Business Administration loan and bought out the owners. Despite the events of 911 and the economic challenges that followed, Arnold was able move forward and help customers relocate to new homes and apartments. Four years later, he sold his first business to establish the first TWO MEN AND A TRUCK franchise on the West Coast, and most recently, Dallas.
"During 911, I was really young and don't recall seeing a major drop-off or us going backwards in any way," he said. "if anything, we just spent more time in our community."
Between 2004 and 2019, Arnold navigated the ups and downs of the economy while operating California locations for TWO MEN AND A TRUCK, growing franchises that ultimately brought in $4.5 million in annual revenue. At its peak, Arnold and a partner led more than 80 employees in six different locations—including Sacramento, San Diego, and Pasadena. During the 2008-2009 financial crash, they saw competitors begin to drop out of the moving business. Instead of scaling back, Arnold kept investing in the brand—picking up a San Francisco location and additional market share. He spent more money on marketing and grassroots efforts and strengthened relationships with vendors, securing the space and equipment he needed for further expansion.
"The housing crisis hit us hard on the West Coast but we were headstrong and expanded during that time and bought San Francisco." he said. "We kept investing in people and the brand and kept trucks on the road. We came out stronger."
Building Upon A Solid Track Record
TWO MEN AND A TRUCK provides local and long-distance moving services—as well as packing, storage, and in-home moving services. The company, which started in 1984 and has been franchising since 1989, now has 381 locations across the country. Its growth has allowed its franchises to help facilitate cross-country moves and storage solutions. The company was founded by a mom, Mary Ellen Sheets, who took over her sons' local Michigan moving business when they left for college. Last year, TWO MEN AND A TRUCK®/INTERNATIONAL, Inc.'s annual revenue exceeded $400 million.
"When Mary Ellen Sheets founded TWO MEN AND A TRUCK more than 35 years ago, her decision to enter the local moving business created the strong foundation for a recession resistant business," said Brant Hartle, chief financial officer of TWO MEN AND A TRUCK. "People need to move during a recession and those who have used a professional moving service understand its value and rarely return to the do-it-yourself model. Over time, revenue diversification has improved on the local moving foundation to make TWO MEN AND A TRUCK franchises even more resistant to revenue losses caused by economic downturn."
Over the years, TWO MEN AND A TRUCK has diversified its services to include interstate long-distance moving and storage services. This year TWO MEN AND A TRUCK introduced its junk removal service, which is exceeding the company's growth expectations, and as service, is particularly resilient to recession, Hartle said.
Committed to Moving People Forward
In August 2019, Arnold sold his California locations and left for Dallas to become a regional operations manager for TWO MEN AND A TRUCK in Texas. While Arnold initially thought his days of franchise ownership were over, working for a new location rekindled his passion for the brand. After three months in Dallas, he bought out the owner and became a franchisee once again.
Today, Arnold owns six franchises in the Dallas area and oversees 100 employees, including drivers, movers, and office staff. While the country largely shut down business in March due to the coronavirus, TWO MEN AND A TRUCK has been able to weather much of the economic downturn. For Arnold, the onset of the pandemic gave him some time to buy new equipment and hire new talent. At the same time, COVID-19 did not keep residents from moving, thanks to ample new construction in the metro area.
While there were some moving cancelations, Arnold said numbers have remained steady. His team has practiced the proper safety protocols, using PPE, and educating staff and customers about the precautions TWO MEN AND TRUCK continues to take to ensure all remain safe during a move.
"Every one of our customers is nervous. If we can get in there and show them that we can be safe and do this the right way, they tell their friends," he said. " We are now experiencing the highest volume of phone calls since we started. We need more people to answer them because we can't handle the volume that's coming in."
New services such as facilitating cross country moves and junk removal have given Arnold and other franchisees new opportunities to get their trucks and associates out in front of customers. In June alone, Dallas was the starting point for 25 out-of-state moves. Because TWO MEN AND A TRUCK has a network of franchisees that help coordinate these moves, they can be more competitive and offer a seamless experience for the customer.
"There's always been a big push in our system to work as part of a team," Arnold said.
One of the reasons Arnold continues to grow with TWO MEN AND A TRUCK is the company's commitment to teamwork. Franchisees are encouraged to talk to one another and share advice and best practices. He still enjoys coming to work every day and tackling challenges, but especially looks forward to developing new talent within the company. It's rewarding to see a mover rise up through the ranks to become a manager and then an owner—and realize his or her own dreams, he said.
"They put a lot of emphasis on moving people forward—they believe we are only as good as the people we employ," he said. "They offer so many classes and opportunities to learn more. I've seen a lot of partnerships grow between existing managers and people go from driving truck to ownership."
Arnold also credits TWO MEN AND A TRUCK for its courage to take bold steps to grow the company. Throughout 911, the financial crisis of 2008-2009, and now COVID, TWO MEN AND A TRUCK has persevered thanks to its business model and culture that focuses on people—customers, franchisees, and its employees.
"We could have put the brakes on a lot of projects through COVID and at the end of the day, the brand has become stronger by pushing forward," he said.
Take the Wheel In Navigating Your Career
For those looking to transition careers, TWO MEN AND A TRUCK allows you to have control over our fate, Arnold said. Rather than entrust your career growth to a boss or corporation, you can shape your own future and the future of others at the same time at the right franchise, he said.
"The brand is growing for a particular reason—whether they are adding new fresh talent on the franchisee or corporate side," he said. "The streams of revenue are different, and they help you elevate everything and compete."
The system has achieved consistent revenue growth in its core moving business and has achieved faster growth in diversified revenue sources such as long-distance moving, storage, and now junk removal, Hartle said. According to the brand's Franchise Disclosure Agreement, its franchises average gross sales of $2.3 million, with its highest-grossing franchise selling 10.10 million dollars in moving services.
"The TWO MEN AND A TRUCK model operates in a recession-resistant industry, and revenue diversification provides additional safeguards that improve franchise performance in good economic times and in slower times," she said. "As a brand we also have a constant focus on unit profitability which provides returns to owners on their investments and also puts franchisees in a better position to weather economic downturns."
Are You Ready to Take the Wheel?
TWO MEN AND A TRUCK provides local and long-distance moving services—as well as packing, storage, and in-home moving services. Whether movers seek to move to homes, apartments, or businesses, TWO MEN AND A TRUCK can help facilitate the move. The company also offers storage solutions through portable containers, which allows customers to relocate to other parts of the country more easily.
Franchisees have consistently rated TWO MEN AND A TRUCK as "Excellent" in its Core Values and Owner Enjoyment in recent Franchise Business Review surveys. They've also received recognition as a Top 200 Franchise, Top Low Cost Franchise, Top Franchise for Women, Top Franchise for Veterans, Top Services Franchise, and Top Multi-Unit Franchise. Owning a franchise can be lucrative, too. TWO MEN AND A TRUCK franchises average gross sales of $2.3 million, its highest-grossing franchise now at $10.10 million dollars.
Industry experience is not required, and the corporate office stands ready to provide support and classes after the initial training.
What's Required:
Cash required: $80,000
Franchise fee: $50,000- $85,000;mini-market*: $30,000 (10% discount for veterans)
Net worth required: $160,000 – $400,000; mini-market*: $80,000 – $160,000
Total start-up investment: $179,000 – $585,000; mini-market*: $100,000 – $192,000; costs include:

Two to three trucks
Insurance
Office and technology costs

Royalties: 6% of all gross sales, paid monthly
Advertising fund: 1% of gross sales, paid monthly
Monthly technology support fee: 1-2% of gross sales, with a minimum payment of $1,200 per month
On-site training – 18-24 hours in Lansing, Michigan at "Stick Men University"
*The mini market opportunity allows franchisees to provide moving services in cities with populations of 100,000 to 225,000 people. There are 85 mini market territories in the United States.
In your first four years of operation, you are required to gross at least $400,000 in the first, year; $550,000 in the second year; $650,000 in the third year; and $750,000 in the fourth year. After four years, you are expected to maintain at least $750,000 in gross sales annually and perform in the top 85% of all franchises operating in the United States in the annual growth percentage, as determined by the corporate office.
Mini-market franchises are expected to earn $175,000, $250,000, $375,000, and $500,000, respectively, in their first four years of operation. After four years, they are expected to maintain at least $500,000 in gross sales annually and perform in the top 85% of all franchises operating in the United States in the annual growth percentage, as determined by the corporate office.
Making the move to invest in TWO MEN AND A TRUCK could help you realize your dream of owning your own business and working in a culture that values giving back to those who need it most. As you would in any potential business venture, you should conduct your own research: compare different franchising options, weigh franchising costs relative to profits, ask for feedback from current franchise owners, and be honest with yourself about how much you're able and willing to take on.
Learn more about TWO MEN AND A TRUCK franchise opportunities in your area. Call the TWO MEN AND A TRUCK franchise development team at 888.884.1114 or visit their website at https://franchise.twomenandatruck.com/